Jonathan Bank runs a pretty tight ship over there at the Mint Theater Company, one of our off-Broadway treasures. In the most unpretentious of black box theatres on the third floor of a 43rd Street office building, he has given us productions of long forgotten or little known works by playwrights who were, in their time, prominent.  Everyone from the Americans Dawn Powell, Lillian Hellman, Ernest Hemingway, Thomas Wolfe, Edith Wharton, Zona Gale, Susan Glaspell to the Brits Harley Granville-Barker and A.A. Milne.  During this season and last, he has taken a shine to a little known Irish playwright, Teresa Deevy whom the Irish Times labeled "one of Ireland's best and most neglected dramatists." 
Last season, Wife to James Whelan held the stage at the Mint, even though the Abbey Theatre rejected it when it was offered to them in the 1930s, which was odd because they'd had great success with several of Ms. Deevy's works.   Whelan was well received at the Mint, so Mr. Bank is now bringing us another of the plays written by this Meniere's disease victim, who was deaf.
The new one is Temporal Powers and it confirms that Ms. Deevy deserves to have been taken off the shelf and given an airing. Mr. Bank, who directed the play, as he did the one last season, always brings us top notch actors, and he's done it again this time out. There could be no better "Min Donovan" than Rosie Benton, whose credits include many of the fine regional theatres, her share of Shakespeare and much work off Broadway.  Last season she brought life to the title role.
In Aidan Redmond, another alumnus from  James Whelan, again we have an actor who captures  the repressed rage required for "Michael Donovan", though his performance is missing the size required by the later demands of the script, when he and wife Min have a battle worthy of George and Martha in Albee's Who's Afraid of Virginia Woolf?  Everyone has his turn here, and each one is up to it in this tale of the effect of found money on a group of small town relatives and friends living in a village inIreland in 1927.
Though it's easy to recognize in Deevy's dialogue her ability to suggest complex feelings under the sometimes light hearted words her characters speak, it's not easy for an American to catch much of it as it comes to us filtered through accurate, but unintelligible accents. A dialect coach, Amy Stoller, was engaged for this production and she has contributed an article in the program explaining how very specifically she researched the play's language. She does explain the derivation and pronunciation of many words that have different meanings in English and in Irish, but this does little to ease the confusion they cause  to our American ears.  In this rare instance, I take exception to Mr. Bank's choice to allow his fine actors the freedom to re-create correctly the proper sounds of the time and place of the action in this play.  In time, the fuzzy rhythms and unclear meanings become soporofic and a number of heads (including my own on two occasions) were seen to be nodding.
Another Deevy play, Katie Roche, will be on at the Mint in September, overlapping with Temporal Powers which runs until September 25th.  This was a success for the Abbey and they revived it several times during Deev's lifetime.   There are many writers of interest who've not had this many productions at the Mint. Rose Franken comes to mind, as does Dawn Powell. Lillian Hellman's Autumn Garden is rarely done.  Sidney Kingsley has been totally neglected; Elmer Rice and S.N. Behrman are no longer in fashion either. If we're to favor our English cousins, then let's start looking at Terrence Rattigan, Noël Coward, Emlyn Williams and their colleagues for a little respite from the Emerald  Isle.
Temporal Powers runs thru Oct 9, 2011 at The Mint Theatre, 311 West 43rd Street, 5th Floor, New York, NY.
Details and tickets 
 —————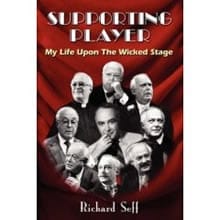 Broadway performer, agent, writer, and now librettist, among his many accomplishments, Richard Seff has written the book for Shine! The Horatio Alger Musical!, which debuted at the 2010 New York Musical Theatre Festival. He is also author of Supporting Player: My Life Upon the Wicked Stagecelebrating his lifetime on stage and behind the scenes, available through online booksellers, including Amazon.com.
Richard Seff chats with Joel Markowitz: