Frank Langella's performance is spell-weaving
In late 1963, Terrence Rattigan's play Man and Boy opened on Broadway with a cast headed by film star Charles Boyer, where it limped along for 54 performances.  It followed the London run, which was also brief. 
By 1963 Mr. Rattigan was assigned to the shelf by the "in" crowd, the "now" people who were more interested in John Osborne and all the angry kitchen-sink dramatists who followed him onto the London, and later the New York stages. A very disappointed Rattigan seemed totally aware that his style of well-made, well textured plays was considered tedious and "unnatural."  So it was apparent to him that his 30 year reign as co-leader with Noël Coward of the West End, and the British imports on Broadway, was  over.
Rattigan was too fine a writer to remain in the dustbin forever.  In recent seasons there has been a renewal of interest here and abroad. Last year the National Theatre mounted a superb production of his After The Dance, which had excellent notices in its original run in 1939, but fell victim to the start of World War II which occurred only weeks after the play's first night, and rendered its depiction of  the upper class Brits' apathy and lack of foresight untimely and unpatriotic, so the play was taken off and was not heard from again until the revival 60 years later.
The Winslow Boy, French Without Tears, Separate Tables, Ross and others of his 26 plays continue to appear in the Regional schedules in America. Some of the early works were intended as "vehicles" for established stars – plays like O Mistress Mine (which served the Lunts well) and The Sleeping Prince which Laurence Olivier and Vivien Leigh played in London, and for the soldiers overseas. It also served Michael Redgrave and Barbara BelGeddes on Broadway in the mid 1950s.
It's too bad for some of these Old Masters – writers like Sidney Kingsley, Elmer Rice, Sidney Howard, Lillian Hellman, Robert E. Sherwood, even the comedy writers like Jerome Chodorov and Joseph Fields, Jean Kerr, even Neil Simon who though still with us, is no longer "in the loop".  I say it's too bad, because all of these fine playwrights, each of whom had great success in his day, would revel in the new audience's approval of, and attendance at their past hits.
The Roundabout's new Man and Boy is a prime example.  A play well oiled and plotted to deliver a combination of vehicle for a male star (in this case the staggering Frank Langella) and mystery revelation of a finely drawn nasty character called Gregor Antonescu, Romanian born, Americanized major business tycoon, who has charmed, cheated and bullied his way to the top of the business heap.
In a corking good first act, Rattigan gives Langella all the words with which to add nuance and elegance and artistry so that we completely believe his Antonescu is capable of having his way with everyone in his life. These include his wife-in-name-only, his best friend, his long abandoned son, and his chief business rival.
The second act wobbles a bit, but Langella and the rest of the fine cast keep it afloat. It's not pleasant material, and I'm not suggesting the play will have a long life this time around, but it's just the sort of thing the Roundabout should be doing for its subscribers and any stray theatre lovers who'd like to catch up on the past works of important playwrights — like Terrence Rattigan.
There are few roles  in the new "90 minute wonder" plays that keep popping up each season that allow great star actors to use all the gifts with which they're possessed.  Antonescu is not exactly Hamlet, but Langella has found ways in which to find humor in him, even tenderness on occasion. The one thing he lacks is conscience, and he is aware of that himself, which makes him even more interesting.
I wouldn't want to know him, but he's great fun to spend an evening with, and I suggest that if that interests you, you should give this one a try. I for one will remember moment after moment of Frank Langella's spell-weaving performance in this minor example of a master playwright's canon of 26 plays.
The Roundabout Theatre production of Man and Boy is scheduled to run thru Nov 27, 2011 at American Airline Theatre, 227 W. 42nd St, NYC.
Details and tickets 
  —————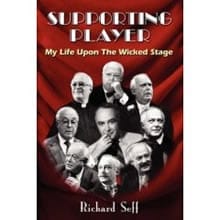 Broadway performer, agent, writer, and now librettist, among his many accomplishments, Richard Seff has written the book for Shine! The Horatio Alger Musical!, which debuted at the 2010 New York Musical Theatre Festival. He is also author of Supporting Player: My Life Upon the Wicked Stagecelebrating his lifetime on stage and behind the scenes, available through online booksellers, including Amazon.com.
Read more at RichardSeff.com
Richard Seff on DCTS – interviews Broadway luminaries:
Richard Seff chats with Joel Markowitz: