If you are seeking a nuts-and-bolts review of KJ Sanchez and Emily Ackerman's ReEntry, you need to look elsewhere.  I can't provide that; this is simply a play that resists that kind of analysis.  The first thing you should know is that the playwrights' intent is to educate more than edify, and their success in this approach will depend on what you, the audience, put into it.
Though Sanchez and Ackerman sprinkle the levity on this play like an unction, the subject matter is almost as unpleasant as it can get.  Several years ago, the pair began conducting interviews with returning Iraq War veterans in preparation for a play about service members and their families.
This project had particular significance to writer/director Sanchez, who saw five brothers join the military while war was raging in Vietnam.  Every line of dialog in this play is taken from their interview transcripts.
In the future, war may be fought with satellites and remote batteries firing weapons not yet conceived of, but in the present, as it has been for centuries, war is fought with rifles.  Before rifles, they were fought with archery; before that, they were fought with spears and pole arms, and before that with sticks and other improvised bludgeons.  And no matter what weapons we employ, they will be merely tools, wielded by those who serve their people.
The Commanding Officer (Larry Mitchell) explains early in the play exactly what an M-16 service rifle does to your body and your existence in frank but not graphic terms.  What you read between the lines (and is shown relentlessly in the drama) is that he whose organs were burst by the round of a military rifle is/was a person; if you trace the bullet's trajectory backwards, you will see that there is another person behind the rifle that fired it.  Both are not only breathing human beings with a whole backstory, and desires for the future, they also are connected to a breathtaking number of other people, from comrades, to old friends, to family.  All these people's lives are altered in various and significant ways from what amounts to several pounds of finger pressure on a trigger.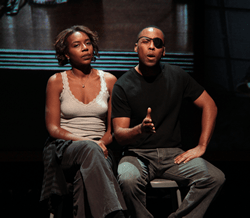 Though not structured as such, this is basically what the play is about.  Though the story of two brothers who go to war with the Marine Corps is compelling, the story of their mother (Sameerah Luqman-Harris) and sister (Jessi Blue Gormezano) is more so, especially when the brothers come home with physical and psychological wounds, and then sadly, return to the war zone for a fresh tour.  The wife (Luqman-Harris) of another serviceman recounts finding herself in hand to hand combat after touching her sleeping husband the wrong way.
But the strains on those who are serving go through are not left out.  One unit commander (Brandon Jones) talks about the importance of trust within a unit that is positioned in a hostile area, and learns that a Marine who operates heavy weapons is being treated with Prozac.  This officer reminds us that the Marines under his command are mostly teenagers, who are often either reckless or afraid to die.
Later in the play, returning personnel discuss how they see the civilian population and its concerns, both regarding the war and other things.  Their attitudes will often make audiences uncomfortable, especially when they express their true feelings about the awkward situation when a stranger comes up them say "thank you for serving."
I do not consider it proper to critique the actors' performances in this particular instance.  Motivations, interpretations matter little here.  Just be satisfied when I say they are believable.
This statement has the backing of many actual servicemen who have already seen this production.  It has already run at many military installations and VA hospitals to rave reviews.  In this case, that is the most important praise you can receive.
But this play should be seen by as much of the civilian population as possible.  And anyone who goes should stay for the discussion that that took place after the performance at least on the night I attended.  On that evening Captain Paul Hammer (USN) of the Defense Center of Excellence (DCoE) led a memorable discussion on the psychological well-being of our many veterans.  If you have any questions about the performances, you will be free to ask.  From my experience, you will.
ReEntry is a show you should not miss, despite the fact, or better, because of the fact, that its material is beyond so many theatregoers' comfort zone.
ReEntry runs thru Oct 30, 2011 at Round House Theatre, 4545 East-West Highway, Bethesda, MD.
Details
Tickets 
ReEntry
By Emily Ackerman and KJ Sanchez
Directed by KJ Sanchez
Produced by American Records
Reviewed by Steve Hallex
Runs approximately 2 hours, including discussion (no intermission
Highly Recommended

  Other reviews: