In Lissa Levin's snorer of a play, Sex and Education, now being force-marched through its paces by Doorway Arts Ensemble and Arts Alive Theatre, Miss Edwards (Ellen Mansueto), an English teacher about to chuck it all for the real estate trade, catches Joe Marks (Jonathan Douglass) passing an obscenity-laden mash note to his girlfriend Hannah (Emily Thompson).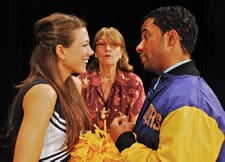 Joe is an überstar on the basketball team, about to get a free ride at the University of North Carolina, where he will play for the Tar Heels. Miss Edwards, who has nothing to lose, has some options here. She could flunk Joe and prevent him from graduating, thus costing him his scholarship. Or she could wearily turn a blind eye to this transgression, as she has to many others, and give him a social graduation to finish off all his social promotions.
What she decides to do, though, is this: keep him after class until he turns the mash note into a persuasive essay, with a topic sentence, three supporting sentences and a conclusion, all designed to get Hannah to have sex with him. This was a funny idea when it was first presented in about twenty minutes at the 2009 Page-to-Stage Festival and made a passable short play in the 2010 Fringe Festival. Here, blown up to a ninety-minute, two act dramedy, it is worse than a high school English class.
The concept is funny because it strikes a nerve: those who care about quality – whether in writing, in theater, in art, or in politics – increasingly find themselves under the thumb of crude, mumble-mouthed cretins who grab for the bottom line, in 140 characters or less. It is fun to see the roles reversed, if only for a moment. But, as it turns out, when the roles are reversed for an hour and a half, it's no fun at all.
We get the joke in the first ten minutes, and thereafter are pummeled with it. We get lessons in prescriptive grammar. We get lectures on parts of speech. We see Miss Edwards diagram sentences.  We get a lesson on how to use the dictionary. Inexplicably, at one point Joe and Miss Edwards trade places, and he gives us a lecture on the wonders of the triangle offense.
And we get…cheerleading!
Hannah, who is a cheerleader, appears periodically in order to emphasize various parts of the play through the high school yell system. Thus, for example, she underscores Miss Edwards' lecture on the dictionary by reciting the alphabet while jumping about. I hope this practice does not spread to the wider playwriting community.  It would be unfortunate should a production of, say, Who's Afraid of Virginia Woolf be interrupted by a high schooler shouting "You – drink – too – much!" through a megaphone.
One of the principal differences between the sketch that appeared in the Page-to-Stage version and the current effort is that Levin has fleshed out the role of Hannah, who appeared in the earlier show only in her cheerleading capacity. By making Hannah a flesh-and-blood person, Levin has stumbled into the central flaw in her concept: it is insulting to assert that a woman will have sex with a man because of the power of a persuasive essay, and it would be immoral for an adult to help a teenager to achieve that end, even if possible.
Levin appears to realize it, too. She has Hannah constantly tell Joe that she's not ready when he presses her to do the horizontal mambo (prompting all of Joe's topic sentences to be some variation of "You are ready for sex now"), and at one point she tells him that a woman always knows when she's ready for sex, and a man never knows. But if a man is never to know, what is all this education for? Why bother to learn the persuasive essay, if it will never be persuasive?
All this might have been mitigated (though not redeemed) by some persuasive acting. But the trio here is shockingly wooden, and none more so than Douglass as Joe Marks, who seems to be reciting rather than acting.
He appears to be oblivious to his stage partners, unconscious of the fact that acting, no less than basketball, is a team sport. If Joe Marks ignored his North Carolina teammates the way Douglass ignores his scenemates, coach Roy Williams would have put him on the bench in two minutes. Would be that director Perry Schwartz had done the same.
Mansueto as Miss Edwards seems like the sort of tireless pedant for whom No-Doz was invented. Levin implies that Miss Edwards has a life beyond the classroom, at least in her dreams, but I did not buy it in the character Mansueto presents.
Thompson fares a little better, at least after she puts down the pom-poms. But I did not believe for an instant that Hannah is in love with Joe Marks. Hannah is a young woman on the verge of surrendering herself to the forces of love and biology, and I could not derive this from the chaste kisses and motherly glances Thompson gives Douglass.
About three-quarters of the way through the production I saw, some moron sitting behind me started texting, and giggling about it with his companion. This presented a spectacularly ironic counterpart to the play, and under normal circumstances I would have longed for security to make him text a summary of the story, using just his thumbs. (They threw him out instead). Here, though, well past the sixty-minute point, I'm sorry to say that my sympathies were with the texter.
Sex and Education runs thru Nov 20, 2011 at the Cultural Arts Center in Silver Spring, MD.
Details
Sex and Education
By Lissa Levin
Directed by Perry Schwartz
Produced by Doorway Arts Ensemble and Arts Alive Theatre
Reviewed by Tim Treanor
Running time: One hour and thirty minutes, with one intermission