It's difficult to offer you a focused picture of Stephen Karam's Sons of the Prophet at the Roundabout's Laura Pels Theatre. It manages  to tell a dark story with humor and insight, and even at 100 uninterrupted minutes, it never fails to engage and intrigue, but ultimately it is more interesting than moving.Set in a rundown section of Nazareth, Pennsylvania, it concerns itself with the pitiful Lebanese  Douaihy family, distant relatives of the poet Kahlil Gibran, whose "The Prophet" has influenced millions since its publication in 1923.
These poor  folks have been dealt more than their share of sadness. This is the tale of two gay sons of a dead mother, and a father who is killed in a car accident as the play begins, plus their ancient and difficult uncle who moves in with them when they are orphaned, though they are in their late twenties and do not need or want the self-appointed guardian.
The older son, Joseph, works for  a neurotic book packager primarily because he has severe knee problems and needs the money he earns as well as the health insurance and other benefits she provides. The younger is a live-at-home single gay man who pays little attention to his uncle, and has little compassion for him, or for his pain-plagued brother.  Into this mix, Mr. Karam has added Gloria for spice. She is Joseph's way out boss, who depends on him for far more than he is willing or able to offer.
Karam has an uncanny ear for the rhythms of these small town people, with their big time problems. It all sounds fresh but familiar, and his dialogue sparkles with wit, insight, and understated humor.  The overlapping conversations between siblings and their uncle, between siblings and a young reporter who comes into their lives as a possible match for Joseph, even the incidental language of local ladies who run a town hall meeting to discuss attitudes of the principals about the high school student whose prank caused the father to have his auto accident in the first place, all have the ring of truth to them. We are in Mamet territory here, as well as that of David Lindsay-Abaire's Good People, with just enough Karam to mark his own patch.  Empathy is earned, and we certainly care for the two brothers who are at the center the story.
What may be the play's greatest virtue is its uncompromising way of dealing with the fate of this family and its peripheral characters.  Everything about their lives is small, except the pain that each feels. It's the kind of pain that isn't going to be relieved by surgery, or psychiatry, or by anything less than a miracle. And miracles don't happen very often in Nazareth,Pennsylvania, though it might in a movie set there, directed by Frank Capra.  Capra would have loved these people, but he'd have worked out a more hopeful ending for them all. And even his "It's a Wonderful Life", which this resembles, did not find a large audience until many years after its initial release.  I think the same fate awaits this lovely play by Mr. Karam.
When Jay Binder, the eminent casting director, introduced Santo Fontana last year when he won the Clarence Derwent Award, he called him an actor who can play anything. He was right on the mark. His brief stint in Neil Simon's Brighton Beach Memoirs, his totally different British dandy in The Importance of Being Earnest, his appearances in several musicals, indicate he will be gainfully occupied for years to come, season in, season out. He is a genuine treasure, and should be installed in the Broadway Hall of Fame sooner than later. He makes Joseph in this play a man we root for all the way.
Joanna Gleason as his hysterical boss lady proves once again that she doesn't need music and lyrics to delight us; give her a juicy role in a straight play (and she's had several) and she turns into someone Lynn Fontanne would have hated because she has the rare knack of getting laughs out of throwaway lines in the Fontanne tradition, but who would have hired her in a jiffy just to have her in her supporting company. In another era, Ms. Gleason would have had the S.N. Behrmans and Philip Barrys eating out of her hand, hoping she'd agree to grace their latest drawing room comedy.  She, like Mr. Fontana, if we're lucky, will be back season after season.
The rest of this company is first rate as well. Chris Perfetti is making his New York debut as Charles, brother to Joseph, and Carrie Gardner, casting director, deserves credit for discovering him, and  bringing him to us from various regional theatres. Charles is a  tough role to make appealing; he's awkward, self-involved, not exactly the poster boy for Gay Pride week, and Perfetti manages to make us like him, hope for him, and enjoy the growth that allows him to begin to show signs of maturity by play's end.
In the end, I have reservations only in that Karam has put a plateful of characters into his play, most of them well defined and richly observed, but at the cost of not having enough stage time for some of them to fully develop.  The semi-final scene at a town hall  meeting is funny, and wraps everyone up, but a bit conveniently. The last moments, in which Joseph is trying to cope with his diminishing physical strength, indicates this man we've come to care about does not face the brightest of futures.
This play is not for those who seek catharsis, redemption, hope, the light at the end of the tunnel. But it is for those who cherish intelligent and provocative writing, and splendid acting throughout.
Sons of the Prophet runs thru Jan 1, 2012 at the Laura Pels Theatre, 111 West 46th Street (between 6th & 7th Avenues), NYC.
Tickets
———————–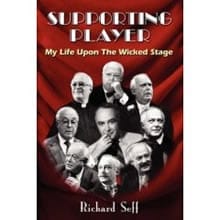 Broadway performer, agent, writer, and now librettist, among his many accomplishments, Richard Seff has written the book for Shine! The Horatio Alger Musical!, which debuted at the 2010 New York Musical Theatre Festival. He is also author of Supporting Player: My Life Upon the Wicked Stagecelebrating his lifetime on stage and behind the scenes, available through online booksellers, including Amazon.com.
Read more at RichardSeff.com
Richard Seff on DCTS – interviews Broadway luminaries:
Richard Seff chats with Joel Markowitz: