The miracle is not Christmas comes, but that we come to it at all. For eleven months, we snap and tear at each other like ravening dogs, foot soldiers in the war of all against all, but on Christmas we open our hearts and our wallets and cry out, "God bless us, every one!" You don't have to believe in God to get the point: the human experience is a cooperative venture, and acts of generosity, done in the enchantment of each others' glow, are far more satisfying than the acquisition of financial wealth.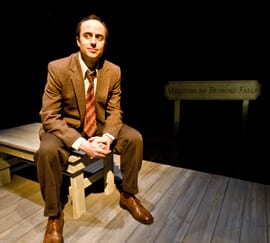 George Bailey (Jason Lott) gets the point – though he sometimes struggles with it, as when he is forced to abandon his dreams to go to college and explore the world in order to take over his father's struggling Building and Loan Association. Bailey's Building and Loan provides capital to working men and women – the kind of blue-collar, plainspoken folks who could never get a break from the haughty banker Henry Potter (Jason Lott), who endorses an idiot's version of social Darwinism: working people work, and capitalists get capital. Potter, like many bankers today, forecloses quickly and vigorously when someone falls behind on his payments, and leaves behind a field of depopulated homes like the empty husks of a depleted wheat field after an invasion of locusts.
Even if you haven't seen Frank Capra's It's a Wonderful Life – and, according to the 2010 census, there are only twelve of you who haven't – you know what comes next: George's feeble-minded Uncle Billy (Jason Lott ) – all right, they're all Jason Lott – loses $8,000 in deposits just before the bank examiners arrive at the Bailey Building and Loan on Christmas Eve, driving George, who faces bankruptcy, jail and ruin, to contemplate suicide from a windswept bridge just outside town.
But Clarence Oddbody, an angel seeking advancement in the celestial bureaucracy, hits upon the idea of showing George what life would have been like, for his loved ones and his town, if he had not been there, sacrificing his own short-term gain for the happiness of his community. And the community, with George on the ropes, shows that it gets the point, too – the point that it's Christmas. 24/7/365.
The Hub Theatre has done a formidably difficult thing: taking Capra's classic film, lopping an hour off of it, and turning it into a one-actor stage play. But Lott and co-adapter (and Hub Artistic Director) Helen Pafumi know what they're doing. The idea that the ultimate story of community could be told by one actor may seem a little challenging, but the production makes an important point: we are all one people, and at any moment might be crippled with bitterness like Potter, or in love with an ideal partner like Mary, or thrust into responsibilities far beyond our limited capabilities like Billy, or feel the weight of the world on our shoulders like George.
Lott's minimalist approach, and that of director Gregg Henry, is a wise one. They make no effort to channel Jimmy Stewart  in creating this production. There are no costume changes. Lott achieves separation through pacing, voice, gesture, a turn of a collar and expression. And there is not a moment when you do not immediately know which character he is. The actor knows his characters well and paints them with a single stroke. I love, for example, how he plays Potter, who lost the use of his legs when he suffered from polio as a boy. Lott throws Potter's legs to the side, to show that the banker has abandoned them as useless – something he also does to his borrowers when they stop paying. Sometimes Lott describes scenes which, in the movie, are played out, and the effect is surprisingly satisfying, like hearing a story told by a master storyteller.
Wonderful Life is played on a bare stage graced with a single bench and the welcoming signs of the town's Bailey-nourished commercial life – Martini's Restaurant, Gower's Drugs, the Building & Loan – glowing in the background. (During Clarence's dark reiteration of the town without George, the signs are replaced by the sinister icons of "Pottersville", with its slums and sleazy dives.) Jameson Shroyer is Technical Director.
Some publications, when they review a play, award it some number of stars or moons or applauding hands to indicate its relative worth. If we were into that, I would award Wonderful Life ten Stars of Bethlehem, a half-dozen Christmas trees and – what the heck – a partridge in a pear tree.
This is because not only George Bailey but the theater community as a whole gets the point: that the way to have a wonderful life is not to wallow in the mindless acquisition of wealth but to approach each other in open-hearted generosity, recognizing that we are enriched by the richness of our fellow planetary inhabitants.
The men and women I've met in theater are literate, capable – sometimes brilliant – people who could accumulate considerable wealth doing something else. (Lott, for example, is a lawyer in his spare time). Instead, they bring art into our lives, which is not, shall we say, the path to Trump Tower. They get the point, as Hub Theatre does, and this production does, and George Bailey does.
God bless them, every one.
The world premiere of Wonderful Life runs thru Dec 27, 2011 at Hub Theatre, 9431 Silver King Court, Fairfax, VA
Wonderful Life
Adapted by Jason Lott and Helen Pafumi
from a script written by Frank Capra, Frances Goodrich and Albert Hackett, with additional scenes by Jo Swerling
Derived from the short story, "The Greatest Gift" by Philip Van Doren Stern
Directed by Gregg Henry
Produced by Hub Theatre
Reviewed by Lorraine Treanor
Highly Recommended
Running time: 1 hour, 5 minutes without intermission


Other reviews: