Paul Morella, backed by the Olney Theatre Center, has done something wonderful with Charles Dickens' A Christmas Carol. He has taken it back to its roots by returning to the novella penned by Dickens in 1843 and brings it to life in the simplest possible terms. He tells the tale exactly as written, as Dickens himself might have done it, embellished only with the most minimal set pieces, some creative lighting and realistic sound effects that blend effortlessly into the storytelling. The result is delightful.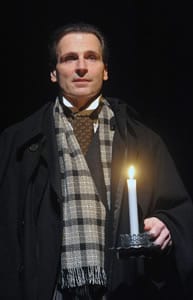 From the moment you enter the theater, greeted by Morella himself, it is obvious that this is a labor of love. Here it is in his own words: "When the opportunity first arose for me to present this wonderful "Ghost Story of Christmas," I thought it would be foolish to let anyone but Dickens himself do the talking. In reacquainting myself with the original novella, I was overwhelmed by the power of the narrative itself, the vibrancy of its detail, by the richness of the characterizations, and by the compassion of its message. The journey from darkness to light, from misery to redemption, from selfishness to generosity, from loneliness to communion resonated in very profound and moving ways. In other words, it was – and is – storytelling at its simple best."
It is hard to say whether Morella deserves more praise for the idea and adaption or for his masterful performance. That he is a fine actor has been demonstrated any number of times on the Olney stage and in theatres around D.C. Commanding an audience's attention as a single performer is easily the greatest challenge an actor can undertake.
And yet, this is not an acting tour de force. Why? Because Morella has stayed true to his intention to honor Dickens' creation as written and act as a "channel" for him. From time to time, one is deeply impressed with his facility for slipping in and out of multiple characters seamlessly, but what holds the evening together is Morella's spellbinding power as a story teller. In allowing Dickens' narrative to carry him along, it's clear that he is enjoying the retelling of this tale every bit as much as we are.
Curiously enough, Morella feels compelled at the beginning to introduce the piece and encourage the audience to give free reign to our imaginations as well as our emotions. Given how powerfully his storytelling impels these things to occur naturally, I was left wondering why he felt such an introduction necessary. I think he is reacting, and rightfully so, to the rapidly occurring cultural currents embodied in electronic technology that have dulled imagination and substituted adrenaline rushes for emotional truth telling.
In a way it's sad that we might need to be reminded to kick start our imaginative impulses. If, as Marshall McLuhan so famously pronounced, the medium is the message, Morella is reintroducing us to the very roots of theatre. He is giving his audience an opportunity to enjoy storytelling at its best, where it is not enough to sit back and be done unto. We are all there actively co-creating and sharing in the same experience at the same moment. That is what is distinctive and magical about the theatre and what allows for bringing a group of strangers together on a "…journey from darkness to light, from misery to redemption, from selfishness to generosity, from loneliness to communion."
A Christmas Carol: A Ghost Story of Christmas runs thru  Jan 1, 2012 at Olney Theatre Center, 2001 Olney-Sandy Spring Road, Olney, MD.
Details
Tickets 
A Christmas Carol
Adapted by Paul Morella from the original novella by Charles Dickens
Produced by The Olney Theatre Center
Reviewed by Larry Bangs
Highly Recommended
Running time: Two hours including one ten minute intermission