Back in what now seems like the "not so good old days," each Broadway season seemed to offer at least one fun filled show about athletes (all male then)  and the ladies in their lives.  The package included  melodic scores, topical lyrics and ebullient dancing. The genre slipped away in the post-WWII evolution of musicals, beginning with the more book-oriented Oklahoma! in 1943, the more dance-oriented musicals that  were hinted at in On Your Toes in 1936, developed in On The Town in 1944, established in West Side Story in 1956. 
From then on, old timers who liked mindless tales of young love on school campuses had their memories of the high school and college musicals  Good News, Babes in Arms, Too Many Girls, Best Foot Forward,  all hits blessed with sprightly scores by the likes of DaSilva, Brown and Henderson, Rodgers and Hart and  Martin and Blaine.
Now, out of the blue and by way of  the Dallas Theatre Center, The Transport Group and the Gym at Judson, a dozen or so good souls have gathered to present the latest in the genre on Broadway, which is difficult to understand. For what rocked the house at the Gym, merely puzzled the crowd at the Walter Kerr, at least on the Friday night I attended.
The quadruple threat composer/lyricist/arranger/orchestrator is a fellow named Lewis Flinn, and according to his bio in the program, he "has worked super hard on this show!" .  Well, the results do indeed show hard work, but little result. The score is "peppy", filled with hip hop, rock 'n roll, rap, lots of energy but not much mirth and no melody, lyrics that are repetitive and don't say much. There's not one musical moment to cherish in the thirteen numbers offered up.
"Lysistrata Jones" (a likely name, no?) is the young lady who is determined to get her girl friends to join her in a sex strike until those darn boy friends of theirs win at least one game for dear old Athens College, which has been losing to Ithaca and everyone else. But in the final third of the second act they are about to tackle the toughest of their competitors, the dreaded Syracuse University, and all of a sudden the boys, led by team captain Mick and team jester Xander, decide to really try, and whadda ya know?  They manage to take the game by one point, and we can only imagine what goes on after the final curtain, by which time the sexual ban is over.
The book is by veteran comic writer Douglas Carter Beane and one hoped he would  repeat the success he had last season with his wacky and very funny Xanadu, which he rescued from the grave where the film which the musical spoofed was unceremoniously buried. This time out he has thrown together a grab bag of topical one-liners about Mrs. Newt Gingrich, cellphone texting, iPhones and other Saturday Night Live victims, but they don't add up to a book that's easy to follow, or indeed one that very often strikes our  funny bone.
There is lots of energy up there, and in the performance of Liz Mikel as Hetaira, a combination of mother confessor and ho' house madam, there is a welcome attitude that seems to say "I can't make much sense of this story, but I'm sure gonna try to entertain you." And entertain us she does. She can do more with several yards of fabric wrapped around her ample frame than anyone else I can think of. And as she sashays around the stage struttin' her stuff in numbers like "I Don't Think So," she lands big.
Josh Segarra as Mick does manage to get some laughs out of his slightly cockeyed basketball hero. He's got a toothy grin that adds to the bland material he's been handed to sing and speak, and he's a plus.
But Pat Murin in the title role brings little to the show except an adorable figure, a bright smile, bouncy blonde curls and tons and tons of energy.  But she's closer to Baby June in Gypsy and an actress named June Preisser who played all the bouncing blondes in those college musical movies of the thirties. She was the one who didn't get the guy, the one you wished would stop pouting and prancing about so much, the one who always lost out to the leading lady at final fadeout.  Unfortunately, in this case she IS the leading lady.
Directed and choreographed by Dan Knechtges with so much speed you'd think he was afraid  that if he allowed even a second of silence we'd all go home.  When I left after the finale, the cast was still jumping up and down onstage, pretending they were in a delightful romp that was sure to keep them occupied for years to come.  I'm not a soothsayer but I suspect this one will be gone soon after the new year shows up.
Lysistrata Jones is playing at the Walter Kerr Theatre, 219 W. 48th Street, NYC.
Details and tickets 
———————–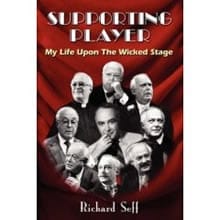 Broadway performer, agent, writer, and now librettist, among his many accomplishments, Richard Seff has written the book for Shine! The Horatio Alger Musical!, which debuted at the 2010 New York Musical Theatre Festival. He is also author of Supporting Player: My Life Upon the Wicked Stagecelebrating his lifetime on stage and behind the scenes, available through online booksellers, including Amazon.com.
Read more at RichardSeff.com
Richard Seff on DCTS – interviews Broadway luminaries:
Richard Seff chats with Joel Markowitz: