If, at some point before the lights in the Kennedy Center's commodious Eisenhower Theater dim, you wonder why am I here you may be forgiven. Ann Richards was, after all, a one-term Governor, a liberal Democrat in a deeply conservative state who was elected principally because of the ineptness of her opponent. It is, in a way, the Bob Ehrlich story in reverse, and nobody's going to write a one-actor play about him. Part of the answer – which you will see for yourself in ten minutes when you go to the show – is this: you are here to see this rare and remarkable thing, a candid politician, who will show you the inner workings of one of the most fascinating professions in the world. And the rest of the answer is – well, wait, and let me tell you.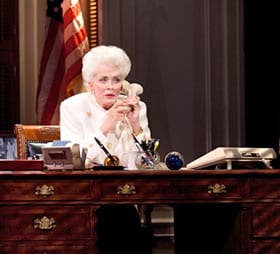 We are in the auditorium of some cow-town college in the middle of Texas. It is graduation day, and the college President (the voice of Joe Sears) is cheerfully telling the graduating seniors to shut up so that he can introduce the guest speaker, the former Governor of Texas. We are treated to a video which captures the opening minutes of her memorable keynote address to the 1988 Democratic National Convention. And then the Governor herself (Holland Taylor, who is the playwright as well) enters, underneath a shower of shiny confetti. She looks startled. It is the only moment she seems out of place.
Dressed in an immaculate white pants-suit (costumed by Julie Weiss), not a hair of her impeccable brilliant white bouffant hairdo out of place (Paul Huntley is the wig designer), Ann Richards is the most down-to-earth person you could hope to meet. She tells the story of her life, as a way of illuminating the path of the graduating seniors to their own. It is, as Taylor crafts it, also the story of how women rose to power in American politics, from the beginning of the seventies into the nineties. She marries a high-octane civil rights lawyer, has children, throws herself into political causes, first as an envelope-stuffer, then as a strategist, and finally as a candidate. She becomes a County Commissioner, then State Treasurer and has her dramatic turn at the Convention, and finally, Governor of Texas.
There are hard times, too, and she does not shy away from them. She has a bad problem with booze, and after a family intervention goes into rehab. (Later, after a particularly exasperating series of incidents, she says, "I need an A.A. meeting" the way some people would say "I need a drink.") And, although she and David Richards continue to share a passion for justice and for the protection of the helpless, they no longer share a passion for each other. They divorce.
Taylor has Richards tell this all – the good and the bad – with an air of mild surprise and amusement, as if, in Kurt Vonnegut's phrase, her life was a series of accidents. But Taylor knows better, and shows us, in the next, best, phase of the production – Ann Richards as Governor of Texas.
We are in the Governor's office now, which is to say that we are in the middle of a managed tornado. Taylor has captured perfectly the environment of the modern political leader, who from sunup to well past sundown struggles to make decisions in a vacuum of information while posing with Girl Scouts and noshing with donors. It is a brutal lifestyle, and unfair; it provides no time for reflection, and it is a miracle when someone in this position comes up with an original idea, far less a solution. She works the telephones like Lyndon Johnson, teasing, cajoling, and browbeating staff, legislators and constituents, all the while fielding the demands forwarded to her by the voice of her secretary, Nancy Kohler (the voice of Julie White). One moment she is trying to figure out how to use her limited powers to stave off an execution; the next she is mediating a squabble among her children about a game of charades.
She is her famously mordant and witty self with her staff, which scrambles to keep up with her ("he couldn't organize a circle jerk," she mutters after some underperforming advance man screws up a visit with the President of Mexico). They disappoint sometimes, but she buys them all boots anyway. Bill Clinton calls; he tells her that he is thinking of naming Barbara Jordan to a vacancy on the Supreme Court and asks for her take. She knows that her old heroine is too sick to make such a move – Clinton doubtlessly does too – but they are doing a Kabuki play, smiling defiantly at death because it hurts too much to do anything else. Richards puts down the phone and, though she has no time for reflection, mourns.
When Richards is sitting alone in the Governor's office, Ann seems to become, strangely, more than a one-actor play. It is as though Nancy Kohler is in the room with us, and Bill Clinton, and Ann's kids, and her struggling, straggling staff – but of course they are not; they are represented by the silences between her remarks into the telephone, and, in Nancy's case, by a disembodied voice. That the play seems populated by a dozen characters, or more, is a product of more than excellent writing; it is the hallmark of an absolutely spot-on production, in which Taylor's timing is so perfect, and so perfectly natural, that it amounts to a conjuring act. Taylor and director Benjamin Endsley Klein have rendered a work which reflects the highest standards of their profession.
And then she is no longer Governor, and we are back in the lecture hall, where Ann Richards plays out the rest of her life – and death, of esophageal cancer; she is nothing if not complete. Richards had much cause for bitterness and grudge-holding, but did not go in for it much, and Taylor wisely respects this aspect of the Governor's personality. In the 1990 Gubernatorial primary, one of her opponents, Attorney General Jim Mattox, accused her of being a drug addict, but the only mention she makes of it is the observation that politics is almost as tough as teaching Junior High School. Taylor's Richards is unquestionably a partisan, but Taylor does not exploit her political rivalry with the Bush family, which might have played to the audience but would not have served the purpose of showing Richards as a leader who transcended her time.
Which is why, of course, you are here – to see a leader who transcended her time. "You haven't lived until you've been Governor of Texas!" she announces exuberantly, and to the disappointment of most of us, but it is the way that she lived, and not her Governorship, which makes her both exuberant and transcendent.
Ann could have been the story of a nurse, or a rancher, or a construction worker, or the President of the United States, and it would not have been materially different: it is a story of a woman who chose to be what she wanted to be, and in so doing got every last drop of joy out of her life. Similarly, Taylor's Ann delivers every drop of joy from Richards' life to us in condensed form, in a swirling cocktail which is, like Richards herself, exuberant and transcendent.
Ann runs thru Jan 15, 2012 at The Kennedy Center, 2700 F Street NW, Washington, DC.
Details
Tickets 
Ann
by Taylor Holland
Directed by Benjamin Endsley Klein
Produced at the Kennedy Center
Reviewed by Tim Treanor
Highly recommended.
Two hours five minutes, with one intermission
 Other reviews