Performers in holiday shows have lots to be merry about this season as box office sales have earned extensions for their shows. Synetic's Romeo and Juliet added a week, closing today, STC's Much Ado About Nothing carries over to 2012, closing January 7th, and at Olney, the cast of The Sound of Music will be in their 9th week when they close January 22nd.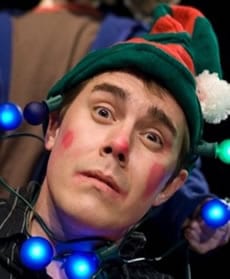 Christmas came to Fort Fringe with the performance of The Santaland Diaries, the all-too-true adventures of David Sedaris as Crumpet, the Macy's department store elf, adapted for the stage by Joe Montello. It's told by none other than Joe Brack, DC directors' go-to actor for wild or slightly wacked characters (his brief scene as Bob the pizza guy in Forum's bobrauschenbergamerica still gives us chills.)
This is Joe's fourth year donning the elf suit to play Crumpet and, thanks to the turnout, producer Matty Griffiths of City Artistic Partnerships has extended the show a week, closing it on New Years Eve.
We asked Joe to tell us more.
"City Artistic Partnerships and I have done The Santaland Diaries in three different incarnations, over four years together. Matty and I love the piece, and we've agreed we will try to do a different take on this very rich text each year. We also promised each other we'd never build a Santaland set.
"Our first year, Matty built a back alley behind a Macy's at Warehouse Theatre, the following year it was a runway configuration, again at Warehouse, where I started in the audience wearing street clothes and right after the cellphone announcement my phone would ring in my pocket and I'd start the show.
"I'll say this about this year – The Shop at Fort Fringe puts us in the round and I start in the elf suit. Ashley Ivey is our voice of Santaland, sending Crumpet on his breaks and instructing customers on how many days they have left to shop in Macy's before Christmas.
"Without fail, every single year we get at least one night where there's a drunk heckler. Now, Santaland is a one-man show and the audience dictates a lot if the pacing, but we recommend LIGHT refreshments before the show. And if you can't hold your tongue, I've been known to ad-lib at the naughty audience member's expense. ;)"
Joe has a special deal for this New Years weekend:
"It is the first time we've ever extended past Christmas, thanks to very giving audiences. So, we'd like to offer $10 rush tickets for the first 20 people (or until the show is sold out, whatever comes first) at the door, at each of the remaining shows – cash only."  Or you can buy them online for $20.
So, with a special nod to everyone who played Santa and Santa helpers this year, we invite you to say goodbye to Crumpet for another year. The Santaland Diaries has 2 more performances: Friday, Dec 30 at 8pm and Sat, Dec 31st at 7pm at Fort Fringe, 607 New York Ave, NW, Washington, DC.