If you think sex conversations in relationships are cringeworthy, try throwing religion into the mix. Talk about awkward.
Washington playwright Renee Calarco delves into the intricacies of intimacy, faith and trust in her new comedy The Religion Thing, directed by her brother Joe Calarco and playing through Jan. 29 at Theater J as part of the "Locally Grown: Community Supported Art From Our Own Garden" series.
Miss Calarco never intended to enter into the "don't ask, don't tell" spiritual realm when she first conceived of the play. "I actually started writing it as a 10-minute play in 2004 about a perfect DC couple who do peer-to-peer marriage counseling," she said. "I read an article in the Post about it and I couldn't let it go."
That germ of an idea led Miss Calarco to start thinking about the inevitable compromises in marriages—what we give up completely, what we undertake when we take our vows. "I did so many revisions, I can't remember when religion and faith bubbled up. But it became the beast that took over the play."
The Religion Thing centers on two couples in their 30s—Mo (Liz Mamana) and Brian (Chris Stezin), a dynamic interfaith duo struggling with the role of religion in their lives after they realize they miss the rites and rituals of their observant childhoods; and Patti (Kimberly Gilbert) and Jeff (Will Gartshore), newly wedded and born-again. During a cozy gathering, Mo not only discovers that her best friend Patti is married to a man she has only known for a few months, but also has joined an evangelical mega-church and is putting her brilliant law career on hold to start a family.
More revelations crop up over the cheese straws, many of which force the couples to confront their views on spirituality and sexuality, as well as to question how well they really know the most important people in their lives.
"I wanted to focus on the issue of faith and how much religion figures—or does not figure—into the decisions these characters make," Miss Calarco said.
This priority led to another imperative — treating the evangelical characters with respect and dignity rather than as weirdo zealots or objects of derision. "With this play I wanted to show the right end of the religion conversation to a theater crowd who generally skews to the left," she continued. "And that meant exploring people who are born-again in a fair and even way, showing all their complexities, not just their religious affiliation."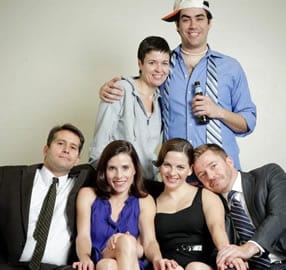 Miss Calarco, who is Jewish, did considerable research, including interviewing friends and acquaintances who are conservative Christians. "My husband is a radio documentarian and did a series on faith and listening to his pieces made me look at things in a whole new way."
The Religion Thing also focuses on interfaith marriages where religion is not a big deal until the prospect of children arises. "The whole Jewish/Catholic thing came from my parents. My father was raised Catholic and converted to Judaism," she said. "I was raised Jewish but there was this whole Catholic side of the family and I was always acutely aware of everybody trying to understand each other and negotiate the holidays."
The characters Patti and Mo were raised Catholic, but as the playwright points out, "even the closest of friends don't often talk about their faith, let alone people in general. It is something we don't discuss and I don't know why."
This tippy-toe attitude extends to the play's audiences. "It's been interesting. People are either laughing or gasping in horror over what these characters are saying to each other," she said, adding "And sometimes it gets really quiet."
Renee Calarco lives and works in Washington, DC. Her affiliation with Theater J began with a 2010 reading of an early draft of The Religion Thing, which was originally titled Good Counsel. Her play, Short Order Stories, which received the 2007 Charles MacArthur Award for Outstanding New Play was produced by Charter Theatre, where she was a long time writing and acting member. Other plays include Keepers of the Western Door and the one-act The Mating of Angela Weiss.
The Religion Thing runs thru Jan 29th, 2011 at Theater J, 1529 Sixteenth Street, NW Washington, DC.
Details
Tickets
Related:
DCTS reviews The Religion Thing