Faith can bind people together under the banner of common belief, or it can create deep rifts, irreconcilable by way of reason or shared history. In Theater J's lovingly crafted production of Renee Calarco's The Religion Thing, a polished cast navigates the playwright's meditation upon the complex role of faith in relationships, marked by a heady brew of razor sharp humor, repressed secrets, and raw emotion.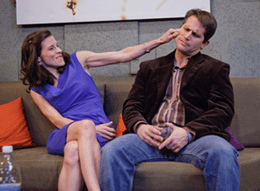 The Religion Thing begins in the living room of a finely appointed DC area home. Successful attorney Patti appears in the middle of unveiling her new beau, Jeff, to longtime friend and fellow attorney Mo and her lobbyist husband Brian. A period of small talk ensues, wherein Calarco's smart humor is initially muddled by the unclear nature of the relationships in play and an awkward rhythm of ping pong dialogue. However, the action settles into a comfortable rhythm once Patti reveals a litany of abrupt lifestyle changes that shock Mo and Brian.
Patti unveils a surprising religious conversion and new family-first mentality that seem to cast away all she has achieved professionally and personally, at least in Mo's eyes. As the conversation unfolds, more and more issues bubble to the surface, until a shocking revelation threatens the two women's many years of friendship. Patti's host of changes soon leads Mo and Brian to reflect upon their own relationship and life goals, and chiefly among them, the pressing issue of raising their children with a mix of their respectively Catholic and Jewish traditions.
Within James Kronzer's meticulous, rotating reconstruction of pristine upper middle class life, conflict flares as inner demons and repressed regrets tumble from the Pandora's Box opened by Patti's revelation.
Mo and Patti's relationship quickly emerges as the production's main emotional pivot. Actresses Liz Mamana and Kimberly Gilbert deliver magnetic performances, infusing these two divergent career women with a mixture of fierce pride and vulnerable hope. In their most poignant scene, Mo and Patti come together over lunch after an ostensibly lengthy separation to forge a fragile truce. Their darting eyes and drawn expressions evince a palpable tension, which swells to a nearly unbearable level as they slowly acknowledge a dreadful obstacle to any recovery of their shattered friendship.
As Patti's deeply conflicted partner Jeff, Will Gartshore presents a compelling portrait of a man waging a desperate daily battle against his true nature. His selective representation of the truth to himself and the others is both sick and fascinating. He earns equal measures of scorn and pity as his mental and emotional gyrations grow increasingly frantic.
The affable Chris Stezin initially recedes into the background as Patti's laid back husband, Brian. He offers the occasional exasperated crack, serving as a voice of reason amid the chaos, but remains largely uninvolved in the roiling tension. When a fateful dream in the second act awakens a long dormant love for Jewish tradition, Brian comes alive. While his moments are fewer, Stezin merits praise for his sympathetic vision of a good man forced into a heartbreaking, impossible decision.
The versatile Joseph Thornhill serves as a universal fly in the ointment, appearing as four distinct dream visitors to torment Mo, Patti, Jeff, and Brian with hidden truths and scenes from their past. Thornhill's balance of comic and dramatic chops allows him to easily step into the shoes of each visitor, although his strength clearly lies more toward the comedy end of the spectrum.
Thornhill's visits to Patti, Jeff, and Brian carry significant narrative weight, while his appearance as Mo's former lover seems quickly tacked on to offer symmetry. The visit dwells largely upon an underdeveloped romantic subplot between Mo and Brian, despite much evidence of any trouble brewing outside the dream world.  Cory Ryan Frank's evocative lighting distracts from this hiccup through creative transformation of clean bedrooms into such varied dreamscapes as a childhood home, a dingy college hangout, and a red-drenched lothario's' den.
In her knowing take on faith and how it relates to love, loyalty, and identity, Calarco picks no definite winners and losers, choosing to paint in shades of gray rather than black and white. The Religion Thing offers no easy answers, leaving the audience to come to their own truth. The true payoff seems to lie not in storybook resolution, but rather in the strength and perspective gained through conflict and loss.
The Religion Thing runs thru Jan 29th, 2011 at Theater J, 1529 Sixteenth Street, NW Washington, DC.
Details
Tickets
The Religion Thing is the centerpiece to Theater J's new festival, Locally Grown, celebrating the work of Washington area playwrights.
The Religion Thing
By Renee Calarco
Directed by Joe Calarco
Produced by Theater J
Reviewed by Ben Demers
Recommended
Running time: 2 hours, 10 minutes with 1 intermission
Other reviews