I'm reviewing Stick Fly a couple of weeks after it opened on Broadway because when it was announced, I didn't have much interest in seeing it. The title eluded me, I'd not heard of any in the cast, I didn't know the author (Lydia R. Diamond) though she's had exposure in a variety of regional theatres.
Her director, Kenny Leon, has impeccable credits, but one never knows why a director becomes attached to a project, I can't cover every new play, and this one just slipped right by me.  Excellent word of mouth began to reach my ears, and I hastened to remedy the situation. So there I was, smack dab in the middle of the fifth row of the Cort Theatre the other freezing afternoon to have a look for myself.
I am so glad because Stick Fly is one of those rare achievements, a family drama  right up there with August: Osage County and Death of A Salesman and Awake and Sing!  as one of the season's genuine surprises, a rich and rewarding saga of family life, taking me into unfamiliar territory once again, this time to the island of Martha's Vineyard.
It's not the Martha's Vineyard of the Kennedy clan, nor is it that of the section called Oak Bluffs, which is largely inhabited by African Americans. It does deal with a black family, the LeVays, and it is set in the ancestral home of this wealthy, cultivated group, descended from a Massachusetts shipper (who could possibly have delivered slaves to the island) . The family includes Joe, his two sons Spoon and Flip, plus the ladies in their lives.
What seems to begin as a situation comedy, for like so many of those family plays set in an attractive upper scale home, it begins with an African American maid dusting, cleaning up, answering the phone to let us know who's home, who's away, and other expository stuff. It's 2005 and in the course of the two acts that follow we will come to know, via incisive dialogue, excellent direction and a fine cast that is well suited to the task, more than we thought possible about this complicated but very alive consortium whose lives are inextricably intertwined.
Cheryl, the young maid of 18, is the daughter of the housekeeper; she's replacing her mother who is at home ill. In time we will learn more of both of them, but not before we've become totally engaged in the stories of Spoon and his girl Taylor, of Flip and his woman Kimber, a white woman whom he had introduced to his family as "Italian".  She's not Italian, but Flip is a kidder.
The ladies have come to the Vineyard to meet their men's  father, Joe, who rules his clan with an iron fist. One son, 28 year old Spoon, has rebellion in him, but has never expressed it. His older brother Flip is 35 and has learned to roll with the punches, to treat Dad as an irritant, but nothing more.
Ms. Diamond has won awards from productions of her plays, including  the 2010 L.A. Critics Circle Award and the 2010 L.A.  Garland Award, among many others. What has kept her from a New York production until now is anybody's guess. More credit to Nelle Nugent and her long list of co-producers, who have had the vision and the courage to bring us this fine play with a cast of actors, mostly from the small screen, known to some (several received applause on their entrances,) but all unknown to me.
One of them, Condola Rashad, is making her Broadway debut as Cheryl, the understudy maid. Ms. Rashad has the credentials. She's the daughter of Phylicia and Ahmad Rashad. Her mother is the acclaimed actress, her father a football star who became a sportscaster.
She received rave reviews herself in Lynn Nottage's acclaimed play Ruined and in this she proves she was not a one-shot wonder.  She has all the instincts of a more seasoned performer. Tall and thin, with enormous stage energy, she seems to be inventing her dialogue each time she opens her mouth. Someone should have a quiet talk with her about her diction, for she hardly stops to breathe, and some of the excellent words she's been handed go flying past us long before we've had a chance to grab hold of them. But she'll figure that out for herself. The talent is there, the craft will come.
It's really the revelation of the big secret of this girl's past that gives foundation to the play's plot, but there are so many swirling undercurrents involving each and every one of the characters, we are riveted right up to the acceptable ending.  If "acceptable" seems a temperate word to sum up such a fine play, I apologize, but it almost seemed a happy ending that the play did not deserve. And then, once again, there was a switch that redeemed Ms. Diamond.
I remember thinking as the second act began, "Where is this leading?" having no idea where it was headed. The second act pulled me further and further into this family's web, and I would welcome an opportunity to see it all over again to savor and inhale some of its delicate and indelicate flavors.
Should you be wondering about the title, as I was, suffice it to say one of the characters collects and studies insects, and to capture them she uses honey to slow them down so she can place them in bottles, the better to observe them.  There's a metaphor in there somewhere, but you needn't concern yourself with that.  For a look into a world that was familiar to me because it was so specifically written and realistically played that it became universal, I urge you to come see this beautiful example of the kind of ensemble playing for which the old Group Theatre was renowned. This would have gone down well in repertory with Awake and Sing! and Long Day's Journey Into Night. 
Stick Fly is now at the Cort Theatre, 138 W. 48th St, NYC.
Details and tickets 
[Editor's note:  Three casts in the DC region audiences have had the chance to play the LeVays  prior to Stick Fly's Broadway opening. First at the 2008 Contemporary American Theater Festival,  at Arena Stage , directed by Kenny Leon,  and, most recently at Everyman in Baltimore.]
Related:
Our interview with Lydia Diamond 
———————–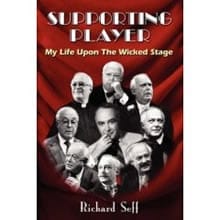 Broadway performer, agent, writer, and now librettist, among his many accomplishments, Richard Seff has written the book for Shine! The Horatio Alger Musical!, which debuted at the 2010 New York Musical Theatre Festival. He is also author of Supporting Player: My Life Upon the Wicked Stagecelebrating his lifetime on stage and behind the scenes, available through online booksellers, including Amazon.com.
Read more at RichardSeff.com
Richard Seff on DCTS – interviews Broadway luminaries:
Richard Seff chats with Joel Markowitz: