I caught a matinee of How to Succeed in Business Without Really Trying this week, and as I watched young Nick Jonas prancing about as J. Pierrepont Finch in the current Broadway revival of  the Frank Loesser-Abe Burrows master work, I suddenly had a revelation about the recent and current  Broadway scene.
I blush to tell you I didn't know exactly who Nick Jonas is, as I'm not into the Jonas Brothers and the current crop of very "in" groups.  Jonas has recently replaced Darren Criss in the role, and that's another name with which I wasn't familiar, though I'd seen him in an episode of the tv hit "Glee". Criss in turn had replaced Daniel Racliffe in the role; Radcliffe I did know from the blockbuster "Harry Potter" film franchise. All three young men had first star billing above the title in How to Succeed, none of them had any stage credits (Radcliffe had played Equus on Broadway but that had been his first time out, so my theory applied to him as well as to the other two). And, though Jonas had appeared on stage before, the roles had not been central, and some were replacements.
I followed this trend of thought, and up came Christina Applegate in a revival of Sweet Charity, Reba McIntyre in Annie Get Your Gun, Hugh Jackman in The Boy From Oz, Daniel Craig along with Jackman in A Steady Rain, Sean Hayes in Promises, Promises, Julia Roberts in Three Days of Rain, and on and on into the night. All playing iconic roles, all starring in huge letters above the title, all coming to Broadway directly from the large and small screens.
My point is that when I was a lad, Broadway stardom in a leading role almost invariably came to those who had started out small on the stage  — for example,  Judy Holliday in Kiss Them For Me, Marlon Brando in I Remember Mama, Alfred Drake and Barbara Bel Geddes in Out of the Frying Pan, Celeste Holm in Papa Is All, Mary Martin in Leave It To Me, Nancy Walker in Best Foot Forward, etcetera , etcetera  and so forth.
All of these early appearances in small roles, often in flop plays, brought us to attention with impressive performances and so, slowly, stardom was achieved.  Now it all seems to have reversed itself.  Major success in another medium seems to lead instantly to over the title name in lights, and the surprising part of this is — the youngsters come through and prove to be more than able to make what should be a giant leap.  For delivering a brilliant stageworthy performance in a demanding leading role used to take the discipline, training, and most of all —  the experience that are supplied by apprenticeships.
All of which is the long way round to say that, despite my longwinded theory,  young Nick Jonas is absolutely delightful, in full command of himself, has all the star quality needed to carry How to Succeed for a sixty yard dash for a touchdown.  Yes, he's appeared on stage before, starting as a child, but he's only become visible to us as the youngest member of the Jonas Brothers, smash hit recording and concert artists. To further support my thesis, he is joined by Michael Urie as "Bud Frump" and film star Beau Bridges as "J.B.Biggley", both of whom are far better known for their early successes, respectively, in "Ugly Betty" on TV and in a dozen films on the big screen. And both of  them are adroit and accomplished in playing the larger than life comic characters they've been handed.
How to Succeed, which I've now seen in at least 6 productions, is always a joy to revisit, for it's full of delectable moments, most of them written into the Abe Burrows script and the highly original Loesser lyrics, some inserted by the various directors who've had a crack at the Pulitzer Prize winning material. Set in the post-Eisenhower free wheeling 1960s, most of its satirical material still holds up, stuff like the fierce ambition of some who come to New York to "make it", the need for chemical support for the madness of office life on competitive Madison Avenue (the drug of choice was then caffeine), the ability to stay alive while swimming with sharks.  The one major area of change in the 60 years of wisdom we are supposed to have picked up, is the role of women in the workplace. Yes somehow, when it's all played correctly, as it is here, even the out-of-fashion lyrics to "Rosemary's Philosophy" ("I'd Be Happy To Keep His Dinner Warm" and "Cinderella Darling") seem to be accepted by today' s audiences with a shrug and a kind of "weren't we dumb, weren't we quaint?" attitude.
When you put two companies together (that is, 3 new principals sliding into the 12 month run for the rest of the company) it's not hard to tell who has a touch of 'long-runitis'. Rose Hemingway, Tammy Blanchard, Mary Faber and Michael Park are all still very winning in major supporting roles, but they all can't seem to help anticipating reactions, and knocking out those one-liners just a tad too glibly.  But they remain bright as buttons and all in all the quality of  the very attractive physical production has been polished to a bright shine.
The young ladies who came to scream at young Jonas' every move only seemed to add to the ebullience out front, and a fine time was had by all. I'm certain Messrs. Loesser and Burrows as well as Bob Fosse (who choreographed the original production) would have been delighted with what's going on today with their lovely show in  the capable hands of their successors.
How to Succeed in Business Without Really Trying is playing at the Al Hirschfield Theatre, 302 W. 45th St, NYC.
Buy tickets.
Related:
Richard Seff's original review of this production 
———————–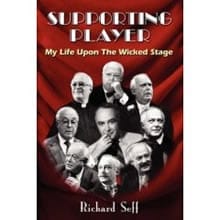 Broadway performer, agent, writer, and now librettist, among his many accomplishments, Richard Seff has written the book for Shine! The Horatio Alger Musical!, which debuted at the 2010 New York Musical Theatre Festival. He is also author of Supporting Player: My Life Upon the Wicked Stagecelebrating his lifetime on stage and behind the scenes, available through online booksellers, including Amazon.com.
Read more at RichardSeff.com
Richard Seff on DCTS – interviews Broadway luminaries:
Richard Seff chats with Joel Markowitz: