Theresa Rebeck is a playwright who combines the politically active mind of the late Lillian Hellman and the brittle wit of the late Jean Kerr, two formidable playwrights who greatly enriched Broadway seasons from the 1930s through the 1960s. 
Rebeck has  learned her craft, her plays are well constructed, and they offer rich roles for good actors. The Water's Edge, Mauritius, The Understudy, The Butterfly Collection all offered intelligent insights into some of the issues of their days in the early 21st Century.  Produced in the past mainly Off-Broadway, she finds her work this time in residence  at the Golden Theatre in the middle of the Broadway scene, and with this first class production of her play Seminar, she certainly deserves to be.
As if that weren't enough, she is an Executive Producer of Stephen Spielberg's new television series "Smash", about the making of a Broadway musical, which debuts tonight on NBC.
She's dealing here with a group of four bright young would-be novelists, who assemble each week in the apartment of one of them, to be poked, prodded, examined and instructed by an eminent novelist, now past his prime;  an intellectual, a scholar, an icon, he has now been reduced to conducting seminars for young writers who pay him $5,000 each merely to have his input into their embryonic works.
Before we meet this man, here called "Leonard", we are introduced to the four budding geniuses who comprise the current crop of aspirants. In a spirited conversation among them, they all seem highly suspicious of their mentor, some wondering why they have put themselves in what they consider to be harm's way.
Leonard appears, and in the person of the very special actor Alan Rickman, who can ooze sinister charm as though he were maple syrup sliding over a waffle, we are immediately riveted.  We spend the rest of the 100 minutes of this play listening to him rip to shreds the works handed to him by his supplicants. At first, it is off-putting to hear him go on and on about how awful one manuscript is after stumbling on its very first sentence.  My thoughts at that point ran along the line of : "You paid $5,000 for that?!  Get your money back!"  He does it again with the works of the others, and though the sparring dialogue between him and his young writers is like  watching fireworks explode, I kept hoping these characters would expand, would become more interesting than the sketch figures coming at me.  And I must add that all five were the sort of people you'd hate to get stuck with for an evening at home.
Lily Rabe's "Kate" is a wealthy girl who is living in her parents' rent-stabilized nine room West Side apartment, and she's full of wisecracks and sass. The other woman in the group is "Izzy", here played by Hetienne Park, who seems miscast as the oversexed EastVillage type who has ambition and drive. With eye makeup you wouldn't miss in the second balcony, she reminded me of something out of the FuManChu movies of the distant past.
Jerry O'Connell is a very verbose young "Douglas" and he is the sort you run from on a holiday cruise when you see him coming at you. His opening monologue was funny but maddening as he persisted in babbling about "the exteriority and the interiority of a writer's colony" in which he had spent time.  Hamish Linklater is playing "Martin", the most bizarre of the lot, and revelations made about him as the play nears its conclusion are the only arresting moments in Seminar. 
After all that, I still tell you that the 100 minutes of uninterrupted talk are absorbing, and the final moments of the play, in a scene narrowed down to just the two, Martin and Leonard, are valid and earned.
This production marks the Broadway debut of a young director, Sam Gold, who has been hard at it all over the nation at the best regional theatres, and working with many of the New York not-for-profit theatres like Manhattan Theatre Club (We Live Here), Roundabout (Tigers Be Still), and many others, earning Obie and other awards along the way.  He's kept things moving briskly in Seminar, and he's got four  excellent actors supporting the highly original Mr. Rickman.
I've had a difficult time separating my discomfort with the characters from the actors who inhabit them.  Sam Gold is one of many gifted young directors,  like his colleagues Thomas Kail and Alex Timbers, both of whom will be working on Broadway later in the season. Mr. Kail has said they are "all influenced by TV and pop culture and comic books and movies." And Mr. Timber has said "for people of my generation, the theatre seems out of whack with the culture."
Mr. Gold would seem to follow along with his fellow directors, and it's not his fault that "the culture" has been slipsliding away to the point where the four young people in Seminar are so immature and self-serving, they don't do well as the subjects of a very nourishing play.  Interesting, yes — occasionally very funny — but I found myself leaving the theatre with a feeling of great sadness at being exposed once again to 'what fools these mortals be'.  I am grateful to have been exposed by Ms. Rebeck to an element of society with which I'm not overly familiar, but you know what? I'm not sorry I don't personally know these folks of hers.  They're not killers, they're not child molesters, they're not bad people, but they talk a lot and when you put them all together in one room, as they are in this seminar  — proceed at your own risk.
Seminar is currently playing at the Golden Theatre, 252 W. 45th St. between Broadway and 8th Ave, NYC.
Details and tickets 
———————–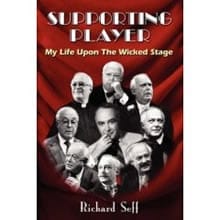 Broadway performer, agent, writer, and now librettist, among his many accomplishments, Richard Seff has written the book for Shine! The Horatio Alger Musical!, which debuted at the 2010 New York Musical Theatre Festival. He is also author of Supporting Player: My Life Upon the Wicked Stagecelebrating his lifetime on stage and behind the scenes, available through online booksellers, including Amazon.com.
Read more at RichardSeff.com
Richard Seff on DCTS – interviews Broadway luminaries:
Richard Seff chats with Joel Markowitz: