PJ Paparelli, having been through a battle or two of his own,
knows how to direct the conflict besetting the two gentlemen of Verona.
A young man of promise, moving forth from a working-class background, has an unbroken string of successes. Along the way, he meets other young people, some born of great wealth, who have found themselves in terrible situations, and his compassion for them feeds his art. But as he reaches artistic maturity, he is confronted with the possibility of failure and he must use all his resources to solve his dilemma.
Sounds like Horatio Alger or Dickens, doesn't it? Or even — dare we say it — Shakespeare?
But it isn't. This is the story of PJ Paparelli, Shakespeare Theatre's erstwhile wunderkind Associate Artistic Director, returned to directing in Washington for the first time since leaving here six years ago.
————-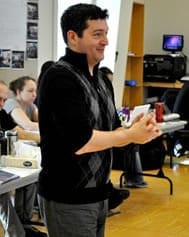 "Shakespeare reflected the human behavior all over his plays [and] the problems of society," says Paparelli, now Artistic Director at American Theater Company in Chicago. "With Two Gents I very much wanted the piece to reflect what I saw in society, with young rich people running around without adults; how do they make decisions; the trouble they can get themselves in and how their friendships and understanding of love really saves them at the end…"
Paparelli has reason to know of people like Proteus and Valentine, Julia and Silvia, the children of wealthy families who are largely left alone to confront the hormonal rages that wash over them throughout the play. He interviewed them when he was co-authoring (with Stephen Karam) columbinus, the chilling play which recreates the 1999 massacre of students and teachers at Columbine High School in Littleton, Colorado by two of their classmates.
 " …  many of these [Columbine] parents had resorted to prescription drugs as a way of solving the problem rather than spending more time with them."
To make his play as authentic as possible, Paparelli interviewed the massacre survivors and their families, as well as other teenagers in similar situations. And what he found was – loneliness. Children lonely for their parents.
"In my parents' generation, teenagers wanted to break away from parents and the family structure, and be on their own – that's always been the case, I'm sure," Paparelli told me. "But nowadays there's a separation happening so early that strangely enough, a lot of the kids said 'I would want a better relationship with my mother, or my father, and I want to understand them more.'"
What they get is something else. "There's a large [number] of young people on prescription medications to balance mood and depression – more than in previous generations," he says. "And its impact is profound." He tells me a story. "We were in Littleton and we were interviewing a group of mothers from Columbine…and one mother had her younger son there who was probably…thirteen or fourteen …  and openly, in front of this group of people, and there were probably ten or twelve of us at the table…she said…well, you know, my son's on Paxil since, you know,( blah blah blah blah blah), he was having so many problems with school, and, you know, and very cavalierly, you know, she outed [him].
"No matter how uncomfortable the teenager was that they were talking about his mood swings and everything so openly. And my heart just broke for him. And I just felt like, what is this, why is this okay?…and then that whole conversation led to yes, my son's on this, and my son's on that, and so on and everything else, and I just – I left … just very sad for the teenagers that it seemed like when problems had developed… many of these parents had resorted to prescription drugs as a way of solving the problem rather than spending more time with them."
— thoughts on directing Two Gentlemen of Verona —
Paparelli, a compact man on the sunny side of middle age who looks even younger, obviously likes to smile. I met him in the lobby of the Lansburgh Theatre, where Two Gentlemen of Verona is playing, and followed the conversation up with a phone call to his Chicago office. Paparelli seems almost congenitally cheerful, but he was not cheerful when he was talking about what happened to these children. He seemed pensive as he talked about how he responded artistically to their condition.
 "So I think that the play…reflects what I saw and what I continue to see in the world around me. I see [that] a crumbling economy…falling apart has distracted so many of the adults around and meanwhile the teenagers are sort of growing up with these role models of excess and grappling for the last dollar as their role models. [The play] is a reflection of young people running around in a world of a crumbling economy and when no adults are around there to help them make decisions they make some poor decisions." Like some of the decisions that the kids at Columbine made.
"… toward the end of the play to the point where he's not thinking straight, he's been up all night,
he's been drinking and then a gun ends up in his hand"
But it was not simply Paparelli's experience talking to the kids in Littleton that provoked him to give Proteus and Valentine guns, and have them aim them at each other and themselves. It was the text itself, and the central dilemma which confronts anyone who chooses to direct what is generally thought to be Shakespeare's first play.
Which is this: Proteus, during the course of the play, abandons Julia, his lover, betrays his friend Valentine, attempts to seduce his friend's beloved Silvia, and, when he fails, threatens to rape here. How can his friends – much less we in the audience – forgive him?
It wasn't by making Proteus prettier than he was. "I didn't want to actually make Proteus less of a jerk. I was, like, let him be what he does. He does what he does. He explains his reasoning, very openly to the audience. Is it my eye, or Valentine's praise, that makes me feel these things?"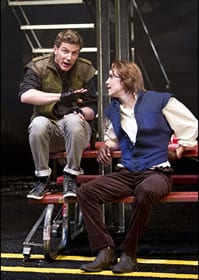 It might seem, at first, that seeing Proteus as passion's fool might make him more sympathetic. But Paparelli found a route to the character's forgiveness by exploring the effect of envy.
I felt that his motivations to get Silvia could be hormonal, but it could also be, you know, just a pure coveting of what his friend had.
"When two friends grow up and they're competitive with each other – and we tried to show that as much as we could in the play – the fact that [he] doesn't understand why this beautiful girl would go after Valentine because he always fancied himself the smarter, the more handsome, the more clever one…" He makes himself insane over the thought.
"That becomes an obsessive thing toward the end of the play to the point where he's not thinking straight, he's been up all night, he's been drinking and then a gun ends up in his hand… and he says 'I hazard my life for you, and you won't even give me a look.'
"And so we took that very literally, that he hazards his life. He almost died to save Silvia and still she won't give him a look. One kiss. So he is just so enraged by that that he pushes it, he says, 'I have, you know, the ability to woo you like a soldier if I wanted to,' and I think when Valentine interrupts them, he's so shocked that his friend would ever do this, and Proteus is just so humiliated, because all this stuff has been out of sight, out of mind." The shock throws Proteus to the other end of the spectrum. "He is so humiliated by what he's done, that in his emotional, fragile state he just says I can't live with what I've done. Then, you know, it becomes very easy. That moment [of forgiveness] makes perfect sense." Forgiveness becomes conceivable because its absence – death, physically or to the heart – is unacceptable. "We wanted it to be…about stakes being so high that nothing's more important than losing his life.
"I think that scene is extremely difficult, but ironically – and scholars have gone on and on and on about that scene –  with that simple choice of letting it be to the extreme, that he was so ashamed by what he did that he would take his own life, everything fell into place quite easily."
—— from the beginning —-
Things have fallen easily into place for Paparelli as well. Born of working-class parents in Scranton, Pa., he showed an early aptitude both for theater and for leadership.
"I was a Boy Scout," Paparelli explains. "One of the merit badges that scouting has is a theater merit badge. I said, well, I like theater, I could probably teach a class, so for three summers I taught a theater merit badge class which consisted of adapting a movie into a stage play and doing a play once a week for six weeks for three summers."
Paparelli wrote and directed those adaptations and then he was ready for something a little more complicated. "By my senior year many of those people who had done those summer projects wanted to have an opportunity to perform during the year, not just during the summer, so we were able to secure a community center which had a sort of dilapidated theater, and we made an agreement with the people who ran the community center that if we fixed up the theater we could perform in there. So in my senior year I had sort of a mini-theater company and it was through that experience that I really thought that I could do this for a living – that it was not just sort of recreational but something that I could do it for a living."
He was right. After completing his undergraduate work at Carnegie-Mellon and taking some courses at the Moscow Art Center (the real Moscow, not Idaho), he did an internship at the Public Theatre in New York. He had developed a taste for the Bard, and the Public wasn't going in that direction.
" I'll do anything, you know, I'll get the coffee or whatever. "
"[The Public's] Rosemary Tischler was a very big influence on me and she said, you know, if you really want to cultivate this interest you should work for Michael Kahn." The suggestion at first didn't leave much of an impression on Paparelli. "I ignorantly didn't even know about the Shakespeare Theatre at that point. So I had freelanced for a year after that and at the end of that freelance year I, ah, just plopped by for an internship there." For once, Paparelli faced career frustration. "They didn't have any spots."
He persisted. "I said, I'll do anything, you know, I'll get the coffee or whatever. And Eleanor Holdridge, who's become a very dear friend of mine, was the Resident Assistant Director at the time. She asked me to come in for an interview, and I met with Michael, and we seemed to get along just fine.
"I came on for one show, Woman of No Importance with Dixie Carter that Michael was directing and it went very well.  Michael extended a Directorial Assistant position for me for the year, and that turned into the Resident Assistant Director and that evolved into the Associate Director."
The Associate Director position was borne out of necessity, but Paparelli fit right in. "We were at the time contemplating building a new theater [which eventually became Sidney Harman Hall]…Michael had the idea of creating this position to expand my duties in going out and doing more recruiting of actors in different parts of the country and going to the Shakespeare Festivals…Michael at the time was still splitting his time at Juilliard. [Kahn was the Richard Rodgers Director of the Drama Division of the Julliard School 1992-2006]. It really became important to have another person to manage the productions from an artistic end. So that's how the position came to evolve into the Associate Director."
He held the position for six years, during which he co-wrote columbinus, which Round House Theatre staged in 2004. But then he got a chance to run his own theater.
—  finding community in Juneau, Alaska —
It was Perseverance Theatre, the Juneau, Alaska company Arena Artistic Director Molly Smith had founded twenty-two years earlier. The possibility of running this distinguished company appealed to his ambition. "I guess that I was 28 at the time, or 29, and to get an artistic directorship of a Regional Theater – I felt that was a rare opportunity."
But there was another factor involved in his decision to leave Shakespeare Theatre and go five thousand miles to Juneau – the possibility of engendering a sense of community with his fellow artists and his audience. It was something he had been thinking about ever since he began work on columbinus.
"I was workshopping columbinus at Arena Stage, and…I talked to [Molly Smith] about it and about the community.  She really was a huge influence on me, telling me what it was like in Juneau, what the theater meant to Juneau, and the type of work they were interested in. And when I went there I was obviously struck by the natural beauty of the place but more importantly I was stuck with how much the community knows and cherishes its theater company.
"I literally was on the streets when I was there that day and said – do you know anything about the theater in town? And I was like in a coffeeshop with a person who said, oh yeah, well, we've been around for years, and kept using 'we' and I said, oh, you work for the company, and she said oh, no. I'm a subscriber, and I just thought that was so interesting, because she had spoken about it in the first person that it was something that was important to them, and that was very moving to me. The more I did research, the more I discovered how unique that connection was."
Things turned out agreeably, both for Perseverance and for Paparelli. "I'm very proud of what we were able to accomplish," he says. "We secured an endowment and built a new building, increased subscriptions significantly, and we had nice long runs, and our budget was well over a million dollars, and that was a pretty amazing time for the theater."
— moving on to the American Theater Company, Chicago —
After three years, he decided to try his hand at a larger theater – the American Theater Company in Chicago. The challenge of being an Artistic Director with an established company in one of America's great theater cities appealed to Paparelli, as did the American Theater itself.
"What attracted me to American Theater Company was its mission, which is to ask the question, what does it mean to be an American. And that was very important to the work I was doing…really looking at social issues that are meaningful to Americans, and how to process them on stage. So to find a company in a major city, arguably one of the richest theater cities in the country, was a unique find."
He told the Board of Directors what he wanted to do. "I had told folks that one of the things that were very important to me is diversity and if you're called the American Theater Company you've really got to represent America. It's got to be reflected in our work and our artists and our audience, and that [it] would probably be my number one initiative at the time there would be diversifying the company. When I got there it was predominantly a white company – I think it had one Latino member, of a twenty-six member ensemble, and it had been doing primarily Caucasian-American theater, so with a mission like that I felt it was really important to embrace a much more accurate reflection of America." The Board agreed.
"My first year out of the gate we did The People's Temple, this Tectonics piece on Jonestown, with a mostly African-American cast, and we did African-American and Caucasian productions of Top Dog/Underdog and True West in repertory which was a very bold move," Paparelli says. "And then we did Hedwig [and the Angry Inch], which was very much another bold move."
That's when the bad things started to happen.
"Of course I was nervous, and doubted myself. And I was very sad when some ensemble members walked."
"In a move that rips apart one of Chicago's most venerable off-Loop theaters, almost all of the acting ensemble members of the American Theater Company say they are severing connections with the institution many of them helped found 25 years ago." It is March 26, 2009, and the Chicago Tribune's Chris Jones is reporting on the most dramatic development in the company's history.
"The mutinous group—which includes three former artistic directors…say they will immediately re-form as an ensemble under the original name of the company: American Blues Theater.
"The 23 departures, which leaves the ensemble with only a couple of actors and a small group of designers, results from a seemingly irreconcilable difference in artistic philosophy between most of the ensemble and the theater's recently hired artistic director, PJ Paparelli."
"Of course I was nervous, and doubted myself," Paparelli says now. "And I was very sad when some ensemble members walked." Paparelli says that the Tribune story exaggerated the number of defections, but he concedes that members left the repertory.  "It became challenging, because in order to change the company you've got to change, and, obviously, bring in artists that can be in pieces that require minority artists. So there was a lot of change going on. I think while the audience was really excited about the projects and their diversity, I think the ensemble grew concerned [about] what would be in it for them. I think some of our artists were really excited, and didn't know how to negotiate with the change, and so it was a difficult time."
Whether the ensemble members liked it or not, Paparelli concluded, it couldn't go back to the old way of doing things.. "Clearly…we weren't moving anywhere, we were stuck. And the work was good, it wasn't bad, it was just – the company had been in the same place for a long time. And really needed to go one way or the other, you know. So that – getting unstuck requires a big change. It all felt right."
Paparelli weathered the storm, and after three years as the company's artistic head he pronounced himself satisfied – both with the conflict's resolution and with his company. "I think it ended up absolutely being the right kind of thing, and Chicago benefitted from having two theater companies."
— which leads us back to Two Gentlemen —
After two years of relative peace, Paparelli felt he could take some time to direct Two Gentlemen at Shakespeare Theatre. "Michael called me and said that he's putting together his 25th anniversary, and, he would love to have some of his Associates back.  I was just flattered, and honored, that he had thought of me…this was just a really great chance to get some time away from the company, and also come back home. He had asked me what plays I had been thinking about, and he had some ideas, and the one that was on both of our lists was Two Gents.  It's a challenging play, but when he said why don't we do Two Gents I just felt that this seems to be the right next step for me."
And why not? It is, after all, the story of coming through a sea of contention to reconciliation and friendship, and Paparelli's career, having survived enough contention to sink a less able leader, is now firmly resolved and at peace.