It's rare for a show to grab you from beginning to end, but the long awaited Josephine Tonight does just that.  It's so hot it sizzles!
Based on the larger than life Josephine Baker, the script focuses on selected moments of the legend's fascinating early years. Instead of a plodding chronological history lesson,  the musical re-imagines and savors specific moments of the fascinating story that led to Baker's incredible rise from daughter of a washer woman in a dead-end neighborhood in St. Louis, to scene stealing showgirl, to international superstar.  It's a gutsy move on the part of playwright Sherman Yellen and the strategy brings Baker's life front and center with an immediacy of being in the moment.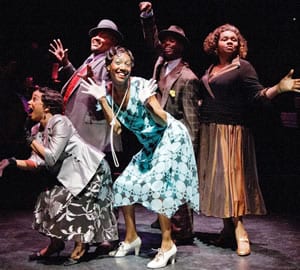 Speaking of gutsy, it doesn't take long to witness a star in the making in Zurin Villanueva.  Her talent simply soars.  First of all, she's got the look—long gangly arms and legs, lean torso, and a bright smile. If you caught Crowns at Arena, you'll recognize the powerful voice that won her the role of Yolanda after a region-wide search.  Villanueva can do it all—sing and dance up a storm, keep your attention riveted to her every move, and keep you coming back for more.
Joining Villanueva is a dream team of an ensemble, all New York based performers, portraying a range of characters with pizzazz and sass, starting with Aisha de Haas playing both Josephine's mother Carrie and vaudeville star Big Bertha Smith. de Hass can, and does, belt out several numbers proving she's a show-stopper onto herself.
After a rousing show-biz opening featuring the full cast, de Haas appears sitting on a stool, tired and worn, nearly broke down but not quite out, extolling the hidden stories behind the soiled clothes she takes in to earn a scant living.  The creative lyrics explore the possibilities of stains and frayed fabric with jazzy funky twists and delectably turned phrases.
The entire show rips and roars with creative twists like that, thanks to the imaginative lyrics by Sherman Yellen and music by Wally Harper.  Such skillful material in the hands of a seasoned performer like de Haas is a gift to behold.  She plays Josie's mama with a caring sensitivity packing a cutting edge, defending her to the gossipy church folk,  yet knocking her around when she gets out of hand, farming her out to work for food in abusive conditions, even kicking her out the nest when she has nothing else to offer.  Through it all, de Haas portrays the multidimensional sides of a woman pressed hard to survive the best she can while saddled with an irrepressibly spirited daughter, Josie, or, as she calls her, her little Black Bird.  De Haas brings the same depth as Bertha who reluctantly recognizes the enormous appeal of the upstaging little waif she brought in to join her show.
Speaking of irrepressible, Debra Walton is also notable in portraying numerous parts starting with the pursed lipped church lady who wags on about the sin and damnation of the skinny teen booty popping for coins in front of the Piggly Wiggly market.  Walton then portrays a clownishly dressed vaudeville partner who gets the youngster started on the "chitlin circuit," a denigrating haberdasher, and a glamorous Parisian booking agent who entices Josephine to the Champs de Elysee in Paris.
A song and dance man to the max, James T. Lane is a triple threat who does it all, starting with playing Eddie, Josephine's first love.  Their initial dance number is a treat with him challenging her to perform increasingly complex tap routines that she replicates with astonishing ease.  Lane has a silky smooth tenor voice and their loving duets are achingly beautiful salves that sooth the savage beast of pain and longing in Josephine, at least for awhile.  As Baker is just too much woman for just one man, Lane then transitions to play Paul, her Parisian Love du Jour.  Rounding out the ensemble is James Alexander playing numerous roles and bringing a heft of talent and style to each one.
The musical numbers blend seamlessly to tell the story, and energetic dance-man Maurice Hines as director and choreographer, whips everything together in a delicious frothy mix.
Klyph Stanford's projections work well, starting with silhouettes of laundry hanging on the line depicting early humble beginnings, to the Eiffel Tower that expands as if we are walking towards it, and early sketches capturing Baker's heart stopping dances.
Helen Hayes winning wonder Reggie Ray ably assisted by  Sankara McCain and a slew of worker bees worked his magic with a ferocious Z formation and a snap– the costumes alone are worth seeing the show.  The characters depict various periods of Baker's life in stunning attire, from the church lady's swirling frock, to the vaudevillian checks and stripes, to the European haute couture, and the most ultimate high feather head gear finale this side of Vegas.
Music Director David Allen Bunn assures a balanced sound from his five piece orchestra, with the instruments hitting just the right pitch, volume and tone.  Even the horns fit beautifully in the space without blasting the voices to smithereens resulting in a Tower of Power sound in a comfortable scope.  Same with the drums which beat savagely at times bringing out the ancestral hip thrusts to do the ancient ones proud.
And Villanueva can thrust with the best, including wearing the famous (or infamous) banana skirt, again courtesy of Ray.  The text sets us up for what could have been the backstory for that Parisian performance.
Which comes back to the confluence of a great script, memorable songs, terrific director and talented cast.  Finding that perfect combination is as rare as being graced by the extraordinary life spirit of Josephine herself.  For a show to get it so right warrants a visit.. or two.  Yes, it's that good.
Josephine Tonight runs thru March 18, 2012 at MetroStage, 1201 North Royal Street Alexandria, VA.
Details
Tickets 
Josephine Tonight
Book and Lyrics by Sherman Yellen . Music by Wally Harper
Directed and choreographed by Maurice Hines
Produced by MetroStage
Reviewed by Debbie Jackson
Highly Recommended 
Running Time:  2 hours, 30 minutes with one intermission