To perform Eugene O'Neill, an actor has to be ruthlessly honest—with themself as much as with the play. It can be a tricky thing to sculpt for a director, and for the actor, it can exact a terrible toll. I once directed José Ferrer, the great actor and matinee idol, famous in the 1940s, '50s and '60s as the Cyrano de Bergerac of the American stage.
It was a role he could never totally escape. We were doing Long Day's Journey into Night in Boston, and José was playing James Tyrone. Tyrone, of course, was based on O'Neill's father, James Tyrone O'Neill, the great actor and matinee idol, famous in the 1870s, '80s and '90s as the Count of Monte Cristo. Like Ferrer's Cyrano, James O'Neill could never fully escape being the Count of Monte Cristo.
Eugene O'Neill hated the way this role overwhelmed his father's art. Monte Cristo, he once told Broadway producer George Tyler, "wrecked my father's chance to become one of our greatest actors. It had been his curse. He had fallen for the lure of easy popularity and easy money—I think I am the only one who knows, the only one he confided in."
I remember, one rehearsal, José launched into Tyrone's great speech from the play—the one about The Count of Monte Cristo and how the play had shattered his dreams—in a way I had never seen before. The speech is a resonant one for an actor, especially one who found himself defined by one role. When it was over, I went over to him and said that it was extraordinary. He turned to me and said, "I'll never do it that way again." It was too painful for him. Long Day's Journey is a great masterpiece of the theatre, a play that works all by itself—but it can reveal depths in the actor that they themselves are reluctant to confront. O'Neill does this. He forces an actor to confide in the audience, to bare their souls.
We are reaching that point now in week four of rehearsals [for Strange Interlude]. The actors are finally starting to confide in each other and, more importantly, to themselves. They aren't quite ready for a runthrough, let alone an audience. Those things can wait until they understand every moment, until all of the journeys of this long, complicated, emotional play reveal themselves. But we're getting closer, and it's very exciting.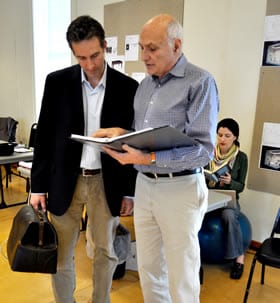 There are two examples which I think illustrate the point. The first is a scene we haven't quite found yet, one of the play's ambiguous love scenes. Ned Darrell has just returned from Europe and wants Nina to reveal her love for him, but both are unable to reveal it to themselves. It's an awkward scene, full of retractions and pauses and stutters. O'Neill is self-conscious about this awkwardness. As the scene begins, Ned says, "These triangular love scenes are humiliating!" (The love scenes in O'Neill—I had the same problem with Beyond the Horizon—are all between the men. With men and women, he fell back on recriminating patterns from Strindberg, his idol.)
We were trying to figure out the moment when Ned discovers Nina loves him, but something was off with the blocking. In times like this, you can look at the text, but the answer lies in performance rather than interpretation—those O'Neillian pauses and sudden bursts of speech, the way he carefully orchestrates his scenes. The thoughts will come easier once we know them. Right now, the actors are pausing and telling, rather than showing the audience their thinking in a steady stream. We are making sense—quite a bit of it, actually—but we need to keep playing. If the actors take as many lines off each other as possible, they will begin to bring the characters into the room. I have a feeling that the next time we touch the scene we will crack it open.
Thought and thinking, thinking and thought. Yes, no, no, yes. All of Eugene O'Neill's plays are like this, portraying tensions in people's souls which one can only conclude that he must have felt as well. He must have been such a confused and contradictory man. It's clear to me from the way he writes, and great writers invariably write who they are. His plays are full of blind people living self-examined lives. As a psychologist once told me, "Michael, you never stop taking your own emotional temperature." And this is what O'Neill's characters do: they never stop thinking and feeling and doubting themselves. If O'Neill was like them, it must have been torturous.
Though that scene needs to be revisited, the top of the play is starting to emerge with a beautiful shape. It's an important scene, full of establishing moments of dialogue. It's also one of the trickiest scenes in the play, because the rules are being set up for the audience. We have three characters—the Professor, Nina and Marsden—and the scene builds from internal monologue to dialogue to a three-way conversation, one of those complex "triangular" scenes that O'Neill loves to write in this play.
We were able to touch this scene again this week. The actors are finding the emotional register to fully play those painful confessions that O'Neill demands. They are also starting to speak in the rhythms dictated by the play, seesawing between thought and dialogue.
This play has a unique music, a still quality that nevertheless has a relentless forward motion. The actors, comfortable in their roles, need to play the thoughts as tumbling-out, fully connected. When they do this, the pace tightens and the internal dynamics snap into place, resulting in a continuous stream of motion, emotion and action. They can't interrupt each other—the transitions have to be extremely clear for the effect to work. And they also have to move and listen to each other in just the right way so the still-life effect isn't ruined.
Ted van Griethuysen (who's playing the Professor, Nina's father), who is such an experienced actor, found this meandering cross behind Nina during one of her asides, almost a slow-motion move. For a second, the play looked like a portrait painting, or even a silent movie, frozen in time. When the actors get this comfortable, and I can direct their movements and thoughts in concert, it is almost like playing jazz. The playwriting is so good that the scene locks itself into place as soon as we find its contour. The material will tell us what it needs. All we have to do is listen.
Until next week,
Michael Kahn
Shakespeare Theatre Company's production of Strange Interlude opens March 27th and runs through April 29th, 2012 at Sidney Harman Hall, 610 F Street NW, Washington, DC.
Tickets 
Related:
Read the complete weekly series Stage Interludes from Michael Kahn