Jonathan Bank, the Producing Artistic Director of the tiny Mint Theatre in New York, has been offering us little remembered gems from the past for many seasons now. And he serves a dual purpose in doing so.  Not only does he mount these once popular hits with impeccable taste and style, he also gives us a vivid glimpse into just what theatre audiences of a bygone age were paying attention to at the time of their original productions.
A case in point is certainly the current offering, Rutherford and Son by Githa Sowerby.
You haven't heard of her?  In 1912 she awoke one morning to find herself the toast of the London theatre world by dint of this play, which had opened the day before to critical acclaim and major public approval. In 1912 such acclaim for a play written by a woman was unprecedented. To prevent bitter complaints, the management of the Royal Court Theatre billed the play's author as K.G. Sowerby, burying her sexual identity.
The play itself is remarkable for the ways in which this Victorian/Edwardian lady playwright was able to capture the spirit and personality of her leading character John Rutherford, patriarch, who had managed to keep his three grown offspring on very short leashes.
One son, Richard,  a man of the cloth, is still seeking his father's approval to accept a new post, and, not receiving it, he declines the offer that might change his life for the good. The older son, John, has a plan by which the family business, a glass factory, might thrive as it fights off competitors yapping at its heels. When his father rejects his plan, he sells it to another firm, thus causing havoc at home.
Rutherford's third child, Janet, is involved romantically with a trusted employee of Rutherford's, and the revelation of this clandestine affair adds fuel to the raging flames at the Rutherford home.  John's wife Mary, the in-law, is the one character who plays David to Rutherford's Goliath and without benefit of sling shot, she rises to the occasion to hit the old man with enough force  to bring down the family like a block of dominoes.
It's all very powerful stuff, just shy of melodrama, perhaps a tad long winded at times, but always on target in presenting eight disparate points of view accurately with extraordinary insight, and sound theatrical instinct. All this in three plot-packed acts set in the fancy, but oh so gloomy, living quarters of this Rutherford clan.
When the identity of the playwright became known, she faced the press. One interviewer in the Daily Mail wrote: "you would never dream that she could be the author of a play with the grim force of a Pinero in the story or the success of a Galsworthy in the characterization."  Bring on Women's Lib!  But thanks to Mr. Bank and his fine company of players, we get to share the experience of those pre-WWI Brits who flocked to see this well written piece about a man they all recognized as the ruler of the roost of his particular chicks.
I am always delighted, and somewhat surprised, to find actors unknown to me, whose work is so collaborative and original.  From Robert Hogan, who plays Papa Rutherford, we have a naturalistic performance of the highest calibre, avoiding all opportunities to turn this into pure melodrama.
More reminiscent of Ibsen, Ms. Sowerby takes issues of enormous importance in their time, and populates them with characters who dramatize them and make them informative as well as hugely entertaining.
Sara Surrey, who plays Janet, Rutherford's daughter, is a woman of beauty, charm, intelligence who is second cousin to Lillian Hellman's "Regina Giddens" in The Little Foxes. Unlike Regina, her Janet is a  clawless tiger who tries desperately to break Papa's control. Ms Surrey's performance is a gem, and I'd love to see her tackle Regina who almost but not quite breaks the chain that binds her. Regina's dysfunctional family is doing battle in Alabama  in 1900; the Rutherfords go at each other in the north of England in 1912, but the two plays in which they live could be played in repertoire with virtually the same actors in each.
The (mostly elderly) audience that is devoted to the Mint packs the small theatre and at the Saturday matinées, remains rooted in its seats for the post-performance talkback. Intelligent questions are posed to the moderator, indicating this is one audience that really listens and takes a keen interest in the distant world it has just visited.  If you are one of those curious to know more of the mores and manners of a society outside your own, you won't have a more nourishing meal than at the Mint Theatrer onWest 43rd Street.
Rutherford and Son runs thru April 7, 2012 at The Mint Theater, 311 W. 43rd St., 3rd Floor, New York, NY.
Details and tickets
———————–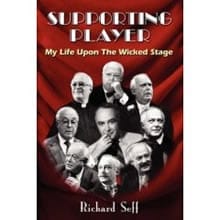 Broadway performer, agent, writer, and now librettist, among his many accomplishments, Richard Seff has written the book for Shine! The Horatio Alger Musical!, which debuted at the 2010 New York Musical Theatre Festival. He is also author of Supporting Player: My Life Upon the Wicked Stage, celebrating his lifetime on stage and behind the scenes, available through online booksellers, including Amazon.com.
Read more at RichardSeff.com
Richard Seff on DCTS – interviews Broadway luminaries:
Richard Seff chats with Joel Markowitz: