Let's face it, on entering the New York Theatre Workshop to see Dennis O'Hare's adaptation of Homer's Iliad, I was unprepared.  All I remembered of my long ago quick read of a summary of the original was that it was an epic poem about the Trojan War. I had trouble remembering whether it was Athena who stabbed her brother, whether  Hector was husband to Andromache or Hecuba, and  whatever happened toParis, who kidnapped Helen, thus starting the catastrophic war that lasted ten years.  
By the time I left the theatre, I still had some trouble sorting out the Greeks from the Trojans, but I was enthralled by the telling of the tale.  I was at the performance played by O'Hare's alternate, Stephen Spinella, and for 100 spellbinding minutes, this fine young actor, before our eyes growing into a major interpreter of the classics, held me fascinated by his control of the material, by his ownership of the vast empty and open stage on which he sat, walked, strode and danced,  all in bare feet.
His face covered in a grizzly grey beard, his body clothed in loose fitting trousers and blouse , he became our guide as he spun the yarn of the endless hatred that fueled this violent war of ancient history.
As the Poet, he sprinkled Homer's version with O'Hare's own interpolations of a list of the dozens of major conflicts that have scarred our civilization since time began.  It's gruelling, hard to take material, and a packed house, totally attentive throughout, seemed to be saying : "We admire this actor and we respect this material and are grateful for it. We wish we had access to it just before our college exams on Homer's poem, for it describes in vivid detail the battle of the titans Hector and Achilles which led to the Greek triumph."
It begins in the 9th year of the battle, but it makes many references to earlier incidents, and in its course we are introduced to dozens of characters on both sides.  For the Achaeans (also called "Argives" or "Danaans") for starters we are served Achilles, the son of the military man Peleus and the sea-nymph Thelis. Achilles is the commander of the soldiers from his homeland of Pythia in Greece. His fury at Agamemnon for taking his prize, the maiden Briseis, motivates the main subject of  Iliad. I could go on, but it won't clear things up much, for it's a cast of characters so vast that it hasn't yet been seen in  a major motion picture. But you'll have bits and pieces of all of them if you come to see this truly awesome theatrical event, as Mr. Spinella (and I'm certain his co-star, Mr. O'Hare, on alternate nights) play all the roles – men, women, children, gods, animals,. You wouldn't want them telling their story to your children at bedtime, for if they did, the kids would be  up howling most of the night.
Of course, we meet Trojans too — starting with Hector, a son of  King Priam and Queen Hecuba. He's a loving son and husband, but he's peeved at his brother Paris for bringing war home to their family and to their city. Getting to know this family is an evening's worth of entertainment in itself. As Priam sired fifty Trojan warriors, you can see that there is lots of material here with which a poet with Virgil's gifts could cook up an epic poem that has remained relevant since the 8th century BC, when it was first recorded.
A most unusual evening of theatre. Tough and bitter material, but the spoonful of sugar that makes it go down so smoothly is  the performance that hurls itself at us with the speed and force of a cannon ball.
An Iliad has been extended until April 1, 2012 at the New York Theater Workshop, 79 East Fourth Street, East Village, NYC.
Details and tickets 
———————–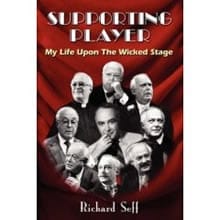 Broadway performer, agent, writer, and now librettist, among his many accomplishments, Richard Seff has written the book for Shine! The Horatio Alger Musical!, which debuted at the 2010 New York Musical Theatre Festival. He is also author of Supporting Player: My Life Upon the Wicked Stage, celebrating his lifetime on stage and behind the scenes, available through online booksellers, including Amazon.com.
Read more at RichardSeff.com
Richard Seff on DCTS – interviews Broadway luminaries:
Richard Seff chats with Joel Markowitz: