Slipping from the street into the store-front space of the Strand Theater Company in Baltimore, you're in for some surprises. You pass a showcase displaying the detritus of former tenants, a band of gypsies including its Queen, who read tarot cards for walk-up customers before being murdered by her mates. The atmosphere of the Strand still retains some of the feeling of danger and excitement of "outsiders" willing to take big risks.  You're greeted by the friendliest of staff yet warned that the stuff you are about to see on stage may be hard to witness.
This is a company that takes on tough, provocative works, and Jacqueline E. Lawton's bold and compelling play, Blood-bound and Tongue-tied, is no exception.
Playwrights at the Kennedy Center's Playwrights' Intensive, Lawton received the assignment to take a Greek myth or story and add one element.  Lawton, a DC-area playwright, took on the challenge of one of humanity's primal stories in the Oedipus legend, set the work in Depression-era Texas, then spiked the classic with a dialogue on race.
In her play, Jocasta abandons her black family and economic poverty to make a new life for herself with the one card she can play: she can "pass" as white.  Working as a secretary at a prestigious white law firm, Jocasta gets the partner's son, a wealthy oil baron, to fall in love and marry her and rises with him to become the governor's wife.
All seems to go well until, while husband Laius is away at war, she gives birth to their son, Oedipus, and sees that her baby's color threatens to expose her secret. Years after giving him up for adoption, when the son's birth records are produced threatening her security, she lies again, grabbing onto the classic fear-mongering story of being raped by a black man.  What follows is a conflagration where the incensed Laius has many blacks killed, including Jocasta's own mother. The mature Oedipus arrives late in the play, now an outside organizer for the black community to stand up against the racism and heinous bloodshed that has been unleashed. Tragically, Jocasta is attracted to the intelligent, charismatic leader not knowing it's her son.
In addition to altering the order of the original drama, Lawton mixes different styles to tell a new story. The play moves between scenes driven by naturalistic dialogue and passages of rich poetry. Her script also demands that the actors shift between realism and "magical" dream sequences.
The realistic scenes are carried off with different degrees of success. Kelli Wright as Jocasta and Morgan Moseley as Creon (her brother who follows her from the country), create the most successful on-stage relationship. Their physical ease with each other, the sparring, and the deep caring these two characters have for each other despite their rage and jealousy, get just the right balance to pull off the complexity of a pair of siblings who face different opportunities because of their skin color.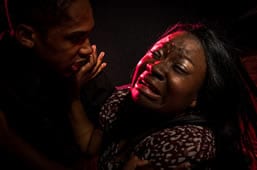 Lawton also writes well for the scene between the two women, Jocasta and Jenna. Jenna, played beautifully by Ann Turiano, is the would-be girlfriend of Laius who grew up with him on his side of the tracks. Potentially a most unsympathetic spiteful girl, driven by jealousy of her rival, Turiano gives Jenna a lot of different sides from prattling southern belle to wounded cast off to vengeful cold-blooded harpy. When she and Wright go nose to nose in a showdown, the dramatic sparks fly.
The development of the relationship and marriage between Laius, played by Chris Knight, and Jocasta doesn't always move the play forward in the way I think Lawton intends. To my mind, one of the problems lies in the dramatic structure, where the action of almost all the couple's scenes end in a kiss. If the replayed kiss between two races is meant to startle, it doesn't and instead gets old. More critically, whatever tension is built up during one scene fizzles in the final clench so that there's not a sufficient energetic springboard into the next scene.
It is a curious but ultimately fascinating choice to have Jocasta played by a dark skinned actress, in that we, the audience, get to see what Laius is blind to.  Something that would add to the potency would be Jocasta unleashing her internalized feelings of hatred for her own skin color (something that the playwright shared, in the post-show discussion, as part her own vivid childhood memories.) As for Laius, coming back from war, he is forced to see her secrets and lies spin out of control. Knight's best moments are when he moves from suspicion to outright fury at his wife's more-than-lies. He snaps over the great "assault", his wife's supposed rape by a black man, and resorts back to the fear and hatred that was trained into him.
The dream sequences, directed by Lindsay Gentry with choreographic assistance from Christina Cordle, are in many ways the most arresting dramatically.  The son Oedipus, with hands bound, lies down in the bed between father and mother. The imagined rape scene is stylistically played out in a dance number between Derek Cooper, the actor playing Oedipus, and Turiano. Turiano represents Lawton's "new element" in the story and functions throughout the play on several levels. In the dream sequence, she joins Cooper on stage, and both, caught in separate spotlights, stand in as something of a chorus, commenting on and depicting visually for the audience some of the metaphysical and symbolic aspects of the story.  A stunning moment, which spoke to the importance of hair to identity, is when Turiano sits and cuts the long, straight hair wig she has worn to hide her race and forces her to eat the trimmed pieces.
Cooper moves like a coiled snake, and when he talks, almost spits and hisses his lines.  This loner, abandoned by his mother, has grown up a venomous creature. Whereas Sophocles blinded his Oedipus in the final scene, Lawton leaves him seated at a table, downing cheap booze, realizing he faces a long life and slow death, drowning out the nauseating image of the incest he's committed.  He gives a powerful performance.
For Lawton, the play is Jocasta's. It is her journey that we follow. In her lines, Lawton gives us moments of powerful imagery and poetry. A conflicted character, Lawton's Jocasta is part selfish and part sacrificial in her motives. Delivered ably by Kelli Wright, though without the maturity the character demands, the role provides wonderful opportunities to clarify and deepen the moment to moment shifts, and Wright might well choose to share more inner thinking than character's feeling as the play continues its run. But what a rare and powerful role Lawton has handed her! The emotional arc twists and turns and ultimately drives Jocasta to her grave.
Founding Artistic Director Jayme Kilburn has chosen to produce the world premiere of Blood-bound and Tongue-tied, and she should be commended for supporting this raw and strong play.  It is a fitting tribute to her legacy of giving voice to women artists. Soon to take over the reins of the company is Rain Pryor, well-known television actress and comedienne. Pryor settles in Baltimore, well-primed to take the Strand Theater Company to a new level and engage audiences in works that deal with the complex realities of our multi-cultural, multi-racial world.
Blood-bound and Tongue-tied runs thru April 7 at the Strand Theatre, 1823 N. Charles Street, Baltimore.
Blood-bound and Tongue-tied
By Jacqueline E. Lawton
Directed by Lindsay Gentry
Produced by the Strand Theater Company
Reviewed by Susan Galbraith
Recommended
Running Time: 90 minutes with a 15-minute intermission