In a New York time before mine, there was something called "The Round Table" and it consisted of scalawags and wits who bonded between 1919 and 1929;  a group of bright wags who met daily for lunch at the Algonquin Hotel for nutritional sustenance and the sharing of commentary on the day. 
Dorothy Parker lent a fork-tongued female presence to an otherwise male team, to which women like Edna Ferber would on rare occasion be invited. George S. Kaufman, Alexander Woollcott, Franklin P. Adams, Robert Benchley, Harpo Marx, Charles MacArthur were the core members, and it all began when they named themselves "The Vicious Circle" because their comments on the day were often barbed and cutting. Later, because their luncheon table was round, they acquired the name that stuck.  Their ramblings on the news of the day as well as the goings on in Cafe Society and Broadway appeared across the nation in the columns various national newspapers carried.
This sort of urbane material, very much in a New York mood, disappeared for a while in the 1930s when the Jazz Age simmered down, but showed up again in the topical revues and boutique supper clubs that followed; boites like Le Ruban Bleu, the Blue Angel and #1 Fifth Avenue continued the tradition by making homes for the next generation of young and irreverent malcontents who had the knack of making you laugh while they tore into their targets.  Harold Rome, Moss Hart, Comden and Green, Noël Coward, Sheldon Harnick, Fred Ebb, Mike Stewart all contributed to the merriment that helped get everyone through the Depression, and then continued to brighten the post-war years.  The later decades of the 20th century turned less frivolous and some forms of popular entertainment disappeared altogether.
When did you last get to see a bawdy burlesque show, or watch an Ed Sullivan or a Milton Berle headline a Variety Show on TV?  It's been eons since gorgeous melody combined with first class wit drove a Broadway show as did Pins and Needles, Call Me Mister, Make Mine Manhattan any of the series called The Music Box Revues, New Faces, or One For The Money?
No, theatre turned Important. And that meant no more fluff. Sweeney Todd showed up, so did Evita Perone, Jean Veljean and the rest  of Les Misérables, Miss Saigon whom that helicopter left behind, Dracula and Death, on holiday, arrived to lust after their  luscious leading ladies.  There were frivolous and fun musicals, but "wit" was rarely mentioned in their reviews.  We had everything from Little Mary Sunshine to Something for the Boys to the Rodgers and Hart-Hammerstein classics.  But the "smart repartee" musical seemed to be gone forever.
Now we come to a small musical (cast of four) at the Vineyard, where a similar little show appeared some seasons back, by the same cast and creators. It is now called Now.Here.This. and it follows their firstborn, [title of show].  The first was welcomed off Broadway, then again on Broadway, and this one may well follow in its footsteps.
The "4 Bs", Hunter Bell, Susan Blackwell, Heidi Blickenstaff and Jeff Bowen have combined once again, this time to write lyrics and music to an evening full of stories sprung from the various exhibits at the Museum of Natural History that comprise the scenery, on lighted panels that slide on and offstage all evening long.  There are many stories from their own lives as well, perhaps one or two too many, for the performance lasts about 100 intermissionless minutes, and a slightly disproportionate amount of them is spent on their often unhappy childhoods. The material goes just over the line with tales of "I was an unhappy child but then I found show business and now I'm happy."
But that's it, my only complaint, and as I caught an early preview, perhaps the show  lost about 10 minutes before Opening Night.  But even if it didn't, I'm certain you too will enjoy watching these four oddballs telling you some of their most private secrets, sharing some of their most embarrassing moments, their various situations that "Make Me Hot," their need of an audience in "Then Comes You," their painful rejections in "Members Only."  It's all very fresh and original, and each actor has a unique personality.  They would not be so easily cast in others' material, so they wisely created some that is totally suited to their distinctive ways.  Instead of waiting for casting directors to find that star-making role for them, they've done it themselves, and they've done it well.
For an unpretentious and very engaging evening with four very bright and appealing theatre talents, treat yourself to the urgent request to Now. Here. This.
Now. Here. This. has been extended to April 22, 2012 at 108 East 15th Street, New York, NY.
Details and tickets 
———————–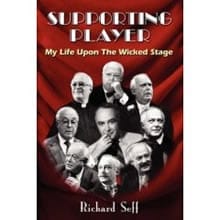 Broadway performer, agent, writer, and now librettist, among his many accomplishments, Richard Seff has written the book for Shine! The Horatio Alger Musical!, which debuted at the 2010 New York Musical Theatre Festival. He is also author of Supporting Player: My Life Upon the Wicked Stage, celebrating his lifetime on stage and behind the scenes, available through online booksellers, including Amazon.com.
Read more at RichardSeff.com
Richard Seff on DCTS – interviews Broadway luminaries:
Richard Seff chats with Joel Markowitz: