The slump is over for DC area theatregoeers. After more than a week without any openings, audiences have five new openings to consider this weekend, SWAN day on Saturday,and, on Sunday, a most unusual performance by Bulgarian performers, produced by the Ambassador Theater.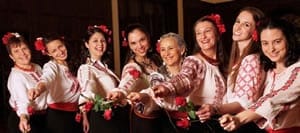 Described as "a whirling masquerade of puppetry, folk objects, song, dance, and food to bring out the fun loving fool in all of us!"  Hopa Tropa: Kukerica! will be given two performances at the George Washington Masonic Memorial Theatre in Alexandria, VA, starting at 11:30am.
"The theatre is beautiful, and the view from the Masonic grounds is breathtaking," Hanna Bondarewska told us, as she described Ambassador's largest production, by far, to date. More than 50 artists will perform under Lilia Slavova's original improvisational concept, featuring Bulgarian ensembles Orfeia, Svitanya, and Zharava, music by Petko Kolev, choreography by Ivan Dimitrov, set design by Antonio Petrov and puppets by master puppeteer Julia Tasheva. Tickets, ranging from $10 to $25 can be purchased on line at the Box Office, or day of performance, at the theatre.