Don't let the title of Amy Herzog's play 4000 Miles put you off. My first impression after hearing it was  that it was probably another play about the war in Iraq or Afghanistan.  But no, happily it refers to the bicycle journey young Leo (Gabriel Ebert) has made in order to visit his grandmother Vera (Mary Louis Wilson) .
It took him a month to get to her apartment in Greenwich Village from his start in Seattle. He'd touched his bicycles's rear wheels into the Pacific, and he was determined to place the front wheels in the Atlantic to symbolize a job well done.  That's the sort of fellow Leo is, a  bit of an oddball, barely 20, but already examining "Why am I here?" and "Where am I going?"  To borrow a favorite phrase from Grandma Vera, he is a bit of "a pain in the ass" about all that, another eccentric, moody kid, feeling free but committed to no one and nothing, and all he wants from Vera is a night's respite from the rigors of the road.  She agrees, fully expecting him to be on his way again in the morning, but the warmth of her guest bed and her shower and her personality make it difficult to leave, and before you know it, he's spent three weeks with her, growing up.
To watch these two opposites, related only by blood (Vera is Leo's maternal grandmother) discover each other is a treat. She's lived alone in reasonable comfort ever since her second husband Sam passed away some  years ago. She has a neighbor across the hall and the two, though not close, do call each other every day, just to be sure the other is still breathing.
In the course of  this 100 minute one-act, Ms. Herzog manages to create two central characters and two peripheral ones, who constantly engage us because they are complex, they are entertaining and they are human and imperfect. There is no story per se, and that's the play's only flaw as I see it.  We do get to meet an ex-girl friend of Leo's and the back stories that emerge from their reunion are interesting and on occasion, surprising.  We also spend some time with a brand new girlfriend, a Chinese-American named Amanda, who too has a bead on who she is, what she wants, and what she has to offer. Greta Lee conveys both the spirit and abandon of a young American with an Asian background, and Zoe Winters brings a winning smile and a knowing way to Bec, the ex-girlfriend.
Daniel Aukin's direction helps a lot, as he keeps the many scenes in Vera's apartment flowing naturally. Well assisted by Lauren Helpern's middle class apartment set, Japhy Weideman's lighting,  particularly apt costuming by Kaye Voyce and a mood enhancing control over sound and music by Ryan Rumery, the play is fully realized. Daniel Swee's casting is, as always, right on.
But it is Gabriel Ebert and the brilliant Mary Louise Wilson who have the burden of bringing this nourishing play to life by filling their characters with a keen understanding of their many moods.  Ebert has the easier task because Leo is very young and is still discovering who he is, and what his priorities should be. But Ms. Wilson is inhabiting a woman who has known deep and abiding love with a first husband, boon companionship with a second, and the wisdom to be able to look back on an ordinary life that has left her with few regrets,  She is slipping slowly into dementia, which infuriates her, but she handles even that with humor and dignity.  Her renewed relationship with Leo, whom she hardly knew when he was growing up, is another chapter in the story of her life. But she's wise enough to know it is just a chapter. Having spent some weeks with her, Leo is able to focus on his own life, and the decision he makes as to what to do with it forms the arc of the play.
Amy Herzog has shown promise and won prizes  in the past with her plays at Williamstown, Playwrights' Horizons, Yale Rep and Steppenwolf. This is my introduction to her work, and she's done a stunning job.  This play may reflect her memories of her own grandmother, so writing so richly about her may have been the easier task. Her understanding of the boy Leo though is an accomplishment, and she's given young Ebert a lot to chew on.  The accuracy in the writing of Bec and Amanda, each equally recognizable, further establish this playwright as one from whom we should hope to hear more.
With talent in abundant supply all over the stage, I return though to Mary Louise Wilson. She  has entertained us for years with her original and delightful work in such diverse pieces as Full Gallop, Cabaret, Bard of Avon and most notably Grey Gardens.  But like Shirley Booth before her, who too had fine supporting roles and occasional leads for many seasons before Come Back, Little Sheba turned her into a star, so now has  Ms. Wilson found the role that allows her to use all the craft she's put together with the talent she's always had, and it's time for her to hit the ceiling to claim her own star.  With Grandma Vera Joseph, she's found the role with which to join the ranks of Shirley. Booth, Eileen Heckart, Kim Stanley, Julie Harris, Philip Bosco, Lee J Cobb, Norbert Leo Butz, Judd Hirsch and so many other character actors who served the theatre well in support  until a role came along that catapulted them to billing above the title. We owe Amy Herzog for that, and I thank her for delivering the material, and Ms. Wilson for taking that material and with it hitting one out of the park.
4000 Miles is playing at Lincoln Center, Mitzi E. Newhouse Theatre, 150 West 65th Street (between Broadway and Amsterdam), NYC.
Details and tickets 
———————–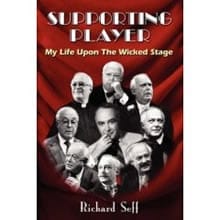 Broadway performer, agent, writer, and now librettist, among his many accomplishments, Richard Seff has written the book for Shine! The Horatio Alger Musical!, which debuted at the 2010 New York Musical Theatre Festival. He is also author of Supporting Player: My Life Upon the Wicked Stage, celebrating his lifetime on stage and behind the scenes, available through online booksellers, including Amazon.com.
Read more at RichardSeff.com
Richard Seff on DCTS – interviews Broadway luminaries:
Richard Seff chats with Joel Markowitz: