I met Kelli Wright outside the Strand Theatre the day before the premier of Blood-bound and Tongue-tied. She had the lead role, Jocasta, a woman with a literal Oedipus Complex. But she had a more immediate problem. She had just locked herself out of her car.
With the locksmith on the way, we sat down to talk. I'd met Kelli once before – trying out for a Baltimore Shakespeare Festival version of A Midsummer Night's Dream. That's early in most actors' careers, but Kelli had already experienced the ups and downs of the actor's life. She had been accepted to Juilliard – at age 17. Then, at 20, she had been asked to leave.  Back in Baltimore, she was trying to get her bearings and start another career.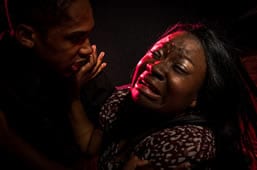 She didn't get the role in Midsummer Nights' Dream. She spent two years at California Institute for the Arts.  She had a child. And she got married.
And now she's starting again.  This isn't a traditional success story – at least not yet.  Wright was open about the challenges she faces as a young African American actress with Shakespearean training, caught between two worlds, and dealing with the identities that someone in her position is forced to juggle.
We'll begin with getting into Juilliard. You were 17, from Northeast Baltimore, you attended public school. And then you're going to one of the most prestigious theatre schools in the country.
Yes, it was my dream school. Getting in was one of the most exciting moments of my life.
I went to Baltimore School for the Arts (BSA) and was heavily advised against auditioning and going there. And got in anyway.  And they turned out to be right. I was not ready for it. In the second year, they booted me. (laughs)
I know people who went to Juilliard at, like, 21. You were going into the big leagues. Were you the only 17 year old there?
No, actually, we had a kid who was younger than me. His name is Seth, he's doing a lot of big plays in New York. He was 16 when he got it. I thought I was going to be the youngest, but he was younger. That was interesting.
That's a high profile place. There must have been a lot of pressure on you.
Yeah.
When you got booted out, did you think that you might not want to do theatre anymore?
I think I've always wanted to do theatre. I just don't think I wanted to do theatre there. I wasn't ready. They were creating adult artists, and I really wasn't an adult. I hadn't even really held a job at that point. It was too much. Way too much too fast.
And what was next?
I took a year hiatus. Then I went to school in California at Cal Arts. I went there for two years. And it was like the opposite of Juilliard. Whereas Juilliard was this strict Shakespeare school, Cal Arts was hippy-esque, dancing naked in the desert.
You didn't like that either?
No. Didn't like that either. So, you know what, I was still young, I wasn't thinking things out; I was jumping into things. Now that I'm older, I'm glad I had those experiences.
This is the first play you've been in for awhile.
This is the first play I've been in. When I got out of school, for some reason I was not being cast in theatre. When you saw me at that audition (2006), I thought I was a shoo-in. I had spent two years doing intense Shakespeare. I tried for Center Stage; they were only hiring actors out of New York. So after that, I was, like, what am I gonna do? So I started to do commercial things. I was in an alien movie with Nicole Kidman, but my part got cut.
What part did you have?
An army guard. It's like, I've been training for theatre for years, and I get out, and I can't do theatre. I started getting more commercial work. But even for commercials, it was, like, you're too loud. You're too this. You're too that. You've got to scale back. So I kind of slipped into something like, okay, screw it, I don't want to do any of it anymore. And so I got a normal person's job, and had a family, got married.
Congratulations.
Thank you.
How many kids?
One. That's enough. He's two. March 26. I think he's destined to be an actor.
They develop very good skills at that age.
Yes. He's giving performances already.
Do you tell him he's too emotive?
You know, I don't, because, all right, he needs to express himself. But his father's like, no.  I'm like, just let it be.
And you got a job?
Yeah. I've been doing temp work. Because it allows me to audition. I also bartend. I get to meet people, network, tell them I'm an out of work actor, get me jobs.
It's a great place to meet actors.
Yes. Unemployed, drunk actors. But all my friends say I need to move back to New York, I'm not going to do anything here.
You believe them?
You know what? Yeah, a little bit. Because, the opportunities here are so slim. Everyone wants people out of New York.
So, since I talked to you, in 2006, have you been in any theatre?
This is the first thing I've been able to book, theatre-wise. It's really odd.
You're not ready to give up?
No, actually, not. I've got to start branching out. Directing plays, doing other things. There are a lot of small theatres opening up here.
I know others like you – who are well-trained, they came out of Juilliard, and they realize, wait, they don't want people who are too short. There are very specific guidelines, with thousands of people coming in, you get eliminated.
Yeah.
That must be frustrating.
Yeah!
Did you have a conversation, when you decided, well, I'm going back?
Honestly, I think that my moment was when I had my son, because working in offices,  people are so miserable. Everyone's overweight, and they all have secret conversations about what they really do or feel, or about the things they gave up so they could pay their bills. So I kind of decided that I don't think it matters where I am. I've moved around. I've always had the same problems. I kind of feel like I just have to pave my own way. I kind of feel inspired, now that I have a child, to be creative with my own career. Whether it's traveling to bumblefuck, Idaho, to do whatever it is I love.
Even while you were at Juilliard, you were being pushed in certain directions. What sort of actor did they see you as?
I've always been a dramatic actor, I've always been attracted to Lady MacBeths. But that's hard to do at 17. So they were really trying to make me play my age. And that was really weird. Because you grow up in Baltimore, and not in the really rich areas, you grow up a little older, a little more rugged, a little more rough. And there was no place for that.
Where did you grow up in Baltimore?
I grew up in Northeast Baltimore.  Not a very good area. And the things you see, you know, riding the bus, riding with drug addicts, you tell them you want to be an actor, and they laugh at you. What you doing girl? You're in Northeast Baltimore. You're not going to Juilliard, you're not going to do anything besides get pregnant. So, when you come from that, it's really hard to go to a place like Juilliard.
Was anyone in your family in theatre?
Are there theatrical people in my family? Yes. Lots of people to steal from. But nobody was an actor.
So they're asking you to act rough edges, when you were probably trying to get rid of rough edges.
Exactly. And what was really hard when I was at Juilliard, they wanted me to not be from Baltimore. I felt that I had to act like I was from Beverly Hills. And then when I went out into the world and get cast – I went out to audition for "The Wire," and I was told, you know, you're not street enough. So, they basically took that out of me, and now I can't get it back. Those aren't the roles people are casting me for.
Right.
So it's been a very interesting dilemma. So, now, auditioning for camera, I have to act like myself. And I had to figure that out on my own.
So you tried out for "The Wire"?
I tried out for the role of the woman who led the gang. A friend of mine actually ended up getting the role. I was told I wasn't  buggin' enough.
So they don't want trained actors?
They don't. They want people who are off the street.
So people are saying that being a trained actor is a bad thing.
Exactly.
So, you're not real enough, even though you're from Northeast Baltimore, and you're not enough of an actress.
Yeah. It's so ironic. I've actually lived it. You know, I'm from here. But I went to Juilliard and I learned how to articulate, so people can understand me.
Now you have to get back.
I have to go back. It's a hard transition. I kind of had this idea that I was going to do a lot of small theatre for awhile. Build my name up. Hopefully, that would lead to something bigger, which would lead to something bigger, which would lead to something bigger. But I don't know if I can stay in Baltimore. I might end up having to move.
I guess the most famous actress from "The Wire," Felicia 'Snoop' Pearson, is back in jail. Maybe she'll get to Juilliard as well.
(Laughs) I don't think so. That was a big old drug bust.
So tell me a little about this play.
This play is an adaptation of Oedipus Rex. Oedipus kills his father, marries his mother. This play is seen from the mother's point of view. It really is a challenging role, because I'm playing a woman back in the World War II era…who passes as white. I have to figure out, what is white, what is white versus black, and, because I've decided to pass as white, I give up my black baby for adoption, so he comes back, and everyone finds out that actually I'm black, and I end up marrying him. And I kill myself. (Laughs)
My first rehearsal, they didn't have the heat on.
Is the heat on now?
Luckily, it's warmer now. But this was really grass-roots, just get in there and do it, because I've got a passion for it. You know, I feel like I'm back to being 18 or 19 again. And now I've got to find everything for myself, you know, do everything for myself, get my own costumes and get my own makeup. I think I'm recreating myself. I'm working two jobs right now with a two year old. And I'm here every night for rehearsal from seven to ten. Yeah. I feel like I'm being reinvented.
To reach Kelli, email her here.
Blood-bound and Tongue-tied appeared at the Strand Theatre, 1823 N. Charles Street, Baltimore, MD. The production closed April 7, 2012.
Related: