I was certainly alive during the reign of Joseph Alsop as a syndicated political columnist, but the truth is he and his writings never attracted me, so I approached David Auburn's play The Columnist with little background information and no particular interest. 
Auburn is the author of the prize winning and hugely successful Proof, and John Lithgow, always an arresting and original actor, was playing Alsop so those two contributors certainly intrigued me. In addition, the fine supporting actor Boyd Gaines was to play Alsop's brother Stewart and that added seasoning to the stew.  Grace Gummer, promising actress daughter of Meryl Streep, Theatre World Award winner for Arcadia, added interest as well.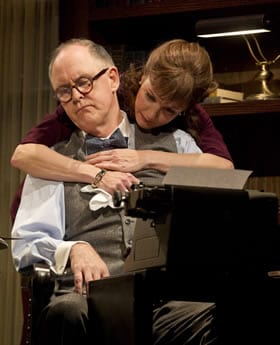 Beautifully directed by Daniel Sullivan, the play opened April 25th under the auspices of the highly respectable Manhattan Theatre Club, still helmed by Lynne Meadow and Barry Grove after 37 years in the Main Stem delivering classy theatre to its subscribers and the general public as well.  This package resembles the sort of outing promised by the once-redoubtable Theatre Guild in its fifty five year reign on Broadway. And it delivers as such.
The problem is the result is more of a lecture, a discourse, earnest and intelligent, but lacking in dramatic heat. There is reference in it to Alsop's closeted homosexuality, which he maintained to the end of his life, after a long career as columnist and observer of the political scene from the 1930s until his retirement in 1974.  But that secret is only peripheral to the overall story of the play, and is the only information that lends drama to an otherwise uneventful treatise on the life of a man who now appears to be only a footnote in the years of his prominence and influence.
A registered and philosophical conservative Republican, he did befriend JFK, which is interesting. His writing partnership with his brother Stewart, and his ultimate clash with him that led to his continuing on alone in the writing of his column "Matter of Fact", forms another section of the play, and though it does give Messrs. Lithgow and Gaines an effective battle to play, it isn't enough to give substance to this portrait of a stubborn, self-righteous man. There is evidence of a more accessible tender side in love of his  daughter, but again, it doesn't engage us, it merely informs.
Lithgow has emerged through the years from a reliable and resourceful young character actor on stage and screen, offering us each season a variety of delicious characterizations ranging from the transsexual Roberta Muldoon in "The World According to Garp" to  the dirty rotten scoundrel in the musical of that name, to an over-the-title solo star on Broadway. The only difference in this characterization of him is that now he not only has the talent to transform himself each time out, but he has added  the ability to take the stage, to command it, and in his case it's his talent plus his vast experience that has earned him his place in the firmament.
Though he cannot make Joseph Alsop a man you would care to  have had as your father, mentor or friend, he certainly makes him understandable and one can sympathize with the flaws in his character.
Mr. Gaines is as always, solid and secure. He makes me feel good just watching him work. He was the best "Herbie" I ever saw in several productions of Gypsy, he made a delightful soul of  "Guthrie McClintock" in The Grand Manner, and an effective "Boolie" in the recent revival of Driving Miss Daisy. He moves easily from plays to musicals, and he's the only actor ever to have won Tonys in all four categories as best lead and featured actor in a play and in a musical.
His take here on Alsop's brother Stewart made him the more reasonable, less colorful but more likeable Alsop.  Grace Gummer shows how deserving she was of Theatre World's welcoming honor for her work in Arcadia.  She brings charm and spirit to Alsop's liberated daughter Abigail, which is what the role requires. I especially liked Margaret Colin's take on Alsop's wife Susan. Stuck in an era when "wifely duties" were clearly and restricively designed, she makes us care that her Susan is deserving of a much more fulfilling life than the one she leads.
All in all, a "worthwhile" evening in the theatre, more informative that exciting, more conversation than conflict.  Some first rate acting is on display, the play is always literate, but my ultimate conclusion was "nothing much happened."
———————–
Richard Seff, Broadway performer, agent, writer, and now librettist, among his many accomplishments,  has written the book for Shine! The Horatio Alger Musical!, which debuted at the 2010 New York Musical Theatre Festival. He is also author of Supporting Player: My Life Upon the Wicked Stage, celebrating his lifetime on stage and behind the scenes, available through online booksellers, including Amazon.com.  Read more at RichardSeff.com
Richard Seff  interviews Broadway luminaries:
Richard Seff podcasts: