Director Barbara Lanciers was ready to premiere Kaddish, her version of Imre Kertesz's novel "Kaddish for an Unborn Child" at the Baltimore Theatre Project. It's a production she's been waiting almost a decade to bring to the stage. And for herself and actor Jacob Goodman, it's been a labor of love. There was only one thing missing: the Hungarian Nobel Prize Laureate hadn't given her permission to stage his text.
Lanciers knew enough about Kertesz to understand that could be a problem. Nobel Laureates tend to be picky about how their works are produced. Samuel Beckett is the example that comes to mind: his ghost hovers over productions that tweak with the text.
One other adapter learned that lesson the hard way. About a decade ago, Hungarian writer Andras Visky offered his adaptation of Kertesz's novel. But ultimately, Kertesz felt that the play deviated from his original work. The production was ultimately nixed. Kertesz withheld permission for future productions which changed his original writing in any way other than re-ordering or trimming down.
Lanciers decided to come up with her own staged version: a 55 minute one-person play, which would be faithful to the text while about one third of the original novel. She set to work on it for eight months with actor Jacob Goodman. Meanwhile, she was sending off letters to Kertesz, waiting for a go-ahead. No response came.
And then, weeks before the premiere of the play was set to go, the phone rang. Lanciers picked it up. A Hungarian voice on the other end identified herself as Kertesz's wife Magda.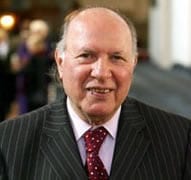 "I thought, oh my gosh, they're gonna tell me I can't do it," says Lanciers. "I was terrified. But then the woman says over the phone, 'I want you do know that my husband and I are excited about this play, and we're happy that you are doing this. Because it's so important that people know now what he's writing about.'"
Kertesz, a Hungarian Holocaust survivor whose writing frequently struggles with his own experience as an inmate of Auschwitz and Buchenwald, is a big name in Hungary and Europe. But he's far less well known in the United States. I caught up with Lanciers on the phone and asked her why we should see it, and why she took up the daunting task of adapting Kertesz's winding, distinctive prose style to the stage.
So Kaddish is in rehearsal now?
Yeah, we've been working on it for, let's see, eight months now? As a work in progress, we've been showing it at the 14th Street Y.  The Y has a fellowship program called the LABA Program. My friend Jake, who's the performer, has been a LABA Fellow for about three years now. They've been a huge supporter, giving us rehearsal space, etc.
Jake is an actor?
We were both members of the acting apprenticeship program at the Theatre of Lousville. Jake is an actor, but he's also a Jewish educator. He holds an MA in Informal Jewish Education from the Davidson School at the Jewish Theological Seminary.
Tell us more about that conversation with Magda Kertesz.
Yeah, we've been talking back and forth about trying to get his permission to do the performance. For ever. He's very specific about how you can use the text for a theatrical adaptation. Initially, we had contact with a Romanian/Hungarian playwright named Andras Visky, who did an adaptation of the novel called The Unborn. And that's a beautiful play. Apparently, Kertesz had a problem with it, because his work had been changed. There were a lot of additions as far as repertoire. When you do a stage version of his work, you have to use the text as it's written. You can cut the text down, and you can reorder it, but you can't change the words.
How did you run into the novel to begin with?
I'm Hungarian. My father's side of the family is Hungarian. And the first time I visited there was eight years ago. It was through Center for International Theatre Development (CITD). I was at Towson in the graduate MFA program at the time, I was working on a play about my grandmother, who made the journey to the U.S. in 1944. So I got a grant to go to Budapest to do research. It was a life altering experience.
When I was there, Andrea Tompa (critic) was there too. She told me that there's this  play The Unborn, which is an adaptation of Imre Kertesz's book. I went to the bookstore at the Central European University. They had this English translation section, and there were three books by Kertesz. I bought all three, and the first was "Kaddish for an Unborn Child." I read this novel in maybe two and a half hours, maybe less. I was so struck by the vulnerability in the writing, the honesty and the intelligence. I felt like I had met an old friend. I thought I have to do something with this, by producing the play. But a year and a half ago, I called the playwright, and he told me that it couldn't be performed any more, because it doesn't meet the standards.
Describe Kertesz's use of language; even in English it seems to be distinctive.
Absolutely. It's very lyrical, there's a lot of repetition. He shifts from talking from memory to almost professorial ideas on politics. The book is a lens. It focuses inward, for about three quarters of the piece, and then out for the other quarter. It's very poetic.
So tell us about your play.
The Kaddish is a Jewish prayer of mourning. The whole novel is very short, and it's a sort of stream of consciousness monologue. It's an autobiographical novel. The protagonist is a writer and Holocaust survivor. [At 14, Imre Kertesz was deported to Auschwitz and then to Buchenwald].
And what happens on stage?
Well, this is a free-flow thought process, as he tries to figure out why he decided not to have children in a world where Auschwitz happened and could happen again.  In that long, prayerful thought process, where he tries to come to terms with his decision, he touches on philosophy. In beautiful prose, he touches on politics. He talks about the human condition.
I think one of the reasons why Visky really loved the novel and wanted to stage it was because Kertesz writes about the problems which occur when you're set free, when you're trying to assimilate to daily life from something as hellish as being in a camp.
A lot of plays deal with the Holocaust, and we've just gone through Remembrance Week. How is this different?
You think it'd be something very heavy and  painful. It's not. The writing is so light and it so beautiful; and yes, the text is dense, but in such a way that through the specific you're reaching the universal.
That's what we've been trying to do with the piece itself. Because we have this restriction. So we cut it down. The show is only about 55 minutes.
The seating is limited. Why cut down on the number of people who can actually see it?
Because of the intimate nature of the text, we want him to speak directly to the audience.  So we have it staged in a ten foot by ten foot square. The audience is right against the stage. So there are only about 25 seats.
As a director, you're faced with the challenge of keeping with the text as written and then putting a human being on stage who changes in front of us.
Exactly.
What have you learned from the rehearsals?
Well, one person shows are difficult. And one person shows that are so text based are really hard. You have to have the right performer. And you have to have the right text. You need a good match.
I couldn't have imagined doing it without Jake. He understands the character in a way that many people couldn't.
And how does reciting the work on stage change things?
It makes it more of a prayer. And there's a lot of emotion. And you understand some of the personal context behind the writing. When you're reading text, you go back and reread. We can't rewind the production. But you can let the text wash over you. It's almost like a meditation. I know people who've watched it. They say it's difficult for the first three to four minutes. It's like getting on a boat in a river. Once you get in the river, it becomes a lot easier.
It's got a rather gloomy premise: a middle aged translator and not-too-successful novelist has decided that writing is a form of burial. You talk about the prayer and the rhythm of the Kaddish, maybe that becomes clearer with someone on the stage, reading it.
Yeah. Those are the things we're working with.  And I was talking with Andras Visky. There are so many different plotlines.  And if you're staging it, you have to pick a certain line.  And I'll leave it up to the audience to figure out what that line is, but it involves the burial. It's a rich metaphor.
What the play's relationship with Hungary?
He makes reference to the fact that he's a Hungarian Jew, that he's from Budapest. But the thing that strikes me, is that you don't have to know about Hungary to appreciate the play. There's a lot about how Auschwitz could have happened. He's talking about politics. And Kertesz wrote this 20 years ago, so he's not talking about contemporary politics of Hungary or Putin or Santorum.  It's not really about Hungary. It's mostly anecdotal.
The relationship between a text based writer and a director can often get very frustrating, I imagine.
Well, if I was producing another playwright's work, we could have had that back and forth. But I wasn't able to do that with Imre. There was no direct conversation with him, other than his approval. So it was very set. But I thought he helped me as a director in the way that he wrote the novel. It's so human and  lyrical and stream of consciousness that the text itself is very open to interpretation.
So what can an audience member expect?
There are a lot of Holocaust plays out there, this to me seems a little more contemporary. It's not dwelling on the past. It's looking into the future. It's about someone who's desperately trying to move forward. It's more like, how do we survive, whatever that is. Because it's a prayer, it's more of a – celebration isn't the right word –  it's more of an embracing of life.
——————–
Kaddish will premiere from May 3 – 6, 2012 at Baltimore's Theatre Project, 45 West Preston St, Baltimore, Md, produced by Center for International Theatre Development (CITD). Tickets are free; donations gladly accepted. Reservations are recommended, since seating for each show is limited to 25.
Production dates and times:  Thurs, May 3 at 7pm and 9pm, Fri, May 4 at 7pm, Sat, May 5 at 7pm and 9pm, Sun May 6 at 3pm and 5pm. Details and reservations signup here.
As a footnote, I remind theatregoers that The Whipping Man is running at Center Stage in Baltimore and Theater J in Washington, DC. That play also takes on the question of freedom, as three survivors of the Civil War – two liberated slaves and their ex-master – confront their future over a Passover Seder. Judging from Lanciers' description, Kaddish for an Unborn Child  would be an interesting followup to those productions.