True story: My mother took my sister and my seven year-old self to see "Mary Poppins" in 1964 at a downtown Baltimore movie palace—who knows, it could have been the Hippodrome. The gilded theater was filled with mothers in suits and white gloves toting their daughters in crinolined party dresses. We sat in the plush velvet seats and opened our programs (special movies had souvenir programs then) and waited breathlessly for the movie to begin. About a half-hour in, my older sister is humming along to the songs and I lean across her and say to my mother "I have to go sit in the lobby." Why?, my mother inquired. "Too sweet," I answered. "Mary Poppins is too sweet."
A critic is born.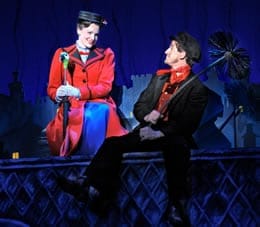 Thus began a lifelong skepticism about Mary Poppins—the movie, that is. I loved the original P.L. Travers books, which were a bit darker and real-lifeish compared to the sun-streaked treacle of the film.
You can well imagine my excitement at the prospect of a stage musical version of Mary Poppins. This ennui quickly turned into enthusiasm while watching the touring company of Mary Poppins turn the Hippodrome Theatre into a place of magic and delight. In the words of the merrily stern nanny herself, the show is "practically perfect."
Of course, you would expect marvels from a show directed by Richard Eyre (former director of the Royal National Theatre), and featuring a book by Julian Fellowes—who wrote the addictive aristocratic TV drama "Downton Abbey" — scenic and costume design by Bob Crowley and choreography by Matthew Bourne. It also doesn't hurt that the Broadway company's original chimneysweep Bert, Case Dillard, lends sooty grace to the touring production.
And then there's Rachel Wallace as Mary Poppins, the no-nonsense, yet fun-and-games inclined nanny who floats down from the sky with her umbrella to transform the unhappy home of the Banks family in London around 1910. Miss Wallace's crisp diction and crystalline singing brings Mary Poppins to effervescent life and the part seems as tailor-made for the actor as the coats she wears, which start at a sensible blue and go all the way to vibrant red and purple.
This deft touch and others—the dollhouse-like structure of the Banks' home, a foggy park that pops into almost psychedelic, blooming life when Mary Poppins arrives, the changing perspectives from the decorous bustle of the street to the splendid isolation of the sooty London rooftops—make the musical soar like a Victorian magic carpet.
Mr. Fellowes' book also deepens the characters and situations you may remember from the movie, hewing them closer to the books. Mary Poppins is high-spirited, yet imperious and formidable; while Bert, her earthly suitor, seems more soulful and a multi-dimensional, a jack of all trades in more ways than one. The Banks children, Jane (Cherish Myers) and Michael (Zach Timson), are not just brats, but are acting out because they sense the frustration and powerlessness of their parents.
The parents, too, are more nuanced. Stiff upper Brit George Banks (an excellent Michael Dean Morgan), is a product of a monstrous Nanny—actress Q. Smith sets your hair standing on end as the fire and brimstone-stoked Miss Andrew—and thwarted dreams. Former actress Winifred Banks (a stirringly sympathetic Elizabeth Broadhurst) struggles with trying to figure out how to please her husband and be effective in the role of wife and mother.
All of this provides rich background to the musical itself, which superbly combines substance with stylish stage craft.  Big production numbers, such as the dizzily infectious, tap dancing syncopation of "Step in Time"—which features special effects that turn Mr. Dillard's Bert into a gravity-defying Fred Astaire—and a West Indian-inflected version of "Supercalifragilisticexpialidocious" are spectacular. Yet you are also charmed by the more subtle moments—lonely statues leaping to balletic life (Benn Atkin is especially lissome and touching as the public art sculpture Neleus), the depiction of bank employees as cricket-like drones, and a wistful, empathetic rendition of "Feed the Birds" (the terrific Q. Smith again).
How completely does Mary Poppins captivate? Well, it is turned this cynic into someone willing to give the P.L. Travers books another read, but more entrancingly the musical yielded this indelible sight. On opening night, a little girl about 4 years old stood by the rim of the orchestra pit for the entire performance, her curly head tilted back, her eyes big and shining, her mouth softly open with joy.
A theatergoer is born.
Mary Poppins is running thru May 6, 2012 at The Hippodrome Theatre, 12 N. Eutaw St, Baltimore, MD.
Mary Poppins, a musical based on the stories of P.L. Travers and the Walt Disney film
Music and lyrics by Richard M. Sherman and Robert B. Sherman
New songs and additional music and lyrics by George Stiles and Anthony Drewe
Book by Julian Fellowes
Directed by Richard Eyre
Reviewed by Jayne Blanchard
Highly Recommended
Running time: 2 and a half hours, with one 15-minute intermission