The Alliance Francaise de Washington, D.C. presents Urban Corps
May 17 – 25 throughout DC.
Hip-Hop is an international phenomenon, and Alliance Francaise  is bringing together hip-hop dance crews from France, the U.S. and Senegal in a cross-city celebration that ranges from the Mexican Cultural Institute, Howard University, Kalorama Park, the Kennedy Center, Dance Place and Atlas Performing arts Center before finishing up with a battle of the dance crews at Artisphere in Arlington, VA.
After captivating D.C. viewers in 2009 and 2010 with dancer and choreographer Aurélien Kairo, the Alliance Française produces its full 2012 festival of  four powerhouses of French hip-hop, local D.C. dance crews, and cultural and academic experts.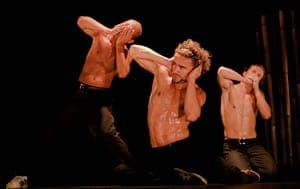 What exactly is the French connection to hip-hop? According to "Reclaiming Indentity", an article posted to the Alliance Francaise Web site yesterday, "For many French citizens of minority origin the only way to claim, or reclaim, the French identity that is denied them is through artistic expression. In contemporary French society, one of the most influential and prolific of these representations is hip-hop dance and music. Although originally started in America, hip-hop took quite a hold in France in the 1980s; so much so, in fact, that France is now considered number two on the world hip-hop scene."
This festival begins with an inaugural fundraising gala on May 17 at the Mexican Cultural Institute that will raise funds to support the academic programs  and cutting-edge cultural events for which the Alliance is recognized.
Program
Urban Corps Inaugural Gala
Thursday, May 17 from 7:30pm to 11:00pm at the Mexican Cultural Institute
This festive evening will be a harmonious clash of cultures celebrating hip-hop culture and dance with a festive fundraising event for Alliance Française cultural and academic programs. Tickets are $150.

Stylistik Company // "Entre Deux"
Friday, May 18 at 8pm at Howard University. Free to HU students.  AF Mems: $10. Gen. Adm: $15
A solo performance that questions identity and how outside experiences shape who we become.
Video clip.
De Fakto Company // "Le Petit Bal 2 Rue"
Saturday, May 19 at 2pm in Kalorama Park. Free to the public. Children and families welcome!
Two dancers pull out all the stops for an audition in front of 1950s film actor, André Bourvil.
Video clip.
Par-Allèles Company // "The Three Wise Monkeys"
Sunday, May 20 at 6pm at the Kennedy Center's Millennium Stage. Free (First come, first seated).
Inspired by three urban arts (hip-hop, capoeira and acrobatics) Par-Allèles explores the power of man's intellect to lead to both virtue and vice.
Video clip.

"Old Schools: The birth of hip-hop culture in the U.S. and France"
May 21. Conference at Busboys and Poets (5th St and K). 6pm. Admission: $5 donation requested.
This conference will discuss the rise of hop-hop in two distinctly unique cultures, with panelists, Alain-Phillipe Durand, French native and professor of U.S. and French hip-hop cultures at the University of Arizona, and Junious "House" Brickhouse, urban dance culture expert and founder and director of Urban Artistry.
De Fakto Company // "N"
Wednesday, May 23 at Dance Place at 8pm. AF Members $15. Gen Admission $20. Kids $10.
During the end of his life, German philosopher Friedrich Nietzche is confined to a wheelchair. Dancer and choreographer Aurélien Kairo presents the fantasized story of his continued, internal passion for dance. Video clip.  
KLP Company // "Tour of Duty"
Thursday, May 24 at the Atlas Performing Arts Center at 8:00pm. AF Members $18; Gen. Adm.$23.
A group of friends in 1960s Brooklyn reminisces about the trying times of their past, questioning social, economic, and cultural standards while simultaneously sharing the story of the birth of hip-hop.
Video clip.
Urban Corps performers, Urban Aristry & DCypher Dance // Hip-hop battle
Friday May 25. Artisphere. 9pm – midnight. Admission: $5
The closing event of the Urban Corps Festival is the true embodiment of Urban Corps' message of cultural exchange. This final performance unites the French performers and local talents for a cross-cultural take on the tradition of battling dance crews. Followed by an open dance floor with music from DJ Baronhawk.
For  more details and reservations  visit www.francedc.org