The Second Stage Theatre has brought New York a charming light soufflé of a play to remind us that spring is here and that balmy spring weather is just around the corner.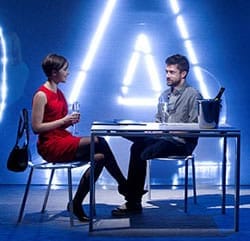 It's called Lonely, I'm Not, and they've offered Topher Grace, free of a seven year run on TV's "That '70s Show" and a number of impressive films, an opportunity to make his Off-Broadway debut in a role (a slacker named "Porter") tailored to his considerable comic talents.
Olivia Thirlby, a young leading lady whose background is primarily in regional theatre and in films like "Juno," "No Strings Attached" and "New York, I Love You", has also been well cast opposite as "Heather," (a blind  over achiever determined to prove she can outdo any sighted male who might get in her way.)
Paul Weitz, the playwright, is another prodigal returning to his roots after considerable success as author and director of a half dozen films, including "About a Boy" for which he was nominated with his brother Chris for an Academy Award.
So what have we here?  It's somewhat surprising that Mr. Weitz and his director Trip Cullman decided to take this refreshing riff on romance away from film, and guide it to a safe landing onstage instead. For it is conceived cinematically with what seemed like thirty  brief vignettes set all over the Los Angeles and New York landscape.
But with the collaborative help of Mark Wendland, Emily Rebholz and Matt Frey on design for sets, costumes and lighting, they have managed to make it cohesive and theatrically alive, not to mention well paced and always in focus.
Inventively casting wonderful supporting players like Mark Blum, Lisa Emery, Maureen Sebastian and Christopher Jackson, and allowing them to double and triple as the characters who inhabit Porter and Heather's world, was an inspired idea, and fun for the audience, as these supporting actors are delightful to spend time with.
Ms. Emery, always welcome on stage, here clearly illuminates the relationship she has with her daughter Heather, as well as an administrator and  a housemaid from Latvia who is a shining example of a woman content with simple work. Mark Blum, another very useful actor, brings great charm to the role of Porter's contemptuous father Rick,  who has been a terrible role model to his son.    Knowing Rick helps us to understand how Porter, after a meteoric rise in the business world as a young man, opted out and hasn't done a day's work in four years. He's also failed at the marriage game, remaining friends with his ex, who has all sorts of new problems of her own. As that ex, as well as Heather's overly protective roommate, Maureen Sebastian is resourceful and very funny, so resourceful that I didn't realize the two roles (plus a third) were all played by the same actress. Christopher Jackson triples as well, and we are the richer for his work.
Unlike Porter, Heather has set herself a path that puts her in the fast track of corporate America, always on the rise, never content. These two unlikely opposites are introduced to each other via a blind date (and the irony of that pun is worked a lot) that leads to an odd couple attachment. When Porter turns down a major job inNew York, he arranges for Heather to take it instead, with the promise that within 10 weeks he will get himself together enough to follow her east, so they can continue to explore each other.  The ending of the play makes us no promises, but it does very satisfyingly give us good cause to hope, and that's a very nice feeling to take out into the spring evening.
Again, this would make a delightfully unpretentious film, hopefully with the attractive and able Topher Grace and Olivia Thirlby.  It is very much in the "Sleepless In Seattle" tradition, and its boy and girl are just different enough to deserve a film of their own.  It won't be easy to mount this play in the stock and amateur theatres, with its multiple settings (so beautifully and smoothly designed by Mark Wendland) and its light hearted LED one-word introductions to each short scene,  not really necessary but elegant, like the sugar coated words written on top of a birthday cake.
On the other hand, there are undoubtedly many talented directors and designers out there who would love an opportunity to try their own wily ways of staging it, so keep an eye out.  In the meanwhile, treat yourself to a visit to this, the original staging. It's a charmer.
Lonely, I'm Not is onstage thru June 3, 2012 at Second Stage Theatre, 305 W. 43rd St, NYC.
Details and Tickets 
———————–
Richard Seff, who numbers among his many accomplishments, careers as Broadway performer, agent, writer, and librettist, has written the book for Shine! The Horatio Alger Musical!, which debuted at the 2010 New York Musical Theatre Festival. He is also author of Supporting Player: My Life Upon the Wicked Stage, celebrating his lifetime on stage and behind the scenes, available through online booksellers, including Amazon.com.  Read more at RichardSeff.com
Richard Seff  interviews Broadway luminaries:
Richard Seff podcasts: