On May 7th, the Baltimore theatre world received some good news:  the Chesapeake Shakespeare Company, currently located in Howard County, announced its purchase of the downtown Mercantile Safe Depost and Trust Building, a classically designed brownstone built in 1885. What was born as a bank, and transfomed as an afterhours spot for Baltimore party people, is now going to be a 250-300 seat theatre with three levels of seating. The theatre is scheduled to open in the fall of 2014. 
I was curious to know Chesapeake's plans for the new space and how they were going to avoid the fate of Baltimore's recently departed Baltimore Shakespeare Festival, which closed in 2011 after years of operating in the red, despite a highly-vaunted $1 million donation received in 2007. Here's my phone conversation with Artistic Director Ian Gallanar, who founded Chesapeake Shakespeare over a decade ago.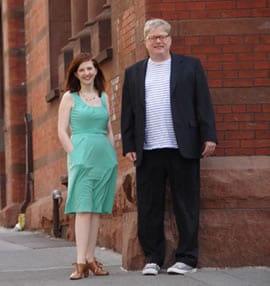 So this announcement took me by surprise. You found prime real estate, down near the Inner Harbor, and you're going to be moving in in a year. Was it just good luck?
Ian Gallaner: Maybe it looks like that, but we've been playing it close. We started looking about four years ago, because we knew we  had reached capacity. We don't do much work indoors. We were looking in Howard County. The property here is different.  There's no central location. The zoning is such that we'd have to build a theatre ourselves. In addition, we changed our thinking last year. We thought that the actual performances in Howard County [at the PFI park] were a perfect fit. It made no sense to move them somewhere else.  It was working out great.
The PFI park is a great space. Can you describe it?
The PFI was originally a boarding school.  It was a boarding school since the Civil War. It went through a bunch of lives. For awhile after World War I, it was a hospital. Around the forties, it was a theatre. Then they left it. It went to ruin. The owner left it to the University of Connecticut. They had no use for it.  When we came there nine years ago, it was sort of being taken care of, but no one knew what to do with it. So we decided that we could convert it to an outdoor theatre.
So you're going to keep the summer theatre going out there. To many in Baltimore, it was the theatre community's best kept secret.
It's attractive to people. It seems to attract people who don't go to see a lot of theatre. They feel welcome. They feel a part of it. We figured that we'd take the model and go somewhere else with it too.
We didn't look to Baltimore in the past, because they were being served. The Baltimore Shakespeare Festival was there.  Why would we go there? It seemed weird.  When they closed [in 2011] we felt, like, wow, this is a great American City, with very few resources for classical theatre.
You had your own idea for PFI, now you're doing something interesting with the Mercantile Trust Building near the Inner Harbor.
My work has usually been in non-traditional performance space. This is going to be a little more traditional. There's going to be a lobby.  But it's important that the building itself remains. We're not gutting it.  We're not going to try to fool the audience into thinking they're somewhere else.
But the configuration of the building itself has some of the same layout as the Globe Theatre. That's what we're riffing off of. We're trying to recreate a modern Globe. Three levels, an intimacy that I think is very important.
It'll be about 250 seats.
250-300. There's going to be some traditional theatre seating. But in the back, there's going to be an area where you can sit out in the bar and watch.  It's like the Rams Head.
That's the mosh pit, where all the riff raff hung out in the original Globe.
Yeah. Sometimes that's how people want to experience it. The sit-down, shut-up idea, we're going to turn the lights off. Okay. But we'll be trying to work with something more informal.
Isn't that what Center Stage did for awhile, in the Head Theatre? They turned it into cabaret seating.
Oh, gosh. I'm a terrible theatre-goer, so I don't know.
Once you're near Inner Harbor, does that mean you'll be trying to bring in the tourist/convention crowd?
Yes, absolutely. We already do that out here. About 20 per cent of our audience comes from Pennsylvania and Northern Virginia.  The idea of being two blocks from Inner Harbor is perfect. There are three hotels right around there. It's not going to happen right away, but we're trying to drive that. One of the ways we're going to be doing that – we're thinking about creating an international theatre festival.
Explain that.
That'll be theatre groups, particularly with a classical background, but hopefully some more modern ones too. We're thinking of bringing theatre groups from around the world. Hopefully, we can work with other Baltimore theatres. I think it's part of what's happening in Baltimore – the great forward movement of the theatre community. That'll put a great international spotlight on it.
This'll be an eight month season.
Eight months of production. We'll still be open during the summer, but it'll be for educational programs.  Our intention is to do a lot of that kind of stuff. You know, afterschool programs. Summer camps. Summer programming.
You started a very conscious growth plan in about 2010.
Yeah.  Of course this has kind of accelerated it. But we did the traditional five year strategic plan. You know, obviously, we'd been thinking strategically before. But this formalized it.  With the five year plan, we were thinking of building at the end. So it's jumped up a few years. But it's certainly something we've been planning carefully for.
Expansion in theatre is always a little risky, and in Baltimore, we can look at the Baltimore Shakespeare Festival as an organization that made a few mistakes. They must have done something wrong because they went out of business. Are you looking at that as a cautionary tale?
I'm personally a great student of theatrical organization structure.  So yeah, you bet I've been paying attention to what's gone on there, what's gone on in Everyman, Center Stage, and other Shakespeare companies around the world. It's not a slam dunk. We've got our work cut out. But we've spent a lot of time looking at some of these things, asking, 'What happened here? What went wrong? What went right?'
Baltimore Shakespeare had a short season. So you're going to be operating all year long.
Seven shows a year.
What's Baltimore City done to help you?
They've been great. That was the wonderful surprise. This all started, really, when I had a meeting with Vinnie Lancisi. We sat down, he told me who to talk to.  Within a matter of weeks, we were shown the building. The Downtown Partnership helped a lot.  We're not counting on big money, but they've given us a lot of help.
You're categorized as a 'non-union professional theatre'. 
The union thing is a little strange. Yeah, we use union actors. There's not such a thing as a union theatre. There are union contracts. And they have a semi-permanent contract, which we will probably eventually have…But what happens when theatres jump into this, they might sign one of these contracts, and suddenly they realize that they're committed to a certain number of contracts for every show they do.  So they cut back on the number of shows, and they can't afford to do it.
So you get the situation where sometimes Shakespeare companies find they can't afford to do Shakespeare.  We're going to eventually be working with contracts, but we're getting there slowly, and we'll be using guest artists, and using provisional contracts for a few years.
That was at least part of the cost problem that Baltimore Shakespeare Company faced. 
I can't really speak to their situation, but we're being incredibly conservative about where the money goes. We've never even had a black financial cloud. We do what we need to do.
You're going to be doing Shakespeare, but not only Shakespeare.
Yeah. We're a classic theatre.  You know, I'm not even sure what that means. The process of defining it is something that will go on for the life of the company. But, roughly, they can be older plays, hundred years or more. There'll be American classics. You know, one of the things is, when we're picking shows, and we'll continue to do this, we ask ourselves whether it's something right for us. We have a particular approach to our work. With some material it works extraordinary well, and with some it's more limited.
So explain what you mean by 'particular approach.'
Well, there's a big genre of Shakespeare performance called 'original practice'.  You know, the Globe Theatre, and the American Shakespeare Center in Stanton, VA use it. And it's terrific. We're admirers of it, but not practitioners. The shorthand is, they do it with the lights on. Which means that the audience and the actors are face to face. It helps eliminate that famous fourth wall. So when actors are talking, they're not just talking to one another; they're talking to the audience. We love that. There are other things that 'original practice' people try to make their productions more historically accurate. But we're mostly interested in establishing that direct connection with the audience.
So we do things, not just on the stage, but off, which, in the traditional theatre culture would seem almost blasphemous. We have our actors in costume, and they're allowed to go into the audience before the show. They are actually allowed to stand around watching the show while it's going on. And during the intermission, or after the show, they make themselves available to the audience.
We don't have barriers between the backstage and the audience. So often the audience finds themselves backstage.  That really started out as a necessity, but we decided that we liked doing it.  We're informal. Our shows are usually suitable for kids. People can bring their kids on Sundays for instance, and you have two year olds running around. That's a way of involving the entire family in the theatre.
Your new space is scheduled to open in 2014. If people want to get a taste of that, they can check out one of your summer shows at PFI.
Absolutely.  We're starting off with Romeo and Juliet. It's going to be a good one.
Chesapeake Shakespeare is running two productions in rep this summer. Romeo and Juliet opens June 8, 2012, and Pride & Prejudice opens June 22, 2012. PFI Park is located at 3691 Sarahs Lane, Ellicott City, MD.
Details and tickets