"It was a brave man," Jonathan Swift once observed, "who first et an oyster."
Douglas Carter Beane is a brave man, and for much the same reason. He took Xanadu, a 1980's flop-o movie musical – the one which ended the brief movie-star career of Australian songbird Olivia Newton-John—and audaciously turned it into a play. A hit play. A big, freaking, Broadway-style hit play, that ran for a year and a half.
How could that happen? The movie was an inoffensive little story about Sonny Malone, a failed painter (the immortal Michael Beck) who, on the verge of turning his back on his gifts, is inspired by the muse Terpsichore, disguised as a roller-skating woman named Kira (Newton-John). Together they decide to open a nightclub; moreover, Kira falls in love with Sonny, thus endangering her status as a demi-goddess. Love, gods and goddesses, roller skates, a familiar plot (ripped off from the movie "Down to Earth") and, best of all, music from the fabulous Electric Light Orchestra, the band George Harrison famously said the Beatles would have become had they stayed together. What more could we want?
Lots, apparently. The film barely broke even (though several of the songs became big hits), Newton-John went back to Oz, and everyone else associated with it faded into oblivion. Worse, the critics (this was back when people listened to critics) scorned it unmercifully, so that when anyone thought back to the 1980 movie, they would remember some cruel line from some cinematic savant.
But Beane remembered his Karl Marx: history is a tale repeated twice – once as tragedy, and again as farce. His re-imagined Xanadu is told with a snigger and a sneer, a horselaughing backward glance at the eighties, a double-pointed arrow, aimed both at musical comedy and at love itself. In this version of Xanadu, Sonny Malone (Charlie Brady) is not simply a nebbish but a stone moron of the Jethro Bodine variety. He aims to become an arts immortal by painting on the sands of Venice Beach, California, and when he fails, he tries to commit suicide, but is stymied by his inability to compose an artistically adequate suicide note. (Thus calling to mind the unforgettable moment when a lovelorn Jethro threatened to eat himself to death before commencing on an enormous bowl of Kellogg's Corn Flakes). Such artistic confusion obviously calls for the intervention of a muse – this time by Clio (Erin Weaver – Terpsichore, played by Nickolas Vaughan, takes a more subdued role). In order to disguise her true identity, she decides to don leg-warmers, roller skates, and "sport an Australian accent" like the one Ms. Newton-John could never quite shake.
The beauteous Kira soon lures Sonny away from his morbid preoccupations, and back to true art. He resolves to bring all arts (plus athleticism) together by opening a disco roller skating palace. He soon locates Danny Maguire (Harry Winter), a developer who owns a decaying, soon-to-be-demolished theater. Inspired by his memory of himself as an art-loving youth (Mark Chandler) bound in heart to a mysterious Alabama lass (Weaver), Danny agrees to go partners with Sonny in restoring the place – now renamed Xanadu – to its former glory. This takes care of inspiration, but how could a demi-goddess fall in love with Sonny, who has the IQ of a toaster and is less useful? They do it old school: Two of Clio's jealous sisters, Melpomene, Muse of Tragedy (Nova Y. Payton) and Calliope, Muse of Epic (Sherri L. Edelen) conspire to cast a spell which makes Clio fall in love with Sonny. In Mt. Olympus, falling in love with a mortal carries the Eternal Damnation penalty, and this is clearly what Melpomene and Calliope want for Clio.
All of this is done with tongue more deeply in cheek than you would think biologically possible, and with great polish by Signature Theatre's fine cast. From the very first moment, when the oblivious Sonny manages to insult the entire audience, through our exposure to the astonishing 1980s mode of dress (Kathleen Geldard's costumes were inspired by some kind of muse, f'sure), through one character's observation that we were in a children's story written for 40-year-old gay people (but gay people in love are just as gloriously ridiculous as straight people in love), to the final malediction of Zeus (Winter), who turns out to be a stoner, as he ticks off the consequences of banishing Clio from Olympus: "Creativity shall remain stymied for decades. The theater? They'll just take some stinkeroo movie or some songwriter's catalog, throw it onstage and call it a show," we are invited to look back, in affection or contempt, at our own silly lives.
With great inventive economy, Misha Kachman sets us in the midst of Venice Beach, and Chris Lee's brilliant lighting moves us in and out of the story's other venues. The show's principals are at every moment the people they are supposed to be, which is harder than you might think on roller skates. Weaver is particularly good at this. During one spectacular scene she clomps off on one skate after Sonny, in a stoneheaded effort to keep her from leaving, wrestles the other one off. (Is this how Cinderella played out in the eighties?) She thereafter manages to maneuver around the stage halfskated, even climbing down scaffolding at one point. It would have been a tour de force even if she hadn't said a word.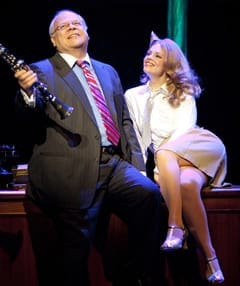 Brady has the hardest job in all this, making Sonny real in spite of the fact that he appears to have no brain cells at all. He imposes a sort of radiant fog around his character, and his (entirely unjustified) optimism makes him, ultimately, irresistible. Winter, who has become a regional treasure, gives a complicated, layered spin to Maguire, as well as a strong, sweet voice. Edelen, as always, blesses us with a witty performance, particularly in a brief scene as Aphrodite, who it turns out speaks as a Swedish person might speak if also chewing on lemons at the time. (There is a fabulous moment where all the creatures from Greek mythology meet up at Olympus). And, in what has become Signature's – um – signature characteristic, the chorus is impeccable. Jamie Eacker and Kellee Knighten Hough are particularly spectacular in a final scene with Zeus.
As for the music – hey, it's Jeff Lynne, along with John Farrar, Newton-John's principal songwriter. If you are over fifteen, the songs (many of which came from the movie) will be instantly familiar to you. I am thinking particularly about "Strange Magic" and "Have You Never Been Mellow", but your results may vary.
The tight 4 musician band does justice to the memory. They beautifully reproduce the swelling, rounded sound which seems to echo long after the song is over. There was never a group quite like ELO, and their music was strong enough to keep this forgettable movie alive until Beane could revive it. We see why here. Sound designer Matt Rowe carefully equalizes the instruments and the voices; this sometimes makes the lyrics difficult to understand but preserves the music's emotional thrust.
Let's face it: Xanadu was a tiny story with great music, and it remains a tiny story with great music, albeit one that now pokes fun at itself, and at you. If that's your cup of tea, have at it: you'll have a blast. And Mr. Beane: There's more oysters where that one came from. Get to work.
Xanadu is onstage thru July 1, 2012 at Signature Theatre, 4200 Campbell Avenue, Arlington, VA.
Xanadu
Book by Douglas Carter Beane; music and lyrics by Jeff Lyne and John Farrar
Based on the Universal Pictures screenplay by Richard Danus and Marc Rubel
Directed and choreographed by Matthew Gardiner
Musical Direction by Gabriel Mangiante
Produced by Signature Theatre
Reviewed by Tim Treanor
Recommended
Running time: 1 hour, 37 minutes, without intermission