At a pivotal point in Bachelorette, one character offers her take on the state of contemporary womanhood: "Age 12 is when you start to hate yourself." It's the closest the play ever comes to providing an origin story for the three miserable women at its center, and it manages to distill the key theme of Bachelorette – a dark, dark comedy by Leslye Headland now at Studio Theatre – into a single sentence.
The audience is invited join Bachelorette's main characters as they stumble down an unhappy path they began together in adolescence – a path recently made all the more unhappy by the knowledge that one of their former friends is on the brink of escaping from it.
Bachelorette takes place over a single night in a single hotel room, as frenemies Gena (Laura C. Harris), Katie (Jessica Love), and Regan (Dylan Moore) bitterly anticipate the wedding of Becky (Tracy Lynn Olivera), which is scheduled for the following morning. Though the play's title implies a bachelorette party – and a bathtub filled with ice and champagne bottles seems to guarantee it – no one is in a particularly celebratory mood. A seemingly endless chain of alcohol, marijuana, cocaine, and prescription drugs breeds further anger, depression, and cruelty, as the play's characters clash in increasingly troubling and desperate ways.
Suffice it to say, Bachelorette is not what you'd call a feel-good play. Like most dark comedies, Bachelorette walks a very careful line between comedy and tragedy (overall, I found it depressing more often than funny, but there was plenty of laughter in my theater, so your mileage may vary).
This is tricky material, and in the wrong hands it could easily be botched, which makes Studio Theatre's well-realized production, directed by David Muse, all the more impressive. Though there's not a weak performer in the cast, the standout is Dylan Moore, whose frosty, manipulative Regan is so brittle that she's constantly on the verge of breaking.
On the other end of the emotional spectrum is late arrival Joe (JD Taylor), who delivers an unexpectedly moving monologue about his own childhood in Bachelorette's best scene.
In terms of the actual staging, Bachelorette's set is utilitarian but serviceable (though the way each character marvels about the beauty of the hotel room requires the audience to use a bit of imagination). The real fun here comes in watching the set fall apart, as the evening's various misadventures take as much of a toll on the hotel room as it takes on the women.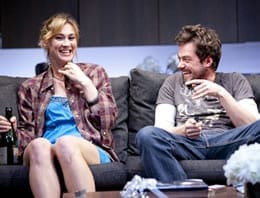 But the biggest draw here is Bachelorette's script, which manages to nail the tricky generational patter of the play's main characters. Bachelorette was written by Leslye Headland as the "gluttony" installment of her "Seven Deadly Plays" series, but one could identify each of the seven deadly sins here, from the envy over Becky's rich, handsome fiancée to the lust of a drunken one-night stand. The Bachelorette playbill explains that Headland's goal as a playwright is to "shed light on how ancient issues are still present in an ultra-modern, media-saturated, and over-educated generation," and like most sharp writing, the greatest successes come in the details.
Characters make spot-on references to the Dave Matthews Band and "Sex and the City" (a TV series about four close female friends, which makes Bachelorette's series of hurts and betrayals feel like a grim parody). And in Bachelorette, even cruelty has been modernized and technologized. It's not enough for the women to mock Becky for the size of her wedding dress; they have to tag a picture of themselves wearing it and upload it to Facebook.
By the time the intermission-less Bachelorette draws to a close, you'll be as exhausted as its frazzled lead characters (I won't spoil the play's ending, of course, but it's safe to say that no one leaves the hotel room without having changed in one way or another). "You shouldn't joke around about that," complains a character in the play's climactic scene. But fortunately for audiences with a stomach for material this dark, Bachelorette doesn't follow its own advice; there is no topic that this play isn't willing to make a joke about, and no dark truth it's willing to shy away from.
Bachelorette is onstage thru July 1, 2012 at Studio Theatre, 1501 14th St NW, Washington, DC.
Details
Tickets 
Bachelorette
Written by Leslye Headland
Directed by David Muse
Produced by Studio Theatre
Reviewed by Scott Meslow
Recommended
Running time: 1 hour and 30 minutes with no intermission