Although many will remember David Schramm as the cantankerous airline owner Roy Biggins from the nineties NBC sitcom "Wings," the Kentucky-born actor has been a man of the stage his whole life. This week, he begins performances of The Merry Wives of Windsor at The Shakespeare Theatre, in his inaugural run as the larger-than-life Sir John Falstaff. 
DC Theatre Scene spoke with Schramm this past week about Shakespeare, sitcoms, and finding the path to true happiness. What follows are Schramm's comments and observations, distilled from our phone interview.
———
This is my first time doing Merry Wives. I'm having a great time. The director [Stephen Rayne] is absolutely stellar. He's intelligent and experienced and really knows the era. We've set the play at the end of the first World War, sort of in the Downton Abbey era. It works very well as a time period for the play. And it looks great. We're meticulously putting it together. This play really demands a lot from everybody. There's so much to try and do. But we're all pulling together.
You don't see Merry Wives that often. Some people consider it a lesser play in the canon of Shakespeare's work, maybe because it doesn't have the finesse that a play like Twelfth Night does. But it's a truly great piece of Shakespeare. Whereas Twelfth Night has a certain delicacy and symmetry to it, this is much more a bawdy comedy. Characters like Sir John Falstaff and Mistress Quickly were so popular with Queen Elizabeth and the public when they appeared in the Henry IV plays that Shakespeare brought them back in this play.
If you have any pretensions to do classical theatre, and you're of a certain age and type, Falstaff is there front and center. He's the capping clown of all Shakespeare. It's one of those parts that's almost touching. His belief in himself, and in his sexual skills, is so misguided that you just have to laugh at it. What else are you going to do? It's the kind of comic part that you've got to take at full throttle.
———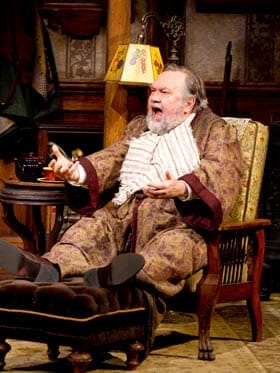 The comedy in Merry Wives is based in delusion. Think of someone who slips on a banana peel — They think they're just walking along, and then down they go, on their derriere. It's not just funny because they fell, it's funny because you saw the moment before, when everything was great. So, we see a lot of Falstaff right before the banana peel. He's so deluded that he thinks these younger, wealthy women are going to be his paramours, and actually pay him for his sexual prowess. Then comes the series of come-uppances.
There are all kinds of little magic moments you can't help but laugh at. There are too many to mention, and they just reek of funny. But it's not a play that really looks like it's trying to funny.
Really it's more like a situational comedy you'd see on television, in that you see a series of situations that become funny with a payoff at the end. The situation sets up the comedy. Much like seeing the character walking toward the banana peel.
———
The first time I was in Washington was thirty years ago. I was in a touring production at Ford's Theatre, toward the end of the Nixon presidency. It was an extraordinary time, because every time you stepped outside you'd nearly get hit by a motorcade. A few months later he resigned. I've toured through Washington a couple of times since then, but this is the first time I've been at the Shakespeare Theatre.
My hope is that by the time the show opens I'll be able to take some daytime to see the wonderful sights. Going from the hotel to the rehearsal space, I've been passing by locations that look like they're MGM backdrops. But they're really here, and they're a part of Washington, so it'd be a shame if I don't make time to really see them.
———
This fall I just finished my second production of Twelfth Night, playing Sir Toby Belch. I've been told all my life that the two roles I most need to play are Belch and Falstaff, and this year I've done them both. I've played Lear, I've done two productions of The Tempest, two productions of the Scottish play, and many others.
I spent a lot of time doing regional theatre before I got into TV. I went to Juilliard from 1968 to 1972, and during our second year, part of our training was the study of what we call "elevated text." Language like Moliere uses, for example. But for us the pinnacle of elevated text was Shakespeare. Michael Kahn used to teach a class at Juilliard on the first scene in Hamlet — with the guards at watch.
Reading it through the first time, it just sounds like three guys talking. But the second time round we went through with all of the information underlined — the details and discoveries. It became a much more interesting scene. That's how it is when you study Shakespeare. It's always a challenge to make that ornate language sound real. You have to put work into it as a student and then throughout your career.
Playing Shakespeare is as close as most actors get to being opera singers. Breath is so profoundly important, as is your enunciation. Because even though you're speaking English, a lot of times it doesn't sound like English — it sounds and feels like another language. You have to breathe, to know what you're saying, and to say it with clarity.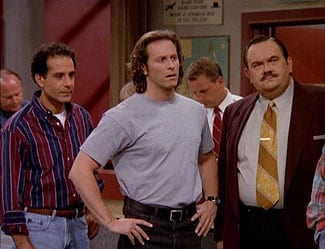 You don't have to do that, really, when you're acting in front of a camera. Even in sitcoms. Because there are four cameras right there, and they roll in and get it all from you. Same with making movies. You're not doing it for 800 people — really it's for the camera man and the sound man.
Sitcoms are probably the closest that camera work comes to theatre, actually. The stories feature stock characters like the leading lady, the young clown, the old guy. And with sitcoms you're usually shooting in front of a live audience. That's part of what sitcoms are. They're live and full of energy.
 ———
Several years ago, I decided I was going to quit acting for a while and take a year off. That year turned into five and a half, because it was so much fun. I had been acting non-stop since I was a teenager. But really I got started in acting because others helped push me into it. When I was a kid, it was other actors getting me to do it. Then I had a series of teachers who told me I was going to do it. John Houseman got me under his wing, and I went along with it happily.
A lot of people go through their lives without really centering in on what it is they should do. They go from thing to thing and they don't quite find something that consumes them. I've been very fortunate in finding acting. After 48 years of it, I've finally succumbed. When I stopped acting, I had a lot of fun just going out, traveling, taking classes and playing cards. But then I began to miss acting. And once I started again, I realized that this is what I'm meant to be doing. For me, this is what getting back to work means.
The Shakespeare Theatre production of The Merry Wives of Windsor plays thru July 15, 2012 at Sidney Harman Hall, 610 F Street NW, Washington, DC.
Details
Tickets 
Related: