"I want to hit the audience with the power of tap dance, to elevate this form and take the audience to a whole other level. And I work on everything as if it's a Broadway opening. "
Randy Skinner is bringing his elegant, classic style of choreography to Infinity's Dames at Sea, opening July 14 for three weeks in Annapolis this summer.  This Broadway dance man is a class act! We spoke of his own "extraordinary ordinary life." 
What first drew you to the world of dance and Broadway musicals specifically?
Randy: I was put in dance class at age 4, so it's hard to answer from the standpoint of my own recollections. I have to borrow from my parents' memories. Mind you, this was something unusual in the 50's.  But there was a girl from the neighborhood, whose family were friends of my parents, and they decided to send us to dancing school together.  It's like A Chorus Line story: she quit and I stayed.  That's how I got my start.
Also, my parents were very savvy when they knew it was time to move me onto the next teacher or a more experienced school.  That's not always the case for people who come up through a neighborhood where there are a lot of bonds created and close loyalties.
How did your work achieve its special trademark style that draws on the golden age of the American musical?
I was very film-oriented growing up.  My family formed this side of me too, for we watched a lot of films together.  I was intrigued by everything I saw, the scale and the composition that can be achieved in films. And, of course I was introduced to the great classic musicals, especially the work of Ginger Rogers and Fred Astaire.  Seeing their films brought me into their world. So, when people think of my work, they see a style formed by this film background, my interest in the level that was produced in those studios as well as the stage pictures they achieved.
Did you seek early professional experience that supported your desire to emulate  American  film's musical stars?
I got to work with producer John Kenley, [who, it was said, brought big musicals to small towns in the Midwest.] He ran a summer series in three cities in Ohio (Warren, Dayton, and Columbus.) We are talking 4,000 seat theatres! Nothing like this even exists now.  But I got to dance with the likes of Ann Miller, Cyd Charisse, and Mickey Rooney. It was great preparation.
Where are those kind of training grounds for dancers today!?
Exactly.  I am around a lot of talented dance students.  But it's easy to get down.  There are more and more people going through dance schools but fewer jobs when they get out.  People stay longer in shows than ever before, from opening to closing sometimes, so without the turnover, fewer people get the opportunities we once had as dancers.  In the studio system in Hollywood, there were even greater opportunities. Every person signed was protected, surrounded by coaches and teachers their entire careers. Shows were created for them. When you have a place and opportunities to develop your talent for a career of longevity, that's a huge advantage.
I just did Gentlemen Prefer Blondes as an Encore Production in New York with Megan Hilty, star of TV's Smash. She is loaded with talent and on the cusp of stardom, but will she have people creating work for her and letting her hone a lifetime career?  Will she be given a wide range of opportunities? I don't know.
When did you know that you wanted to pursue choreography as well as dance?
I had great mentors in Ginger Rogers and Gower Champion, both who sat me down and pushed me to continue this quintessential American art form, not to let it die, and in particular  to continue to develop the triple threat dancer with jazz, ballroom, and tap, where all disciplines are equal and equally strong. I listened but I wasn't really sure what my role should be in this.
But there was a momentous event, wasn't there, that took your life in this new direction? Will you speak about how you had to step into Gower Champion's shoes with 42nd Street?
I didn't know what was happening. At the time, although I had done some choreography in college, I was really only thinking about performing.  I was only twenty-seven. Gower took me to lunch and said, "You have to start doing this (choreography.) I'm not telling you to stop dancing but you need to start developing both."  Then opening night, and we all knew the show was going to be a big hit, it was announced Gower had died. Walking up to the Waldorf where the opening night party was going to be, I remember thinking, I have to step up, and I knew too it would be a mixed blessing.
What did you take from him? 
I repeat to others what he said to me. "Start inquiring, watching, and branch out to have more opportunities come your way."  Now I actually like wearing all these hats.  Nothing really gets old. The National Touring show of A Chorus Line was the longest show I stayed in and that was six months.
That is one thing I have always wondered – how to keep the demands of an 8-performance a week Broadway show going month after month.
What I have learned about myself is that I am not particularly suited to that – or the life of a "gypsy." Life on the road is not a natural fit for me, to live from suitcase to suitcase and show to show. And today most dance work means you're on the road,  whereas I am naturally a housebody. Once I'm in a place, I love to sightsee and take it all in. But I do have to be nudged.
Although I seemed to gravitate naturally to the East coast, I actually think I would have been better suited to the early television variety shows, those 10-15 golden years, where the dancers began rehearsing on Monday and through the week then taped on a Friday. The following week a whole new script and choreography were presented.
It reminds me of something Meryl Streep said on "60 Minutes."  She enjoys low-budget, small independent films because there is no time (or money) for retakes.  She, like me, doesn't want to go over and over something.
Did you ever get tired or felt burned out that you wanted to throw in the towel?
No, it never happened to me.  Maybe it was because the experience on 42nd Street opened me up.  Also, I have always had lots of outside interests.  I was always able to fill up my time. I'm a big reader. I love biographies.   I think if you can't get out of the thing where you are only happy on stage, then you can lose your balance.  But if you stay in the process and always learn – that's it, I've always loved the classroom. This and other interests brought a natural balance to my life.
What do you look for in a dancer?
Well, there are people who learn very quickly, absorb it, but then drop when no longer needed.  That's what got me noticed very quickly. My eye goes to people who are very focused, who are able to absorb the style and the upper body, not just the steps. Then I say, "that kid would make a good dance captain, or could be an assistant." I love to see my people go on and take leadership roles in other productions.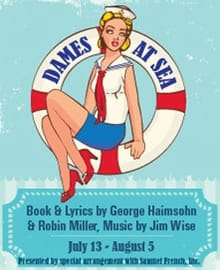 So, won't you tell us about your show, Dames at Sea, opening in Annapolis this summer?
It's a show that was popular in '68-'69, and for a time everyone was coming into auditions singing those songs. I love it.  I've been in it three times and choreographed it before.  It's got such a tuneful score.  And, of course, there is the homage to Busby Berkeley, and the Ruby Keeler character, the star Mona, and the great sidekicks.
Is there something new or important you bring to this show?
I want to approach the dancing seriously. It becomes a bigger show then. I want to hit the audience with the power of tap dance, to elevate this form and take the audience to a whole other level.
And I work on everything as if it's a Broadway opening.  You will know that I will have danced it full out before it's ever in rehearsal. Also, it's coming to Annapolis, a naval town, and it will be interesting to see how the naval theme resonates there.
Would you want to comment on how this kind of dancing differs from what's seen on "Dancing with the Stars" which so many people are watching these days?
Well my mother watches the show and enjoys it.  But it's so full of in-your-face tricks, isn't it? There is so little subtlety.  Having just done Gentlemen Prefer Blondes, I was affirmed that dance can be done with great taste and that audiences still respond and crave something that has class, and they will accept stillness and subtlety.  There is still a place for this even though it's a noisy world.
What is the "noisy world" fallout, as you see it, in dancers who are coming up now?
The hardest thing to see is that most young dancers are not interested at all in what has come before them.  I want to tell them, "Know your history, especially about your field."  Dancers need to watch the masters. The American musical represents our great heritage.
What will you ask of your dancers for Dames at Sea?
I want them to do their homework, go to YouTube, see and immerse themselves in the world and in the style of the musical's golden age.  There are so many references in this musical that must be understood to be appreciated. One can't just teach style theoretically.  You have to absorb it, get it by copying and mimicking. Doing the unspoken thing looks so "off-the-cuff. " That's the hard thing to emulate, but the stars all had it – that "off-the-cuff." You have to feel it and let it happen, be so immersed in the world that everything seems organic.
Note – Randy Skinner will be teaching a master class for all levels of dancers Sunday, July 15th. Details here. Randy Skinner's next production in the area will be Irving Berlin's White Christmas at The Kennedy Center this winter.
The Infinity Theatre production of Dames at Sea is onstage July 13 – August 5, 2012 at the CTA Theatre Complex, 1661 Bay Head Rd., Annapolis, MD
Details
Tickets