The Outcasts of Poker Flat may be the best Wild West opera you'll ever see. It may also be the only one you'll ever see, but that only underscores this rollicking, emotional production as an essential Fringe stop.
Outcasts follows a gang of bitter exiles from the town of Poker Flat, including a seasoned gambler, two prostitutes, and an inveterate alcoholic. The band soon meets an idealistic prospector and his fiancée, and an uneasy alliance forms as the travelers gird themselves against an unexpected winter onslaught on the open plains.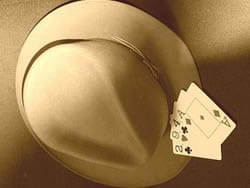 Composer and librettist Andrew E. Simpson's music alone is worth the price of admission. Simpson evokes seedy barhouse rags, Native American tribal melodies, and soaring choruses reminiscent of Ennio Morricone – he of "The Good the Bad and the Ugly". Simpson has distilled the essence of dusty deserts, snowcapped mountain ranges, and wooded glades at dawn into a sweeping, operatic score.
Rachel Evangeline Barham anchors the cast as Cassie, a lovelorn prostitute with a warm soprano to match her nurturing persona, while Alto Jessi Baden-Campbell enriches the role of world-weary prostitute Lorelei with her bawdy comic chops and emotional depth. Tenor Noah Mlotek and spine tingling soprano Deborah Sternberg forge a winning chemistry as prospector Tom Simson and fiancée Piney Woods, which shines in their duet "Tiny Mountain Chickadee".
Fringe regular James Rogers brings his usual quality to the somewhat taciturn role of gambler John Oakhurst. Rogers makes the most of his numbers, utilizing his strong baritone to marshal the travelers and reflect upon life as one big poker game. Bass/baritone Mike Baden-Campbell leaves his mark on vengeful drunk Uncle Billy with his rough-edged delivery of "They're All a Bunch o' Fools".
With its dusty frontier mythos, scintillating musical numbers, and period detail, Outcasts of Poker Flat  is an ambitious production that employs operatic melodies to wring genuine comedy and stunning emotion from a well worn cultural setting.
It represents the best of Fringe: genre-defying art that challenges audiences to open their minds and break down walls of preconception. Don't miss this one.
The Outcasts of Poker Flat is now playing at Mount Vernon Place United Methodist Church, at 900 Massachusetts Ave NW, Washington, DC. 

  Ben rates this 5 out of a possible 5, making it a Pick of the Fringe!