Fifty brides to be married off against their will to fifty cousins as part of a family contract—what could go wrong with that, right?
That the story is based on an ancient Greek tale, the Danaids by Aeschylus should be a hint that tragedy lurks under the wedding dresses but the adaption by Charles L. Mee, directed by Kirsten Kelly, assures jolting belly laughs along with piercing reflections.  It's an incredible ride.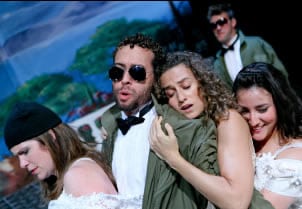 Pulling it all together is a dream cast that must be seen to be believed.  Leading the pack of sisters is Jessica Aimone as tough as nails Thyona who wears thick studded leather boots while the other sisters prance along in bare feet.   Thyona calls the shots, strategizes, plots the sisters' course of action, including the drastic final solution, if it gets to that, and you know it's going there.
Aimone relays delightful glimpses of gentleness beneath the kick-ass exterior so you get a sense that the toughness comes from survival in a nicely nuanced performance.
Also delightfully nuanced is Sarah Douglas as Lydia who makes the first entrance by climbing through the audience with the sound of waves splashing, simulating her escape to shore from the boat supposedly transporting the near brides to their nuptials.
Douglas offers an appeal to reason about the goodness of men as part of humanity only to change course mid-show and vehemently spout a totally opposite argument as the events turn dark and somber.
Just when you think she's given up hope and is completely inaccessible to any man's entreaties, along comes her prospective groom, Nikos, gorgeously played by David Zimmerman, who speaks from the heart about vulnerability, caring, listening, demonstrating with his body language a readiness to connect.  The two dance an incredibly sensuous pas-de-deux, then struggle to communicate with each other, with Lydia's responses consisting only of repeating one of his words periodically.  It's a masterful interchange, just one of many that this production offers.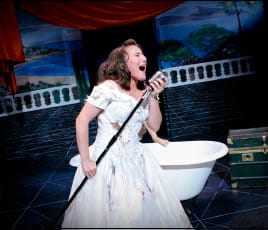 Kristen Garaffo as the youngest sister Olympia is a young bubbly bouncy fire-cracker, seems more susceptible to the romantic possibilities, even daydreams about "happy ever after" and looks longingly at the piles of presents that are stacking up, but defers to her sisters.  Her intended (Josh Sticklin) barely says a word, but he really doesn't have to in this high octane physical production.  His gruff body language and crude jesters, swagger and bad boy behavior at the wedding scene say it all in a noteworthy performance.
Spokesman for the groom cousins is Constantine played by smoldering powerhouse Michael Kevin Darnall whose performance alone is worth the trip to Fairfax.  With recent credits from New York, he easily knows his way around the boards and it shows.  From the cousins' first descent from the versatile upper floor window from what looks and sounds like a helicopter (great set design and sound by Natsu Onoda Power and Matthew Nielson) he takes charge with a piercing look that can freeze a combatant in mid-stride.
The guys' entrance alone is a feat that must be seen, dressed in aviator jump suits, sunglasses, and combat gear, scaffolding down the wall via climbing rope. You can tell they are on a mission and will take no prisoners–well maybe, if forced marriage is a sort of bondage.
It is Constantine who delivers a thought-provoking diatribe about how manliness and manhood are tied to ferocious, even barbarous, behavior befitting an honorable warrior who's killer instinct cannot be turned off like a switch when he comes home from battle.  It's a fascinating argument as old as war itself, well scripted by the playwright and given a rock-solid delivery.  Constantine is betrothed to Thyona, his female counterpart in strength and determination, so good luck with that for a loving union.
Standouts in the ensemble include David Bryan Jackson as Piero, the suave yet cautious owner of the Italian villa—he's caught between the women who swear they'll hang themselves on the premises rather than be forced into marriage and the men who will do worse to Piero and his own family if they refuse to wed. Claire Carroll plays his mother who's got her own ideas about love and marriage which she forcefully expresses, and S. Lewis Feemster flutters along as the helpful nephew who's obviously trapped in the wrong body to suit his penchant for smooth silky ribbons and wedding fabric.
Speaking of the wedding, once we get there—which is no small feat— the transition is another see-it-to-believe it experience.  There we are, with typical multi-generational wedding music blasting, ready to dig into the six-tiered wedding cake, can almost taste the luscious frosting, the brides in gorgeous attire and the newly tuxedoed grooms actually looking like gentlemen – great range of costumes by Deborah Sivigny.
With the couples slowly swaying in wary embrace you could almost get comfy in "what if," and "why not try to make it work" land, then the fellows start behaving badly and the brides snap back into formation.  Till death do us part indeed, times fifty.  Well 49, but you have to see for yourself how that works.
Just be prepared to be stunned at how director Kelly orchestrates the whole incredible melee.  The cacophony of movement and emotional turmoil fills the stage, with help from both the choreographer Susan Shields and fight choreographer Casey Kaleba. No detail is left behind in this show where mannequins fill in for additional grooms and creativity ripples through Everything. There's even live music with Genna Davidson playing the fiddle with panache.
Big Love requires lots of TLC in addition to a huge talented cast to make it work.  That Hub Theatre is able to successfully mount such a challenging production says a lot about its depth and sheer will.  With Helen Hayes nominations and a win for a best new play already in its pocket, and now Big Love, the sky is the limit for this gem of a company.
Go see it for yourself and thank me later.  And yes, it'll still be showing after you slowly emerge from binging at the Capital Fringe but not for long.
Hub Theatre's production of Big Love runs thru Aug 5, 2012 at John Swayze Theatre, 9431 Silver King Court Fairfax, VA.
Details
Tickets
Big Love
Written by Charles L. Mee
Directed by Kirsten Kelly
Produced by The Hub Theatre
Reviewed by Debbie Minter Jackson
Running Time:  One hour and 40 minutes with no intermission
Highly Recommended