I bump into the Antichrist on the sidewalk patio. She's trying out the new table service at Fringe.
"I'm the devil's daughter, to be exact," says Maya. "It's my first time playing the Antichrist. Some would say it's not a stretch."
She's referring to her role in Me and the Devil Blues, the new show by Flying V. Staged as a live talk show in Hell, the show is hosted by the Devil and features legendary blues musician Robert Johnson as the main guest.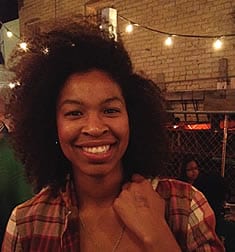 "I don't want to give too much away, but I have a very special relationship to Robert Johnson," Maya says, smiling. "And the show has awesome live music too. The band is great. It's funny, thoughtful. Come see it."
I hazard a guess that this is Maya's first time performing in Hell.
"Oh yes. This is very different from my other roles," she says. "It's a far cry from working at Imagination Stage playing a bunny."
We discuss the animal kingdom. She's always wanted to visit the Galapagos Islands to see the turtles. When she was a kid she wanted to be a veterinarian. "That is, until I realized that you have to administer enemas to cats and dogs. No thanks."
Maya has been at Fringe, as a performer and patron, since its inaugural year. "I've got a laundry list of things to see this summer, and I'm just getting started," she says, citing We, Tiresias and Imagination Meltdown Adventure as two of her must-see shows.
Talk of Fringe turns to experimental theatre in France, where Maya lived when she was five years old. She's been back several times since. "When I was in Nice, I saw a lot of incredible street theatre. I learned to walk on stilts. It was great," she says. "Theatre is everywhere over there. It's just a part of life."
So, you don't have to inject money into a project to make an effective, moving piece of theatre? "Exactly. That's what a childhood in France did for me – it started me on this path. It made me want to explore work that is on the fringe."
"Art doesn't have to be separate from life," she adds. "Your whole life can be theatrical."