It's time once again for my annual tribute to new plays and playwrights .  These are the relatively recent original plays which made their area debut in the DC area during the 2011-2012 theatre season.  Each of these plays brought me joy as an audience member and envy as an occasional writer.
To recap my rules:  I only consider full-length and fully-scripted original works.
I do not include solo shows (sorry, Ann and Cuchullain) since I regard both categories as different animals.
I do not include musicals or works adapted from other works, such as books (no Pride and Prejudice or Metamorphoses) or movies (no matter how much I enjoyed On the Waterfront).
I only consider productions that are part of the regular seasons of DC area companies, not plays that have short runs at festivals (but I hope and expect Norman Allen's The House Halfway which I saw in the Source Theatre Festival will appear in a future year's summary).
What I am looking for are imaginative, original works from playwrights who keep the world of theatre vital and relevant.  These are works that can and should ripple across the country, providing contemporary relevance in addition to the theatre classics that are perpetually revived..
Two more important caveats.  First, I am evaluating these works as they appear on the page, not the stage, so I do not reward or penalize them for the quality of the local production.  Second, as much as I wish I could see everything that plays in the DC, my inability to do so may explain an unfortunate omission or two.
Overall, though, I consider 2011-2012 a superlative year for new theatre in the DC area.  This list is the longest I've ever compiled (and I still left off some that might have been included).
(20)  Suicide, Incorporated by Andrew Hinderaker (No Rules Theatre Company)
If you enjoy dark comedy, then you probably enjoyed Andrew Hinderaker's play about a service that helps its clients write suicide notes (insert here your own joke about the business model, e.g., the lack of repeat business).  The play goes beyond the uneasy humor to make some serious points about the difficulty of men expressing feelings.  While I liked the concept more than the inconsistent tone, the play had several nice dialogue moments and enough intelligent humor to offset the more syrupy scenes.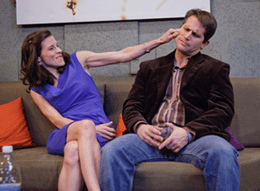 (19)  The Religion Thing by Renee Calarco (Theater J)
I admire Theater J's ability to find and present intelligent plays about faith and religion.  Local playwright Renee Calarco tackles a situation where a contemporary mixed-faith couple is rocked by a female friend who suddenly abandons her legal career and marries a too-good-to-be-true fundamentalist.  The play takes on several heavy themes, but throws in more energy and comedy that you would expect from any plot summary.  The play showed promise in its premiere production.
(18)  The Habit of Art by Alan Bennett (Studio Theatre)
Remember the old joke about going to a fight and a hockey game broke out?  Alan Bennett's play transitions from a play rehearsal to a fictional 1972 meeting between the play's author,  the poet W.H. Auden, and the modern classical composer Benjamin Britten.  While the structure of the play is awkward at times, Alan Bennett (best known for The History Boys) writes intelligent musings for the characters on the importance of art, the nature of creativity, the accuracy of biography, and several other topics.
(17)  The Language Archive by Julia Cho (Forum Theatre)
Perhaps because I took a few classes in linguistics in college, I found this tale of a linguist trying to save dying languages but who cannot express his emotions in any of them more enjoyable than most.  His stale marriage is contrasted with the lively back and forth of an elderly couple who are the last speakers of an obscure language that he wants to document.  It is a quirky comedy with some lovely language even if the play feels a little manufactured at times.
 (16)  Amelia by Alex Webb (Washington Stage Guild)
It's that classic story:  woman meets man, woman loses man, woman impersonates male Civil War soldier to try and find man.  Amelia is a gutsy Pennsylvania woman who heads off on a donkey to find her husband when she stops receiving letters.  It is an odyssey that takes her to many famous Civil War venues, concluding at the horrors of the Confederacy's Andersonville prison camp.  While this world premiere play sometimes seems too manufactured to be credible, Webb's gift for colorful language and a few dollops of touching sentiment make this simple two-hander last in your memory.
(15)  Astro Boy and the God of Comics by Natsu Onoda Power (Studio Theatre)
The author's affection for the Japanese comic character "Astro Boy" is evident from the early energetic scenes.  As the play's scenes (or "episodes") work backward chronologically, we learn of the character's origins in the death of eccentric creator Osamu Tezuka's son.   It is an intelligent work that deftly handles some changes in tone with skill and tact.
(14)  The History of Invulnerability by David Bar Katz (Theater J)
This year featured another play about a famous comic figure and his creators, the more familiar "Superman" and Jerry Siegel and Joe Shuster.  On one level the story is about two men who created and then were pushed into selling the rights to Superman during the Great Depression and the lifelong impacts of that decision.  Yet the play really sings when it describes how Superman was meant as a hope to the Jewish people being oppressed in Hitler's German and elsewhere.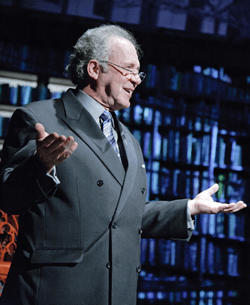 (13)  Imagining Madoff  by Deb Margolin (Theater J)
The tale of pyramid-schemer Bernie Madoff conjures up so many questions:  Didn't he know it would all end in a crash?  Why did he involve his family?  How could an ostensibly religious man spend money from charitable organizations?  Is he a man or a monster?  While Deb Margolin's play can't answer every question, it does present a fascinating portrait of Madoff.  His character is revealed mostly through an imaginary all-night dialogue with a Holocaust survivor and investment client.  The lively portrayal of Madoff is like a small roller coaster that zings in a different direction every time you start to feel comfortable.
(12)  The Big Meal by Dan LeFranc (Studio Theatre)
Aspiring playwrights should study Dan LeFranc's The Big Meal for its smooth transitions from one generation to the next and the funny parallels he draws with the characters.  He takes an ordinary couple and moves them through life from initial stages of couplehood to parenthood to be grandparents, recycling actors into different characters along the way.  He balances the comedy with the more melancholy dramatic developments, never losing his carefully balanced tone.  It is a well-crafted work that leaves you reflecting on family and life.
 (11)  The How and the Why by Sarah Treem (1st Stage)
The How and the Why was one of the most intelligent plays in this year's theatrical season.  It involves a middle-aged female professor who is confronted at a conference by a young woman with a daring new theory about women's role in evolutionary biology.   The play tackles a host of themes ranging from the intellectual to the personal (e.g., the difficulties young women face in the competitive world of academia and the sacrifices sometimes required for success).  Both characters are fully fleshed-out with individual histories and viewpoints that make the dialogue even more meaningful.
(10)  A Bright New Boise by Samuel D. Hunter (Woolly Mammoth Theatre)
A Bright New Boise is not for people who go to the theatre for escapist entertainment.  The crafts superstore setting and the characters are almost depressingly real.  One man is trying to deal to reestablish a relationship with his son while also clinging to the hope that the Rapture when believers will be lifted up to Heaven is close at hand.  The heartbreaking emptiness of life (especially in the store's break room) absent real relationships is conveyed in an interesting, non-judgmental manner.
 (9)  Lungs by Duncan Macmillan (Studio Theatre)
This world premiere about a young couple was one of the best surprises of the season.  While it seems a simple two-hander about two people ("M" and "W") considering the prospect of procreation, it goes far beyond the personal since today's generation has to worry about environmental concerns and the fate of the planet.  Both are well-drawn characters and W's manic intellectual thinking out loud often sounds like Woody Allen on speed.  Duncan Macmillan's fresh dialogue is clever and polished, and the couple earns both our sympathy and our laughs.
(8)  Mr. Burns, a Post-Electric Play by Anne Washburn (Woolly Mammoth Theatre)
I once overheard a young saleswoman talking about a clown made of polypropylene and remarking that it would be the only thing that survived our society for future generations to find.  Anne Washburn took the same concept to extremes in her play in which only an episode of "The Simpsons" survives a catastrophe and becomes a collective archetype for the new civilization.  Every time you think she's reached the outer limits of the joke, she finds new ways to take it farther.  Kudos to Woolly Mammoth for finding this wonderfully offbeat work and giving Mr. Burns, a Post-Electric Play its world premiere production.
(7)  Really Really by Paul Downs Colaizzo (Signature Theatre)
Between Really Really and the next play, one could argue that Generation Y seriously needs a public relations campaign.  Following a drunken college party, the question arises over whether a sexual act was consensual or not.  Mid-twenties playwright Paul Downs Colaizzo's dialogue nails the humor and immaturity of college students, yet he keeps the dramatic tension tightly wound.  The plot takes a few sharp twists that are handled with a sure footing.  Both the playwright and this world premiere work should have a bright future.
 (6)  Bachelorette by Leslye Headland (Studio Theatre)
Leslye Headland's play is part of a series based on the seven deadly sins.  Bachelorette involves three young women whose gluttony doesn't involve food, but instead features ladies whose over-consumption of alcohol, drugs, and sex is explored on the night before the wedding of a "friend."  The play is both darkly funny and witheringly harsh, but always entertaining.  The biting dialogue really captures these women on the verge of turning points in their lives.  Look for the movie version in indie theatres this fall.
 (5)  The Whipping Man by Matthew Lopez (Theater J)
A wounded Confederate officer returns home to his family missing.  Only two slaves are present, and having been raised by the family in the Jewish faith, are preparing a Seder meal for the first night of Passover.  I have to confess that when I first read about this play, I had no expectation that it would be so well-written and expertly crafted.  A series of plot and character revelations are handled carefully and discussions about the impact of war and slavery are thoughtfully provocative.   The Whipping Man is a striking and powerful work that was very satisfying.
(4)  Time Stands Still by Donald Margulies (Studio Theatre)
Damaged people are often the foundation for excellent theatre.  This play involves a photojournalist's efforts at physical and mental recovery after being hurt covering an overseas conflict.  In a nice modern twist, the photographer who loves danger conflict is a woman and it is her boyfriend that wants to settle down.  Their relationship is often contrasted for humor with the photographer's publisher and ex-lover, who is dating a women waaay younger than he is.  Time Stands Still is a smart play that succeeds on multiple levels.
 (3)  Equivocation by Bill Cain (Oregon Shakespeare Festival at Arena Stage)
For fans of theatre and historical fiction, the idea that a king would order William Shakespeare to write a propaganda play of the true history of Guy Fawkes and the Gunpowder Plot is intriguing enough.  This play, however, features much more, such as a look at Shakespeare's company and writing process (with the occasional "in joke"), a story of political and legal intrigue, and the most basic question of all, whether to tell the truth or engage in equivocation.  It is a rich and clever work that combines sharp bits of humor and deeper intellectual issues.
(2)   God of Carnage by Yasmina Reza (Signature Theatre)
I love a good, politically incorrect comedy (Clybourne Park was my #2 choice two years ago).  This play about a meeting between two sets of parents after the child of one hurts the other's boy on a playground so perfectly fits the modern American zeitgeist of hovering, overprotective parents that it's almost hard to believe it was originally a French work.  While the parents meet to discuss the situation in a civilized manner, the evening soon devolves into adult childishness and conflict (fueled by alcohol).  The result is a wickedly funny work that has the guts to deal with such topics as racial prejudice and misogyny, finding humor in such disparate places as the poverty in Darfur and a character's vomiting.  God of Carnage won the Tony Award® for Best Play in 2009.
(1)  Red by John Logan (Arena Stage)
Red is an imaginary story based upon the life of abstract impressionist painter Mark Rothko and an assistant/apprentice named Ken.  The difficult Rothko is afflicted with what some contend is the worst thing that can happen to an artist – success.  As he prepares a set of murals for the opening of a high-class restaurant at a Four Seasons Hotel, Rothko dispenses often pretentious advice to the young man (do you really need to read Nietzsche to be a successful artist?).  Over their two years together, Ken tentatively seeks Rothko's input and approval of his own works of art.
The characterizations are impressive, the dialogue outstanding, the intellectual discussions far reaching, and the tension between the two simmers nicely.  Ultimately, Ken boils over and slams Rothko in his "coming of age" moment that the audience has anticipated throughout the play.  It is the only play over the past year that compelled me to buy the script to study the writing, and additional review of John Logan's masterwork only confirms the intelligence and deceptive depth of the play.  The Broadway production of Red won six Tony Awards® in 2010, including Best Play.
What do you consider to be the best contemporary plays presented this past season?