The ring is up. The wrestling is as real as it gets. All they need is the roar of the crowd.
Most plays are no sweat. Actors Jose Joaquin Perez and Shawn T. Andrew have been around the block enough to follow the rhythms and the needs of their stage partners. But The Elaborate Entrance of Chad Deity is no ordinary play, and its demands are far from normal. Woolly Mammoth's season opener dives head-first into the world of professional wrestling, packed with big stunts cooked up to wow and excite.
On a certain level it's a satire — the show looks at how fictions of race, history, and stereotype fuel the entertainment industry — but there are moments in Chad Deity that you can't step back from. Like those times when your fellow actor lifts you up over his head and smashes you to the ground as the crowd roars.
This is the DC premiere of Chad Diety, written by Kristoffer Diaz. The show was a big hit off-Broadway at Second Stage Theatre, and many American theatre companies have jumped into the ring this year for a share of the spectacle. So what makes it work? Perez and Andrew took some off-hour time to sit with me in the Woolly lobby to discuss the rehearsal process.
— — —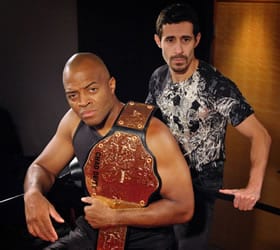 Both play wrestlers. Perez is Mace, a beta wolf paid to take the fall in the ring against more popular opponents. Andrew is the golden-boy champion Chad Deity, a character written to win.
They're an odd couple. Perez, a native of South Texas who performed in Oedipus El Rey at Woolly in 2011, is strong but scrappy. He wears an easy-going, occasionally nervous smile and a baseball cap cocked slightly askew. Andrew, a former Howard student of West Indian lineage, is a big guy, well-muscled, with the sort of wide zen expression you might see carved on a totem pole. From time to time his calm, quiet attention ruptures into deep laughter.
"This physical work — the wrestling — it's really not something you can prepare for mentally before you actually do it," says Perez. "I mean, you can prepare physically. I certainly tried my best. But the first time you take bumps in a wrestling ring, you've never felt anything like it."
Andrew nods. "It's a shock to your system."
Fortunately they've been wrestling since day one of rehearsal. "That's taken so much pressure off," says Perez. "If they had decided to set aside the physical parts of playing these roles and pushed that work into the later parts of the rehearsal process, I'd be freaking out right now. If they had done it that way, this interview would be a lot different."
Andrew laughs, and pretends to quote Perez. "This is to be my last interview… I want to let my mom and dad know that I love them…"
We discuss how to stay safe when you start wrestling. Was the stunt work something they could ease into?
They shake their heads. "You've just got to do it" they say simultaneously.
"You can't do it half-assed," says Andrew. "You can't fake gravity."
"Right. That's where injuries happen," says Perez. "It's all momentum and physics. As soon as something starts it has to follow through."
I ask them about the Power Bump — Chad Deity's signature move.
"Basically it's my character's coup de grace," says Andrew. "It happens in a moment where Mace is bent over in front of me. I grab him by his waist and I lift him up, so he's sitting on my shoulders. And from there I drop him down. So it's basically a big drop."
"It's one of the most frightening and liberating experiences," says Perez. "Because I have to trust that he's going to put me where I need to be and keep me safe. I'm just happy he's such a big strong guy."
"We had this situation one time in rehearsal," Andrew says, "where I lifted him up to do a Power Bump, but I almost flipped him and threw him right over my head by accident. See, there's another character I have to Power Bump. And the actor, James Long, is heavier than JJ. I must have gotten used to lifting James, because when I went to lift JJ again he felt as light as a feather, and he almost went right over my head!"
It was a rare moment. Between the two of them, the trust is clearly strong. Perez and Andrew did a show together back in 2005 — a production of Take Me Out with The Repertory Theatre of St. Louis. "So when we found out we were doing a show together it was very cool," says Perez. "I'd been meaning to work with Shawn again."
— — —
James Long doesn't just appear in the play — he's been this production's resident wrestling coach. A friend of fight choreographer Joe Isenberg, Long has been working hard with the actors on the nuts and bolts of wrestling moves like the Power Bump.
"He's there to make sure that we're safe," says Andrew, "but he's also there to make sure it looks authentic. He lets us know about the minor details too, like which way to turn your hand or where exactly you hit someone. He's very detailed, but he makes us feel comfortable doing the movements."
How does that work meld with Joe Isenberg's fight choreography?
"Joe handles the stage combat and movement aspects, and James handles the wrestling moves themselves," says Andrew.
"You need both," says Perez. "It's about setting up the wrestling and make it into a good stage picture."
The show is directed by John Vreeke, who directed Woolly's production of A Bright New Boise last fall. Both enjoy working with him.
"One thing John's been emphasizing is how people who aren't wrestling fans can relate to how truly simple and effective the story is," says Perez. "My character, Mace, talks directly to the audience a lot. And you learn that he's someone who hates and loves their job at the same time."
Andrew nods. "Mace gets no notoriety in exchange for his hard work. He's putting in all the work, but my character gets the accolades."
"Right. It's really just the story of a guy who loves 90 percent of his job," says Perez. "But that other 10 percent grows to 30 percent. Then it grows to 50 percent. Then it's 80 or 90 percent. You know? I think people will relate to that feeling."
 — — —
Perez saw the production at Second Stage in New York a few years ago. He was caught up in it immediately. "I remember thinking: I have got to be in this show! It's funny. The more I learn about professional wrestling, the more I realize that these guys are very similar to actors. My initial interest in the play was all the wrestling and physical work, but now that we're in these guys' heads it's become much more complex."
Andrew's interest in wrestling goes further back. "I've been a professional wrestling fan since I was six years old. I've been watching it ever since. Sometimes I get upset because I'm here at rehearsal while "Monday Night Raw" or "Smackdown" is on. But it's on my DVR, so I can go home and catch the repeats."
Andrew was an understudy for the Second Stage production — where he herniated two discs in his neck during a rehearsal. "You can't take anything for granted in this show," he says. "But still I feel very comfortable with this process. I've been going to the gym, getting my neck and my back strong. Because I knew I'd be taking a little punishment. You're doing stunts every show, so you've got to be prepared physically and mentally."
As a kid, Andrew thought he might grow up to be a wrestler. "And then, later on, I got more insight into the bad side of wrestling. There's a good side and a bad side. You get injured. Sometimes you're away from family 300 days out of the year. So eventually I decided I'd rather just watch."
Even so, the play encapsulates much of what attracted Andrew to wrestling when he was younger. "People ask me why I watch wrestling, and sometimes I describe it as a sort of soap opera for men. Nothing's ever over. You've always got to watch it the next week because something's always changing. Some story line is growing."
The way they perform is a lot like how we perform theatre," Perez adds. "They're using their voices extensively as well as their bodies, and they're telling stories. They create needs and wants for their character, and for the audience too. It's so similar to what we do in theatre. We tell stories, we teach an audience how to root for people. There's a protagonist and antagonist in every wrestling match. It's storytelling in its simplest form."
So Chad Deity gets to have its cake and eat it too. By focusing on the very real people who adopt these outrageous wrestling personas, the show reveals how the wrestling industry manipulates an audience's feelings of empathy during a fight… while pulling off this very trick as a work of theatre.
"Right," says Andrew. "People know theatre isn't happening in real life. But the feelings you have about it are real. And at moments you forget you're watching fiction. That's like wrestling."
So wrestlers and actors aren't so far apart?
"Not at all. I respect wrestlers so much. It's not just about being physical or having a great body. You also have to act. That's part of why professional wrestlers don't make it sometimes. They can't really connect with the audience, or they have no charisma." He shrugs. "They may be great fighters. But people want to be entertained. It all has a story, and it has to affect you."
— — —
Perez and Andrew can't wait to open the show.
"Seriously, let's do it right now," says Andrew. "We need the audience here. They're such a part of the show. We feed off them."
Since much of the show takes place in the ring, the audience serves as part of the set itself. Part of the environment, part of the story.
"Right," Andrew laughs. "We won't let them not be."
"I'm hoping we get some closeted wrestling fans out to see the show too," says Perez. "When we do the physical stuff, it looks authentic. It's not just stage combat. It's wrestling. And we think theatre fans and wrestling fans alike are going to be impressed."
Andrew nods. "I haven't been shaving my chest for nothing."