If you want to hear one great operatic voice make your soul vibrate, go hear Sondra Radvanovsky in Anna Bolena.  Washington National Opera opened its season Saturday night giving Washington's black tie set a singer who demonstrated unequivocally that she can take charge and embody this difficult role.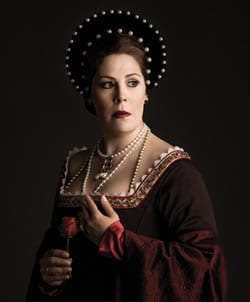 The opera is done rarely (only once before by Washington National Opera) for the very reason it needs someone of Radvanovsky's power and stature. But she makes it worth the wait, so gifted and in command is she of both a crystal clear voice that modulates fluidly and the character.
The story should not come as a surprise for anyone who followed "The Tudors" on television or the older Masterpiece series, "The Six Wives of Henry VIII." The opera digresses from historical accuracy to feed the 19th century frenzy in Italy for a good moral (Catholic) tale embedded in an Italian-like love story.
Composer Gaetano Donizetti and his librettist, the masterful Felice Romani, focus on wife number two, Anne Boleyn (Anna), and her confrontations with her husband, King Henry, (Enrico) and the woman who would replace her in his bed and on the throne, Jane Seymour (Giovanna.)  In Act II, the two women, queen and lady-in-waiting, face each other off in one of the boldest and most brilliant scenes and dramatic duets of the operatic canon.
In the hands of Donizetti and Romani, the story cranks right from the start, with Anna getting the news that she has been replaced in the affections of her husband and her usefulness as a producer of heirs (Anna had no sons.) Her life is in total jeopardy.  What she doesn't know is that Giovanna is the one Enrico has set his eyes on. The action progresses quickly from Anna's having to deal with the loss of her husband's love then the return from abroad of her former (and first) love to rescue her from a doomed marriage to the revelation that it is Giovanna who is waiting in the wings to be made Enrico's wife and queen, and finally that the king has condemned her to death.
Director Stephen Lawless has added a non-singing character of the young Elizabeth, Anna's daughter, who would ascend the throne as Elizabeth I.  In reality, Elizabeth was not yet three years old when her mother was executed.  But, beginning in the overture, Elizabeth runs on stage her long red hair streaming down her back, a slim girl of great poise.  It's a brilliant stroke of direction, where her figure establishes not only a poignant glimpse of a childhood raised in the shadow of power, but we can see through her eyes the ever darkening course of events. At one point, a raging Henry rips her out of her mother's arms and carries her off stage, leaving both women terrorized and heartbroken.
Being in Washington's Kennedy Center, where many audience members have a big stake in power and the future of the upcoming elections, it makes the tension of such drama even juicier.  What's more, this is an opera about the meting out of justice. "Giudici ad Anna?" sings Radvanovsky, pleading her case before not only the judges on stage but to some justices and other assembled elite in the audience. Will they supply justice?  Will they also show mercy?
Benoit Dugardyn has created what starts out as a wooden semicircular wall with three stories of balconies (one nearly hidden) that fills the entire stage.  In its sensaround feel, it has the earmarks of a Globe Theatre (never mind that it hadn't been built in Henry VIII's time.) It also serves as a hall in the Tower of London, bringing history to life by exhibiting the encased chopping block and the famous sword Henry ordered specially from France to sever Anna's head more surely (and I suppose more humanely he thought.) But the set's role as a steep courtroom, where Anna is forced to look up sharply to the high in power works the best. Her aloneness and vulnerability are magnified.
Single sets can be clean and powerful, and this one is both, if a little overwhelming.  The good news is that all that wood paneling warms the sound, and the chorus, under the intelligent and clear baton of Antonello Allemande, was made particularly glorious that evening.  Lighting designer Mark McCollough has evoked the steely British light and bathes the walls to create the growing chill of interior and exterior moments.
Sonia Ganassi plays Giovanna as a woman wrung through with remorse yet torn by her love for Henry. In this production, she may also have some royal ambitions, but her personhood is no match for Anna. As Ganassi grows more conflicted, she hunches and wrings her hands. Her mannerisms only make the transformation of Anna, from sorrow and even the brink of madness (another thing those 19th century Italians opera lovers ate up in their operas) to finding steely courage, dignity, and even compassion for her rival, all the more remarkable.
Ganassi has a bell like quality to her sound and is at her best vocally in scenes with Radvanovsky. Claudia Huckles, with her pleasing contralto, plays Smeton,the "breeches" part, with a good sense of the young boy musician who carries a flame for Anna, and through a kind of fecklessness, helps to implicate her in treachery. Aaron Blake gives us a marvelous physicality to Sir Hervey, the "ears" and advisor to Enrico. He's arresting on stage, paring his nails as the snottily powerful second to the king, changing into a Mephistophilian anima, who slinks along the corridors, presses himself against the walls to eavesdrop, and then dropping to the floor to grovel at the feet of Henry like an obsequious little dog.
Tenor Shalva Mukeria plays Anna's first love and uses his heartbreaking tenor high notes to great advantage. But even with two guards on him, they couldn't pull him down off the balls of his feet when he stretched up vocally. (What is it with some tenors?)
Kenneth Kellogg, like Huckles, makes a welcome alum return from the Domingo-Cafritz Young Artist Program. He is a giant with a wonderful bass sound who plays Anna's brother, and the scene between him and Tenor Mukeria, where imprisoned together they must face their own fate and that of Anna's, is most poignant.
But only Radvanovsky created every moment so that you believed she was singing and relating to real people and situations in the world she created for us on stage.  More, this singer has not just talent to burn, she's got smarts. Like horses coming up to a steeplechase fence, a smart one will have a sixth sense to know he can't or shouldn't try to take it and will shy. A good singer will "shy" so skillfully from a high "alternate note" so that few in the audience will know, as Radvanovsky did with a high E flat opening night, and it's perfectly acceptable by opera cognoscenti.
Recommended
Anna Bolena
Closes Oct. 6, 2012
Washington National Opera
The Kennedy Center
2700 F Street, NW
Washington, DC 20566
3 hours, 30 minutes with 1 intermission
Tickets: $25 – $300
Details
Tickets

However, Oren Gradus, did not have such good instincts on opening night.  While he presented well initially the physical aspects of the younger, virile Henry VIII, and channeled the notorious fierce temperament of the king, he sometimes had to fight to stay on top of the orchestra and seemed to burn out before the end.  In the second act scene with Ganassi, he tried to reach for a note (not once but twice) that wobbled and got away from him, and both singers showed signs of vocal fatigue.
But the biggest problem in the production to my mind is some of the staging, hampered by issues with the set. During the show, the big wooden panels get folded and moved downstage to try and accomplish interior hallways (the walls have ears) and other more intimate spaces. They cause some sight line issues and occasionally their movements become quite distracting.
The walls also draw attention to the minimalized use of the chorus.  As little knots of folk framed in balcony "windows," the choristers serve more like a line of period paper dolls than citizens. Occasionally directed to move together on cue, leaning forward in an "ah ha" moment, to good effect, mostly they get caught being decorative without having had sufficient specific input as to their characters.
For all this, Anna Bolena is a powerfully dramatic opera, and Radvanovsky is a knock out.
———————
Anna Bolena,  Composed by Gaetano Donizetti, Libretto by Felice Romani, Directed for the Stage by Stephen Lawless, Conducted by Antonello Allemandi, Featuring Anna Bolena: Sondra Radvanovsky, Riccardo (Lord Richard Percy): Shalva Mukeria, Giovanna (Jane Seymour): Sonia Ganassi, Enrico VIII (Henry the VIII): Oren Gradus, Smeton, the Queen's page: Claudia Huckle.  Produced by Washington National Opera.  Reviewed by Susan Galbraith