Dirt.
It's in us, around us. We spend time, money and effort to reduce it or get rid of it. We also produce it. Heaps of trash crowd landfills, and serve as both food and an environment for rats, bugs and other dirty things.
We speak it, too. And we end up back in it, once we are interred into the earth.
The state and examination of our dirty lives is the world playwright Byrony Lavery has brought to light with Dirt, her new play now having its world premiere in the upstairs Studio 4 at Studio Theatre.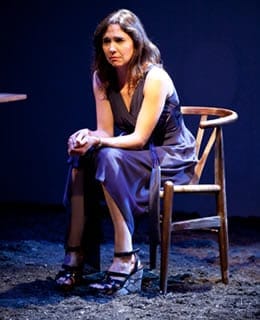 It has some strengths – strong cast, engaging dialogue, brilliant set design and lighting – but on reflection, I wasn't sure what I was supposed to think or feel about all the dirty details.
Entering Studio 4, the earthy smell hits you – the entire set is covered with a floor of fresh, pungent, dirt. No matter what the characters do they are surrounded by dirt. It's an evocative set design by Debra Booth, complimented by John Burkland's lighting design. For the shear novelty of their design work, these artists should be remembered at Helen Hayes Award time.
The soil-blanketed playing space gives director David Muse a fertile ground on which his actors seamlessly portray the intersecting lives of five individuals in a large city. The connections are sometimes obvious and sometimes surprising and is one of Dirt's strong suits.
Harper is central to the story. Lavery has Harper share with the audience that she will be dead before the end of the play. The choice is bold, and invites speculation as to how "dirt" and Harper's demise converge.
Holly Twyford plays Harper with confidence and subtlety. Health-conscious and perpetually late, Harper is a bit of a flake. We first meet her as she cleans her apartment and prepares for a date with her longtime boyfriend, Matt. Matthew Montelongo is convincing as the rigid accountant, with a roving eye. His uptight nature clashes with Harper's free-spirit. There is a sense of restlessness between them – until they share dirty sex, which they do, in a truly hilarious/disturbing scene.
Before Harper is dead, Matt flirts with their waitress at a super-organic, trendy restaurant. (At least he has the decency to wait on sleeping with the girl until after Harper's funeral.)
Recommended
Dirt
Closes November 11, 2012
The Studio Theatre, Studio 4
1501 14th St. NW
Washington, DC 20005
2 hours, 15 minutes with 1 intermission
Tickets: $20
Tuesdays thru Sundays
Details
Tickets
Elle – perfectly cast Natalia Payne – is really an actress who has to wait tables. Having fun with such a cliché, Lavery gives Elle gives her some great material, which Payne handles adeptly.
We also meet Harper's mother May, a university lecturer – Carolyn Mignini – and a former junkie and sex maniac named Guy – Ro Boddie. Mignini and Boddie are strong performers in their own right and complete the quintet of gifted actors.
My own reservations about Dirt stem from the conceit of breaking the fourth wall when the actors narrate the thoughts and actions of their characters. From Harper's first entrance, all the characters in Dirt inhabit the present with the Studio audience and the world of the unnamed and dirty city. As May delivers a lecture on quantum physics, she tosses off a comment about existing in multiple realities. Harper, with clinical detail, describes what happens to her body as she dies, fulfilling the promise set forth in the opening. And Matt and Harper provide color commentary as they practically rip each others clothes off. While Elle waits tables, she adds a running commentary and shows off her strengths as a struggling actress.
The analytical monologues blending with the play's witty and multilayered dialogue is fascinating, but it left me a bit cold. I found myself engaged when the characters really interacted with each other, but I became more and more disengaged when they provided the blow by blow commentaries.
——————-
DIRT, by Bryony Lavery, directed by David Muse. Holly Twyford (Harper), Carolyn Mignini (May), Natalia Payne (Elle), Matthew Montelongo (Matt), and Ro Boddie (Guy). Set design: Debra Booth, Lighting design:  John Burkland , Costume design: Frank Labovitz, Sound design: Chris Baine, Dramaturg: Adrien-Alice Hansel.