Strange that a play with the credentials of Arthur Miller's All My Sons is not produced nearly as often as some of its much better known "contemporaries." It won the New York Drama Circle Critic's Award in 1947 beating out O'Neill's The Iceman Cometh and received Tony Awards for best author and best director (Elia Kazan). And yet, you never hear it mentioned in the same breath as Streetcar Named Desire, Long Day's Journey Into Night or even Miller's own classic, Death of A Salesman.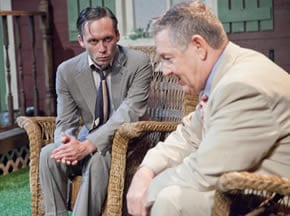 After sitting on the edge of my seat for nearly two and one-half hours witnessing the gripping performance turned in at the Keegan Theatre, I had even more reason to pause and wonder. Like The Glass Menagerie and so many of the plays written by the three foremost American playwrights of the 20th century, at the core of this play is a dysfunctional family. There are clear and consciously constructed undertones of the corrosive influence of money and, perhaps even more interesting, a strong eulogy for honor, integrity and lost innocence.
But first, last and always, it is about family and most particularly about fathers and sons. You can almost hear the rumblings of Willy Loman coming to life in the portrayal of Joe Keller, a straight-laced businessman who loses his way under the pressures of the Second World War. The foreshadowing of Hap can be seen in one of his sons, the ever optimistic Chris. And although never physically present in the play, his other son, Larry, clearly carries the seeds of Biff, the son burdened with a father's outsized expectations.
Mix into the family a mother desperate to keep her family together at all costs and a neighboring family with love and business interests tragically intertwined between the two and you have more than enough subtext and dramatic tension.
Miller was a master at spinning out plots that build slowly, pick up speed and finally careen out of control as new discoveries expose the inevitable outcomes of human weakness and frailty. Many playwrights, American and otherwise, have been successful at coming up with well contrived plots. It is Miller's unerring ear for penning taut conversations and his seemingly obsessive desire to rip away pretense that separate him from the crowd and make All My Sons deserving of a much more esteemed place in the pantheon of 20th century American drama.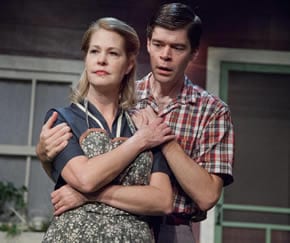 Susan Marie Rhea, Associate Artistic Director at Keegan, has done a masterful job of casting and staging All My Sons. A single setting, minimal furniture and, very like the playwright himself, no pretense to be found anywhere. While much of what we see seems very subtle or even ordinary in the way of movement and interaction, if you look more closely there is inspiration there that can only come from a genuine and generous spirit of collaboration. And the performances Rhea elicits from a superlative ensemble of veteran actors (some Keegan company members, some not) are what really set this production apart.
Kevin Hasser as Chris Keller, the primary son, stands at the center of the action. All the other characters have their turns upon the stage, but everyone orbits around Hasser and his bravura performance. Chris is one of the first of a series of complex characters fashioned by Miller that start out somewhat meekly and seemingly very straightforward only to explode in complexity and nuance as the play moves forward. Hasser does not miss a beat as Chris moves from shy and tentative to love-struck and assertive to deeply distraught and emotionally unwound.
Kevin Adams as Chris' father, Joe, matches Hasser stride for stride throughout the unveiling of the various plot turns, and it is his pretense above all that Miller strips away leaving a thoroughly defeated and humiliated shell of a man. Adams could easily overplay this character but chooses instead to render him in an understated and sympathetic way that makes his undoing that much more wrenching.
Perhaps the most difficult role is that of Chris' mother, Kate, superbly portrayed by Sheri S.Herren. She is called on continually to make the unbelievable altogether believable. In the beginning parts of the play, it is difficult to understand what appears to be a case of sheer obstinacy and denial on her part. As the play unfolds, it becomes clear that it is her strength that keeps things in the family together. Herren is blessed with a compelling stage presence which she uses artfully and with impeccable timing. In the end, when all is revealed and unraveled, she is turns out to be "the last man standing."
Brianna Letourneau and Bradley Foster Smith, both of whom showed a delightful flair for comedy in last season's Laughter on the 23rd Floor, demonstrate an equal acumen for drama in their portrayal of the childhood neighbors, Ann and her brother, George. Ann has come "home" to pick up a long lost love interest with Chris. Letourneau flashes back and forth from being a little lost and forlorn to being compassionate and in control. The early scenes where she and Hasser bring their affection for one another out into the open for the first time are touching and tantalizing. Foster Smith, on the other hand, comes in late and wound up tighter than a thirteen day clock. His ability to keep his simmering outrage just under the surface while being tugged this way and that by past loyalties and the living hell of his father's betrayal is stunningly good.
Highly Recommended
All My Sons
Closes December 1, 2012
Keegan Theatre at
Church Street Theatre
1742 Church Street, NW
Washington, DC 20036
2 hours, 30 minutes with 1 intermission
Tickets: $30 – $35
Thursdays thru Sundays
Details
Tickets
Peter Finnegan turns in a very nice performance in an outsized cameo role as the doctor next door who seems to drop by at all the wrong moments. Cate Brewer, Michael Innocenti and Allison Corke round out the ensemble in minor roles that slide seamlessly in and out of the action adding just the right touch to the neighborhood. The only very minor distraction in an evening filled with remarkable acting was Ms.Brewer's tendency to use her finger to stab at the air whenever there was even the most minor of points to emphasize. It's either a conscious choice that doesn't work or an unconscious habit that should be discarded.
There are so many things to admire about the Keegan. They produce plays (yes, with a decided Irish lilt) that you rarely see elsewhere, in a theatre space surprising primarily for its sparseness and almost total lack of robust technical capabilities.
No one in the audience is farther than a weak snowball's throw away from the very back of the stage thus placing a very high premium on the authenticity of the acting and staging. It doesn't take much to reach across the footlights at Keegan but it could be very precarious were it not done with such clarity, sensitivity and affection.
There is no sound and fury here (well perhaps a little in this production — courtesy of the sound design provided by Tony Angelini) – just impeccable attention to the basics and ensemble performing at its best.
——————-
All My Sons by Arthur Miller. Directed by Susan Marie Rhea. Kevin Adams, Sheri S. Herren, Peter Finnegan, Kevin Hasser, Brad Smith, Brianna Letourneau, Cate Brewer, Michael Innocenti, and Allison Corke, Calder Rambow-Levalley, Sean Baldwin, and Billy Baldwin. Produced by The Keegan Theatre. Reviewed by Larry Bangs.