There were two Sandys in town last week — there was the mongrel who attaches himself to Annie Warbucks in Annie  at the Palace and of course there was the hurricane that attacked Broadway, Coney Island, the Rockaways, most of New Jersey, Staten Island  and southern Connecticut.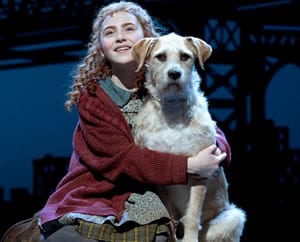 Sandy, the dog, remains but the winds have blown into oblivion, and Broadway is back to 8 shows a week.  Downtown Off/Broadway, which was without power for 8 or 9 days, is reeling from adversity, and struggling to stay alive, offering huge discounts in an effort to attract customers to lower Manhattan.
The headlines are disturbing, featuring those who have suffered the most. Photos of stray animals, frightened elders, bleary eyed children, destroyed homes, flooded streets and tunnels, and words containing frightening pronouncements come at us from all directions.
But the shows go on, and most New Yorkers are doing all they can to cope by returning to work, cleaning up the streets, grumbling about the packed subway cars and buses, but 90% of us are wondering: "Ok, that was then, this is now. So — what's next?"
I caught the third revival of Annie, and the 1783 seat Palace Theatre had about 1200 little girls in attendance, escorted by three or four hundred very nervous parents, some of whom had seen the original production when they were little girls and boys themselves.
Plastic jumper seats were distributed in case a little one got stuck behind a parent, and when the theatre ran out of these risers, little ones sat on Mom's lap, which made it much easier to have a running conversation during the show. "Who is she?," "What did she say", "I don't like him!"  could be heard in whispers throughout the house, but on the whole, the kids were very well behaved and except for a temper tantrum or two in the intermission, for the most part attention was paid, the jokes landed, the dance numbers got cheers, the curtain calls were riotous with glee.
So just what was going on up there?  To sum up, this is one of the best productions of Annie ever.  Though it's been previewing since October 13th, I was disappointed in only two aspects of it, and I'll get to them later. Because overall everything up there onstage is first rate.
Young Lilla Crawford in the title role, is a revelation. Composed, controlled, she is able to play the more tender scenes sincerely, and from the moment she starts singing "Maybe" in the first scene, we know we can relax because she is clearly in full command of Annie the musical and "Annie" the character.  She has a pure and appealing voice, mellow when need be, but with the force of Ethel Merman in the big moments. She can clear a 15 piece orchestra, soaring above it and on occasion the entire ensemble to give us a Mermanesque clarion call that is thrilling. She teases us with it in "Maybe" and delivers the whole enchilada in her signature song, "Tomorrow" which she sings a lot after landing with it early on in the first act.
When Oliver Warbucks, whom she will eventually call "Daddy" shows up. she sings with great charm a couple of dandy ditties like "I Think I'm Gonna Like It Here," 'You're Never Fully Dressed Without a Smile," "NYC," and "I Don't Need Anything But You". The titles may seem simplistic, but the songs contain charming lyrics to which Martin Charnin brings just enough sophistication to make them easy on the ears for the young and the older folks they brought with them.  Charles Strouse's tunes accomplish the same thing. "Lilting" describes them.  Not very complicated, but filled with melody, and most welcome in this dark time for American musical theatre.
Anthony Warlow, who plays Warbucks, is an Australian star, making his delightful Broadway debut. He has the strength of the billionaire tycoon, he projects that hidden insecurity and tenderness that Annie unlocks, he even knows how to camp it up when he joins his dozen servants to celebrate the "New Deal For Christmas" that ends the show.
It's such a joy to hear lyrics that are not distorted by the epidemic of over amplification that Broadway is currently siege to. It's usually the poor ladies who suffer most from this because their tones become shrill and that causes fuzz around the words.  Young Ms. Crawford's voice escapes somehow, and is exciting.
Unfortunately the one who's been hurt by it is Katie Finneran, so brilliant in a small role in the last revival of Promises, Promises.  This time out though she's chosen to play the tough Miss Hannigan rather than the pitifully comical one that the late great Dorothy Louden immortalized when she first brought us her performance in 1977.
As a result all the funny words in "Little Girls" are lost, and what remains is a bump and grind rendition that just isn't right. Later, in the supposedly show stopping "Easy Street", done with her brother Rooster and his current flame, the three of them stoop to cheap burlesque moves that are more startling than mirth making.  The number demands hoots and hollers when it finishes big, and it gets them, but not because it truly deserves them.   A firm and inventive hand from director James Lapine and  choreographer Andy Blankenbuehler, so evident all evening long, disappeared. They seemed to be on a coffee break; someone else seemed to have been in charge for this one number.
Oh, and for one other. "A Hard Knock Life", performed for all its worth and more by the half dozen orphans who are Annie's friends, is another example of "more is better", which it isn't.  These girls are talented, all of them, right down to the tiniest of the lot, but they've been allowed to overdo, to "show off" and it's not to the number's advantage.
Enough quibbling — the show works, and is ultimately totally satisfying. I'm told that Ms. Finneran did not know which way to go with Hannigan — to the comic or the tough side. She chose the tough. I'd love to see the funny one, for she proved in Promises she can certainly play a funny drunk. Perhaps she thought she'd been there, done that, but my advice would be to do it again. Ms. Hannigan is very different from Marge MacDougal, the young pickup in the other show, and  Ms. Finneran is so gifted, so fine a singing comedienne, that I'd just chalk up her present performance  to a  wrong choice. I can only  think she'd been living with her noisy orphans too long, and had picked up some bad habits from them.
Annie is onstage at the Palace Theatre, 1564 Broadway, NYC. Details and tickets
——————–
I've reviewed the musical Chaplin for you before in my September 11 column, but I looked in on it just after hurricane Sandy left town, and I want to report that it continues to shine as a fine example of musical theatre that has so much to recommend it.  I wanted to give it another boost as it is struggling to survive this difficult fall-winter.
Rob McClure is, if anything even more masterful in the title role doing really bravura work.
The score remains worthy of Broadway, not up there in the pantheon where great scores live, but melodic and stage worthy. The direction and chorography continue to surprise and delight, the supporting performances remain strong and on target, the audience reaction is still very strong.
This despite the hurricane which caused disruption in the show's box office climb each week –  our matinee was only 40-50% full. No matter — the only time we were aware of the many empty rows was when we marched up the aisle at the intermission. That's how involved and engaged we were during the show itself.
I highly recommend Chaplin should you come visit us, and I hope you do.  Times Square was aglow with energy, with happy tourists who seemed to feel lucky that they'd survived a rough time with us, and those two audiences I shared gave no signs of sadness or defeat.  On the contrary, they all seemed to be saying "What hurricane? Sandy? He's over at the Palace in Annie."
 "ARF!" says Sandy.
Chaplin is onstage at The Barrymore Theatre, 243 West 47th Street, (between Broadway and 8th Avenue), NYC.
Details and tickets
————————–
Richard Seff, who, in his career on Broadway has been a performer, agent, writer, and librettist, has written the book for Shine! The Horatio Alger Musical!, which debuted at the 2010 New York Musical Theatre Festival. He is also author of Supporting Player: My Life Upon the Wicked Stage, celebrating his lifetime on stage and behind the scenes, available through online booksellers, including Amazon.com.  Read more at RichardSeff.com
R
ichard Seff  interviews Broadway luminaries:
Richard Seff podcasts: