Rosalind Lacy was invited to the White House to report on this event of great significance to Washington area theatres and youth programs.
On Monday, November 19, 2012, Paso Nuevo, GALA Hispanic Theatre's free, after-school youth program was one of 12 to receive the 2012 National Arts and Humanities Youth Program Award, the highest arts award of its kind.
On hand to receive the award  from First Lady Michelle Obama was Rebecca Medrano, one of GALA's Artistic Directors and a co-founder of the GALA Hispanic Theatre and Christian Sanchez, representing the young people of Paso Nuevo.
The selection process for these 12 awardees is tough and competitive. From over 350 nominations and 50 finalists, 12 community-based programs are chosen. Paso Nuevo, initially launched by Artistic Director Hugo Medrano, has been in existence for over 20 years. It mines the talents of at-risk Latino kids, ages 12 to 18 by alternating a series of theatrical performance workshops that teach acting technique, encouraging English and Spanish fluency, voice and movement, and inter-generational communication, with a culminating bilingual staged performance.
What is unusual about GALA's one-of-a-kind after-school theatre arts program is that it takes on the toughest of challenges by allowing its participants to dig into their own psyches and souls and become playwrights and performers.
The day is crisp and cold but sky-blue clear, with trees in the White House garden shedding leaves.  For me, the excitement is doubled. I'm excited about the GALA's win of this prestigious award and  this is my first time visiting the White House as a member of the press corps.
As we are led into the Northwest entrance to the White House and pass the West Wing, the importance of the larger world theatre hits me.  I find myself cornered with other camera-and-notebook-laden journalists near the Northwest entrance with its towering Corinthian columns. Then I'm quickly brought down to earth by the smell of fresh baking odors. (I skipped lunch and am hungry.)  We are close to the kitchen, our intern guide tells us.
As we enter, a small combo from the U.S. Marine Corps Band is playing. We are ushered into the classic elegant, gold-and-white, cut-glass-chandeliered East Room and my hunger pangs are replaced by an immense sense of awe. The awardees and their parents and friends are seated in the gold-backed chairs cupped around the center-stage lectern. "Let me introduce you to the press area. They're a very nice group of people," one of the White House ushers says diplomatically as he nudges us to the already crowded, standing-room-only wall. ("We always have to stand," a National Public Television reporter grumbles.) As people of the press, we are squeezed against the back wall, opposite the famous Gilbert Stuart painting of George Washington and companion portrait of Martha Washington by Eliphalet Andrews.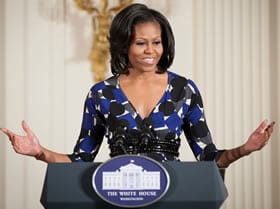 A spontaneous hush falls over the noisy room when Michelle Obama, dressed in a bold op-art print dress, walks in, vibrant and in-the-moment. As she delivers impassioned and heart-felt remarks about "…the transformative power of arts education in the lives of young people," she is everybody's favorite backstage mom, an activist for the arts.
"Arts' education doesn't just teach skills, it helps shape character," she  says. "You all see that every day in rising GPAs and rising graduation rates," she adds. What she is doing is offering hope and change for all American kids in every corner of the country. "All these kids are going to college, right?" And it amazes her that "….You make this happen on shoestring budgets."
First Lady Obama goes on to say that in spite of the awesome challenges young people face today: "I think the motto of one of today's programs, Arts Corps (from Seattle, Washington) really says it best: their motto is 'Make art anyway,'"a motto that inspires her to go off-script. She tells everyone that her daughters, Malia and Sasha, sometimes hate to get up in the morning. "I tell them, 'Life is hard. You gotta get up….Don't get tired.'"
And her speech reaches a climactic point: "You teach them that no matter what life throws their way, if they draw on their own talent, creativity and courage….if they're persistent and tenacious and bold…then they can truly make something extraordinary out of their lives."
Finally, it is thrilling to see Christian Sanchez, age 16, one of GALA's Paso Nuevo's participants, standing alongside Rebecca Medrano from the GALA, to receive the group's National Arts and Humanities Award from the First Lady.
————————
I was able to talk with Christian, who is a spokesperson and youth coordinator for Paso Nuevo and GALA Assistant Artistic Director Rebecca Read Medrano before the ceremony.
When the world is a mess, we are desperately in need of heroes to clean it up. In a sense, Sanchez as an adopted son of the Paso Nuevo program, is a hero, a guardian spokesman for the performing arts in Washington D.C.'s Hispanic communities. Sanchez' life has been transformed by the program.
Sanchez speaks very highly of Quique Aviles, a Salvadoran poet and community activist, who coordinated and consolidated the  Paso Nuevo in 1993. "Quique has created a safe environment. It's okay to try something and fail. Nobody will make fun of you. We write our own scripts, with adult guidance, and we can talk about our problems through our characters." Furthermore, a Paso Nuevo Band, now called ESLATIN Youth Band, completed its first recording project and released a demo CD, Amor Natural, containing six original tracks, composed and performed by the band members. The songs confront issues about love, identity, drugs and immigration, emanating from personal lives of the young musicians.
But Paso Nuevo is more than group therapy. One of the big questions raised in a 2001 study that came out of the U.S. Department of Justice (DOJ) is how to measure the success of these art programs for kids. Medrano has a straight forward answer. "They finish high school. That's success."
But Sanchez, who wants to go to college, adds a personal perspective that reflects some of his difficulties in growing up without a father. Chris, who has watched his mother, a day-care worker, struggle as a single parent, wants to go to college. He is enthusiastic because the Paso Nuevo has united his troubled family. Christian is the youngest of three participating siblings, including Jonathan, age 18, and Diana, age 17.  Jonathan and Diana both acted in the Paso Nuevo's La Familia Lobato, Young and Corrupted, staged in 2011, a play (that I reviewed and liked) that boldly confronted teens anxieties about skin color and racial stereotypes among Latinos, and fears about being culturally different among Anglos.  "Now, when one of us is performing, the other comes to see the production," Christian says.
Recent 2012 projects have inspired him to adopt practical skills. A play entitled Prom Night, by Emily Goulding and Quique Aviles, is about debt traps and how an alarming number of adolescents are using their parents' credit cards and winding up prisoners of debt. "It's a big time problem all over the country," Aviles says. In this play, kids dream of a lavish prom night but learn to set realistic financial goals before they have to learn the hard way about managing money.
Aviles' influence goes further as Christian's mentor, who has advised Paso Nuevo's participants to stay off the streets and away from kids who act out their frustrations with violence. "Release your feelings through writing is what Quique tells us," Sanchez says. "And Quique has taught me to finish what you start. When you make a commitment, stick to it. You need to do that throughout your life."