Some seasons back, CenterStage did a delightful job with William Inge's Picnic, directed with poignancy and joy by then-artistic director Irene Lewis, so a new production of his 1955 play Bus Stop was anticipated with fondness and eagerness.
Any excitement quickly dissipated shortly after the house lights went down. This production of Bus Stop is as stalled and broken down as the unseen bus that deposits a motley group into a lonely diner in small-town Kansas during a blizzard. When the gently falling snow is the only visually and emotionally arresting element in the show, you know things are not exactly humming on all cylinders.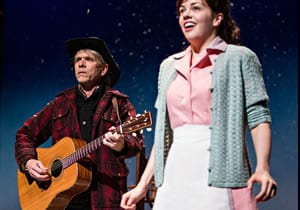 For an instant, it looks promising. An old cowboy named Virgil Blessing (Larry Tobias) strolls onstage strumming a guitar while the parts of James Noone's period-perfect diner set glide into place. If only we could hold onto that moment, but then the actors start speaking and any spark of magic sputters.
Bus Stop depicts a dark night of the soul in the lives of strangers thrown together by circumstance. The folks passing time in Grace's Diner represent different aspects of love—young and headstrong, middle-aged hanky-panky, spiritual love, the bond between a young man and his mentor, and the twisted, soured love of an old man for teenage girls.
The central relationship is the most conventional—Bo (Jack Fellows), a brash man-boy from Montana falls head-over-spurs for the Kansas City chanteuse, Cherie (Susannah Hoffman), a nightclub singer who has packed a lot of male company into her 19 years. Bo is fixing to drag her to Montana and matrimony, but Cherie is anything but on board with his scheme.
While Bo and Cherie hash it out, the plain-speaking and nobody's fool Grace (Pilar Witherspoon) sneaks off for some lovin' with the bus driver Carl (Malachy Cleary). She leaves the smart and dreamy bookworm Elma (Kayla Ferguson) in charge of the diner and the high school girl falls under the old world sway and fancy language of Shakespeare-quoting Dr. Lyman (Patrick Husted), an alcoholic ex-professor. A laconic sheriff Will (Michael D. Nichols) drifts in and out of the action, and Virgil, another observer, waxes philosophic from the sidelines.
All of this could be a hushed mood piece, a meditation on the vagaries of love, but under the direction of David Schweizer, Bus Stop is just a bunch of people saying their lines.
Somewhat Recommended
Bus Stop
Closes December 23, 2012
CenterStage
700 North Calvert Street
Baltimore, Maryland 21202
2 hours with 1 intermission
Tickets: $15 – $60
Tuesdays thru Sundays
Details
Tickets
Much of the production is downright painful to watch. The actors not only lack chemistry, but also seem unable to establish the slightest connection to each other, preferring to play solely to the audience. They rarely make eye contact and seem so isolated from one another they might as well be on Skype.  We feel like the characters—stranded in a Podunk diner—and envy Grace for making up a headache excuse and fleeing the premises.
The variety displayed in Bus Stop is dismayingly finite. Every actor has one shtick, and by God they stick to it. Miss Hoffman's Cherie is all tics and I-gotta-use-the-bathroom pressed-kneed twitches skittering across the stage in ill-fitting shoes, coming off as rather alarmingly deranged. She's supposed to be 19 and yes, sexually experienced, but not so hard-bitten and invulnerable you choke back guffaws when she announces her age.
Her partners in one-note performances include Bo, who shouts and spits out every one of his lines, whether conveying anger or tender confusion; and Mr. Cleary's Carl, who appears to equate heartiness with yelling. Even Miss Ferguson's Elma—who, along with Miss Witherspoon's Grace, are the most naturalistic and approachable characters in the play—succumbs to the lure of overacting, especially in the variety show scene in the second act.
The production drags along like a busted tailpipe until you begin praying for the storm to let up so that bus gets moving again and everybody can leave. This is the existential version of Bus Stop, with characters and audience alike all trapped in an inert location, waiting for something—anything—to happen.
——————-
 Bus Stop by William Inge . Directed by David Schweizer . Features Malachy Cleary, Jack Fellows, Kayla Ferguson,Susannah Hoffman, Patrick Husted, Mike Nichols, Larry Tobias, and Pilar Witherspoon. Set designer: James Noone, Costumer Designer: Clint Ramos, Lighting Desigher, James F. Ingalls, Sound Designer:  Lindsay Jones, Stage Manager: Laura Smith, Asst Stage Manager:  Captain Kate Murphy, Dramaturg: Susanna Gellert,Voice and Dialogue Director: Ashley Smith, Fight Director : Lewis Shaw. Casting Director, Pat McCorkle. Produced by CenterStage. Reviewed by Jayne Blanchard