What can a one-man performance bring to a story that's so familiar to so many that we can almost mouth the dialog?  Plenty, especially when that performer is one of the most gifted actors in the metro region and when he's supported by a crackerjack design team and armed with a great script — that he co-authored.
Watching Jason Lott disappear into the various familiar roles of Wonderful Life is like being with old friends who you're happy to have in your life.  He inhabits his characters so completely that the transformation is mesmerizing.  In addition, he's supported by a finely tuned script that focuses on pacing and character development, even, at times, with just a sliver of dialog.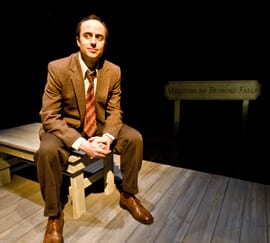 Lott and co-writer Hub Theater co-founder Helen Pafumi have an intuitive sense in delineating interior journeys for characters.  Together with director Gregg Henry they work magic with the basic premise of the film "It's a Wonderful Life", providing rich back stories with creative detail while Lott brings the characters to life.
Lighting by Kyle Grant and sound by Thomas Sowers have such pivotal roles in telling the story that the forceful impact would not be the same without their combined efforts.   In the first moments of the show, for example, we only see a shadow of George Bailey while he climbs up on the bench representing the railing of the icy bridge contemplating his jump, praying for heavenly guidance through his turmoil.  With winds howling in the background, and the sounds of stormy waves below, we know that George is having the fight of his life.  Within seconds, the lights brighten to a soft glow and the winds vanish, then Lott appears as guardian angel Clarence, sporting the most sparkling, mischievous eyes and enchanting smile, all while describing the early boyhood life of George Bailey of Bailey Building and Loan Association.
That's the main departure from the movie and what's so endearing about the show—the characters get a chance to tell their sides of the stories that we know only surface bits about.  The angel Clarence, Ma Bailey, Violet, Bert and Ernie, even his loving wife Mary—they all provide details that help define themselves while bringing George into clearer focus, with Lott adding the ultimate touches for all.
With a wave of his hand, he becomes Mary, hopeful, so much in love with George, seeing his ambition from the time he was in grade school.  In a particularly effective passage, Mary sees how conflicted he is about tending to his family's needs despite his longing to roam the seas and travel to distant lands.  When a potential suitor calls, Mary makes the most of the situation by playing up to him, while all along being hopelessly devoted to George who finally succumbs to his love for her.  We all know how the scene ends, we just have a better interpretation of why the events happen the way they do.
The most revealing occurs with Lott's rendition of Mr. Potter, a shady financier.  Instead of simply being a greedy old meanie who rolls around in his wheelchair letting people degenerate into lowest versions of themselves, just for the sport of it, the script describes his early affliction with polio just before the vaccine was discovered.  His frustration and disappointment with being cut down at the prime of his life sheds some light on his lack of basic human connection and decency, or at least tries to.
Recommended
Wonderful Life
Closes December 30, 2012
H Street Playhouse
1365 H Street NE
Washington, DC 20002
1 hour, 10 minutes without intermission
Tickets: $35
Thursdays thru Sundays
Details
Tickets
Once the story circles back around to the beginning with George on the bridge feeling like life would be better off without him, we have a better idea of the characters, we've heard the cadence and rhythm of their voices, and observed their movements.  So when their darker selves appear, we appreciate the decrepit place that Bedford Falls would have been without George Bailey's existence, again through Lott's masterful portrayals and menacing shadows.  Once he has a chance to live again, we all experience an
Our Town
kind of reverie, appreciating the minor miracles of everyday life as well as our own part in a tapestry of each others' lives.
The lightening fast rapid fire collage of characters wishing George good wishes at the end is a thrill to watch.  Lott takes on each character's distinct mannerisms in a whirl of clearly articulated presentations.  We know these people through decades of watching the movie, but also more intimately now through Lott's portrayals.
How fortunate we are to have this reprise from its debut last year, again with Lott at the helm.  He has apparently already relocated to pursue this acting career in California and is only in town for this production.  So, if you think you'll skip this and catch him later in the season, think again.  This might be it for awhile to catch one of the finest actors in the metro region in such a wonderful performance of his life.
———————–
Wonderful Life will be the last production at H Street Playhouse which moves to Anacostia and reopens spring, 2013 as Anacostia Playhouse at 2020 Shannon Place SE, Washington, DC.
Wonderful Life . Written by Jason Lott and Helen Pafumi . Directed by Gregg Henry . Starring Jason Lott . Co-Produced by Theater Alliance and Hub Theatre . Reviewed by Debbie Minter Jackson