If the holidays have got you down or you need a refreshing break from the hustle and bustle, why not try a visit with the Holiday Guys? In a relaxed, cabaret setting, two abundantly talented performers charm the stockings right off the mantelpiece and help the Hanukkah bush bloom early this year.
Want a taste of clever musical arrangements, excellent voices, and great on-stage chemistry? Get some tickets to Happy Merry Hanu-mas, sit back and enjoy the show.
That's right, this is a swell evening celebrating the ecumenically friendly 'Hanu-mas' – equal parts Hanukah and Christmas, plus a whole lot of fun. Only the Scroogiest Scrooge of all would not be captivated by Jeffry Denman and Marc Kudisch, the aforementioned Holiday Guys. This tag team variety show takes on everything that makes this holiday time the most wonderful time of the year, with a heavy emphasis on the music.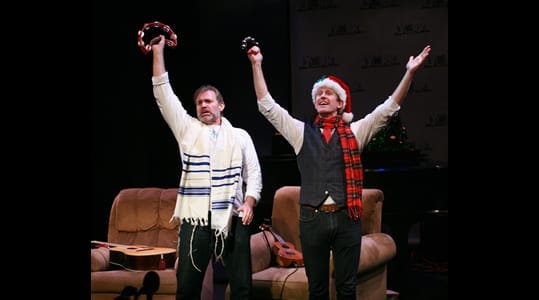 Kudisch, Broadway vet (and Helen Hayes winner) returns to Signature Theatre sporting a booming baritone (and folksy tenor, when required.) The fleet-footed and sweet voiced Denman is an award-winning performer and choreographer known for stints in Irving Berlin's White Christmas, The Producers and Cats.
These two friends put their heads and considerable talents together as 'the Holiday Guys' for a pre-New York City tour to work out the kinks for this party-like, cabaret show. I am happy to report, there is nothing kinky going on and, lucky for us, Denman and Kudisch have moved into Signature's Ark from December 11 to 16. They have brought a casual vibe to their guy-den set, complete with a virtual fireplace and his and his stockings. Kudisch gets a cozy recliner and Snuggie; while the dapper Denman, makes himself at home in a leather easy chair.
Kudisch, proudly Jewish – or member of "the Tribe," as he put it – and Denman said their aim was to remind audiences what the holidays were really about: spending time with loved ones and sharing. In a very breezy and entertaining two hours, they go about their mission. Along the way, they sing and play guitar, ukulele, and kazoos. They find time to crack jokes, share some heart-warming stories, and even prove that to give is better than receive during a sequence they call "Re-gift!" Who knows, you might end up the recipient of a re-gifted slanket-blanket or other gently used gift from under the Hanu-mas tree.
Audience participation aside, the music is the true star of the show. Kudisch, Denman and their stellar band take on a variety of songs with creativity, wit and huge doses of heart. Their flexible song list ("List of songs in no particular order to be performed as the spirit moves us") includes traditional tunes, special material, and even songs from those stop-motion Christmas specials, like "Rudolph the Red-nose Reindeer" and "Santa Claus is Coming to Town." Tap shoes get a workout during "Put One Foot in Front of the Other," while Denman gives Kudisch a quick dance lesson. When Denman claims to hate another claymation Christmas tune, "Holly Jolly Christmas," Kudisch gives it a Calypso treatment.
A couple of novelty songs pop up, too, such as Denman's rendition of "My Simple Christmas Wish" (a paean to greed) and Kudisch's sardonically hilarious "Lonely Jew on Christmas" (penned by "South Park"'s Trey Parker and Matt Stone). In the spirit of Hanu-mas, there is also a vigorous mash-up of "O Hanukkah" and "O Christmas Tree" which the gentlemen tear up like a loosely wrapped gift.
Highly Recommended
The Holiday Guys: Happy, Merry Hanu-Mas
Closes December 16, 2012
The ARK at
Signature Theatre
4200 Cambell Avenue
Arlington, VA 22206
1 hour, 30 minutes without intermission
Tickets: $48
Thursdays thru Sundays
Details
Tickets
or call 703.820.9771
The traditional songs of the season are given the deluxe treatment, with fresh arrangements that shine new light on both music and the words. "The Christmas Song," "Jingle Bells," "Christmas Time is Here," and "Have Yourself a Merry Little Christmas" all take on new life as performed by Denman, Kudisch and their stellar combo Timothy Splain (piano), Adam Neely (bass), and David Murray (percussion).
If I had to name favorite moments with the Holiday Guys, their funky, folk version of "God Rest Ye, Merry Gentlemen" and the simplicity of "Peace on Earth" (the David Bowie part in that famous duet with Bing Crosby) have to be right up at the top. I felt a tear of reminiscence as Marc read a page from the Denman family's Christmas journal. In that moment, I knew their wish of reminding the audience what the holidays were all about had come true, for at least for one person, and I'm pretty sure I was in excellent company.
In the midst of big musicals, annual revivals of A Christmas Carol, and other entertainment choices, you couldn't go wrong taking time to share Hanu-mas with the Holiday Guys before they head to New York.
—————
The Holiday Guys: Happy Merry Hanu-Mas . Featuring Marc Kudisch and Jeffry Denman . Presented by Signature Theatre . Reviewed by Jeff Walker.
Want more?
Our interview with Holiday Guy Marc Kudisch