There's an early moment in Million Dollar Quartet when Jerry Lee Lewis is pumping his downstage leg which seems attached to a perpetual spring while he paws the piano – more like a bear than a young musician – then hacks away at his instrument like a Benihana chef chopping steak.
Carl Perkins joins him, cradling a Les Paul Goldtop to his torso, and pulling out from it that unmistakable dirty squeal. A true ghost of Elvis had just entered, and suddenly the man's shot through with some kind of electric juice in what can only be described as shamanic possession, twitching his leg and rocking his torso back to just about parallel to the floor while he rises up on his toe-tips and flings his arm in huge circling arcs.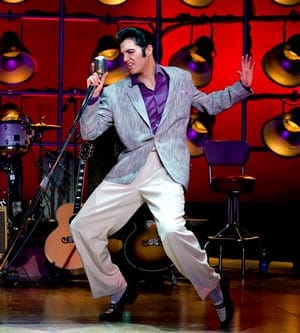 Uncannily, Johnny Cash's voice crashes through the other vocals, sounding like God Almighty's own counterpart, and these four musicians bust out together on "Blue Suede Shoes." It makes for an unholy lot of shaking, and we gotta own right then and there that our souls have been grabbed.
The performers don't really act the parts; it's more like they channel the original singers through sound and gestures. While they often tickle one's memory with some trademark riff or physical "twitch," at times the effect is downright spooky.  Start with Cody Slaughter – the man has been impersonating Elvis since he was twelve. Recently, Slaughter won the top Elvis impersonation award in a copy-cat phenomenon around the world of folks who curiously spend their lives living in the King's shoes.  Blink, and you swear it's Elvis up on stage.
But let's not stop there. Robert Britton Lyons seems the most relaxed and physically in command of that little studio on stage, representing the converted autoparts shop housing the humble headquarters of Sam Phillip's Sun Records. And with good reason, Lyons has lived this role since 2006 and graced the show with his considerable talents in London, Chicago, and on-and-off Broadway before anchoring this national tour in the role of Carl Perkins. His guitar playing is consummate rock 'n' roll, and, heartbreakingly, he gets us to believe that he has lived as the guitar player who's paid his dues and had his hit but gets passed over by his flashier peers.
Martin Kaye hopped over the pond to join the cast as the irrepressible, over-the-top Jerry Lee Lewis, but this British bloke convinces us he just stepped out of Louisiana dirt-country. David Elkins as Johnny Cash has just joined this staged incarnation, and, making his acting debut, he's still a little tentative when he had to carry off lines and other non-singing business for his character.  But when he opened his mouth to sing and play his guitar, that deep liquid sound poured into your heart like warm, dark chocolate.  Added to this, his drop-dead good looks and heroic proportions suggest this is a future star.
Writers Colin Escott and Floyd Mutrux have assembled these icons and created a story that focuses on Sam Phillips, the owner of Sun Records, a character who serves as both impresario and narrator throughout the show. Phillips takes us back, somewhat in a Ken Burns fashion, to "that night they made rock 'n' roll history." In 1956, the four musicians did indeed find themselves in the Sun recording studio, far from fast money and gawking fans, and had the chance to jam with each other in that night to remember.
Some events surrounding the careers and relationships have been compressed to give the evening a sufficiently dramatic arc.  Phillips tells us he's already sold Elvis, released him to a bigger recording studio so he could save Sun Records and develop some younger talent.  In this version, Elvis wants back in to Sun while one or two of the others have been itching to get out.  The kid, Jerry Lee Lewis, shows up and lays it all on the line just to get his first break and be picked up.
The decision had been made early on, if you hadn't already heard, that though it was conceived as a musical, the idea was to cast musicians not musical theatre actors to give the show a gritty authenticity. To make the point irrefutably, Vince Nappo as producer Sam Phillips tells the audience right up front, "There ain't no faking; these boys are really playing."
With this being opening week of a national tour and several new members joining the cast, one could see that the groove of acting is still being acquired in places. On a proscenium stage, having a conversation with another character, how much do you face the character and how much do you face out front? But hell, there are a lot of mix ups and experiments going on these day – opera singers doing cabaret, film actors doing musicals.  Why not this variation of musicians stepping out as lead singer-actors in a script? This show has already proven itself, and these four gentlemen, who have stepped up to the challenge, have the courage and the talent to "bring it home."
Given all this, director Eric Schaeffer has shaped the events and the scenes with a sure-fire commitment to keep it a small musical in cast and scope with the music staying up front. He's also honed some memorable moments.
Many people have mentioned the full-throttle tunes and especially the wild-man antics of character Jerry Lee Lewis. Entertaining as they were, to me some of the best moments were the smaller, more informal moments when these men (and one woman) shared as only musicians can in a process where discoveries are made in a private jam session. Carl Perkins and Jerry Lee Lewis spat like tom cats throughout the first part of the show, but when they played and eyeballed each other across the piano in dueling riffs, they began to listen to each other's sounds and learn to a respect each other for the talent that's pouring out of their fingers and not flapping from their mouths.
Another great moment was the song "Down by the Riverside" (and I assume to the creators also because it is given a reprise.) The company members step out from behind their instruments and come together on this one as if they are sharing a memory of learning the song as children in church. It's music felt deep in their bones. As they sing, it becomes a kind of redemptive anthem. I was reminded of the roots of this music, in the deep and poor south, a south that, as divided as it was by race, shared a tremendous church-going and abiding faith culture that expressed itself through music.
Wherever these four guys were on their trajectory of individual fame and fortune, on that one night they had the good fortune to come together out of the spotlight. They were given the chance to focus on playing and appreciating the unique sounds and talents each other had.  They performed for each other and for the man whom, while some of them would betray professionally, they all loved and respected. (Phillips was, after all, the man who had heard something in each of them and given them their first break.)
Highly Recommended
Million Dollar Quartet
Closes January 6. 2013
The Kennedy Center
2700 F Street, NW
Washington, DC.
1 h our, 34 minutes  with 1 intermission
Tickets: $80 – $160
Tuesdays thru Sundays
Details
Tickets
In the role of Phillips, Vince Nappo stitches together what drama there is in this piece, as he runs between the downstage studio area and the booth one half-story above the stage, carefully and lovingly recreated by designer Derek McLane.  Nappo's moment where he learns of multiple betrayals and then what he does with the news was moving in the way only live theatre can be.
Kelly Lamont as Elvis' pick-up chick, Corey Kaiser as archetypal bass player and Perkin' brother, and Billy Shaffer on drums also serve the musical, but their roles in the drama are less fleshed out.
So, if you feel you're done with Christmas, ditch the season's tinsel and sugarplums, and rather head to the Kennedy Center for Million Dollar Quartet.  Whether you're from the era where  Elvis got you palpitating or just curious about what started America in its most popular and commercially successful musical groove and what set us on the path to our youth dominated society, you'll want to hear and feel these cracklin' beginnings.
————-
Million Dollar Quartet . Inspired by the music of Elvis Presley, Johnny Cash, Jerry Lee Lewis, and Carl Perkins . Book by Colin Escott and Floyd Mutrux . Conceived and Original Direction by Floyd Mutrux . Directed by Eric Schaeffer . Musical Arrangements and Supervision by Chuck Mead . Lighting design: Howell Binkley . Sound design: Kai Harada . Costume design: Jane Greenwood . Presented at The Kennedy Center . Reviewed by Susan Galbraith