The Negev accounts for more than half of Israel's land area. Extending over Israel's southern region, this sparsely populated desert area has a rich history that stretches back thousands of years to nomads and Abraham. News from today's Negev is often a grim reminder of ongoing conflicts with missile attacks and escalating tensions.
The Negev is also a pivotal setting for Theater J's  Voices from a Changing Middle East Festival.
In their current production of Savyon Liebrecht's Apples from the Desert, a young lady flees to the desert seeking romance and gains reconciliation with her family. The second play of the festival, Boged (Traitor): An Enemy of the People finds the Negev a place where moral fortitude and corporate greed collide. It's an adaptation of Henrik Ibsen's An Enemy of the People.
Families are universal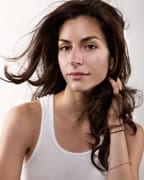 Director Johanna Gruenhut said the play is set in the 1970s, when "then as now, the sense of identification between the religious and the non-religious was a big topic of conversation within Israel."
Gruenhut, whose last local work was The Big Meal at Studio Theatre, who makes her Theater J debut directing Apples from the Desert, described the play: "The story really centers around Rivka (Blair Bowers), a young woman brought up in an orthodox, Sephardic household committed to Jewish law and tradition. At a dance class, she meets a secular Israeli kibbutznik and falls in love with him. When Rivka runs off with the young man, Dooby (Brandon McCoy), she learns a new way of living in another sort of community, the kibbutz in the Negev desert. And she learns how life can be [outside of the traditions she grew up in]."
The story is also about Rivka's parents, played by Michael Tolaydo and Jennifer Mendenhall – who live in a world far removed from the ideological collective of a kibbutz.
"I think it's a really good domestic drama." Actor Michael Tolaydo seemed to echo the thoughts of the entire team associated with Theater J's production of Apples from the Desert. "The family lives in a very traditional community and follows strict traditional religious practices," Tolaydo added.  "Within this tight little community, Reuven comes home and his wife is supposed to take care of everything. He gets impatient when things do not work right. He is worried about getting his daughter married so she doesn't end up a spinster, like his wife's sister (Sarah Marshall). He has also heard rumors that his daughter has been seen around town, which for a single girl is verboten. She has met a boy and she wants to dance and that is something that is not approved of. As a rebellion she runs away to a kibbutz with him."
Parents Reuven and Victoria follow Rivka into the desert, initially to get her to come back home. But discovery and reconciliation are also found on the journey into the Negev, said Gruenhutt. The title of the play offers insight. "In terms of Apples from the Desert, apples aren't even grown in the desert, there have to be grown in greenhouses. The idea is you can take something from a different environment and replant it and grow it and it will be equally fantastic just different."
Parents and Children
"So it is with Rivka, she is a lovely girl, but she is able to become her whole when she is in the desert. And I think with her parents, especially the reconciliation between father and daughter, it's the idea that they have a realization when they come to see her in this new environment."
When Rivka leaves her parents to be with Dooby in the Negev desert, said Gruenhut, "Her parents are left alone with each other and are forced to reevaluate what's important. There's a broadening of their minds."
Their awakening is not without struggle. "Reuven is angry, lonely, doesn't know how to relate," Tolaydo added. My challenge as an actor was to create acharacter who is intimidating to his wife. But at the same time they've been together a long time and there is something good in them both."
The story is also about Victoria, he continued: "a wife finding her own voice and speaking up for herself," as Victoria struggles to accept her daughter's new ideas, which are at odds with the orthodox household in which she was raised.
Gruenhutt said the play has other layers as well. "It is a romantic comedy, in a sense: there's a happy ending, it's funny. There's reconciliation and forgiveness but it's not without struggle and challenge and heartache, and that's where the drama comes in. All of the humor is really rooted in this deep feeling – feelings of anger, frustration, feelings of rage. It's unique in that way."
Annual Voice from a Changing Middle East Festival
Ari Roth, Theater J's artistic director now in his 16th season, put the play into a broader context for the theatre and the Voices from a Changing Middle East festival. "Apples from the Desert is one of the first times we've had the opportunity to measure both the tension and the affection between the religious and the secular communities within Israel."
He said the play is able to show the "abiding suspicions between the religious community and the secular community." It also shows what draws them together. "We see how they learn to respect each other – the secular kibbutz member learning to appreciate the tradition that his new girlfriend brings to the community just as she experiences the liberation and the freedom that was denied her within her own traditional community. That's one thing that's extremely important and unique for us in this installment of the festival."
"On the other hand, there is, of course, the celebration of Sephardic culture; looking at not just the Eastern European immigrants who moved to Israel – the Ashkenazi – that  used to be the dominant of the Israeli population. But Israel has become a much more diverse and differently populated country. And the Sephardic culture has been underrepresented on Israeli stages, and so this is an opportunity for us the show a Sephardic religious family onstage."
Tolaydo said the play's universality is such that this could be any family. "It could be a conservative family from anywhere. Families are universal in their aspirations. Customs are part of their life, but the customs aren't what make the family, people are what make the family."
Gruenhut agreed. "The struggle between father and daughter, husband and wife, running away and finding romance and leaving your parents – there is a familiarity of this story that speaks to us. It's about the continual journey of each of us, as we strive to become our best selves."
Jews, either orthodox or secular, and non-Jews alike, said Gruenhut, "There is room for everybody and for every way of living. This family is a microcosm of how we can all be, everybody has the opportunity to live the way they want to live without judgment."
The director praised her cast for being able to bring a sense of camaraderie and family to the rehearsal process which now lives on the stage, she said. "I'm very, very lucky to have such a fantastic cast; I have some of DC's best actors onstage – Jen Mendenhall, Sarah Marshall, Michael Tolaydo. Lots of times in rehearsal, I would sit back and let them do their thing. They're just so smart and have great instincts and are dedicated to the work."
"Brandon McCoy and Blair Ballard are playing the younger characters and they're wonderful too," said Gruenhut. She saw the veteran actors taking McCoy and Ballard under their wing. "So there was learning going on. I learned, too."
Working with the Playwright
Gruenhut appreciated the opportunity to communicate with playwright Savyon Liebrecht during the rehearsal process for Apples from the Desert. "She is a smart and talented woman and I appreciated being able to discuss with her questions about the text and intentions."
Liebrecht adapted her own short story for the stage which won Israel's best play award in 2006. Theaer J's Apples from the Desert is the first Equity production of the play in North America, in the English version by Shir Freibach.
During the opening week, Liebrecht participated in several public discussions about the play. According to Roth, "Apples from the Desert is a great opportunity for a theatre to work with a playwright who would fly in from 6,000 miles away to be with us for the opening week, and was able to read from her own fiction. And this was an opportunity for her to see her play done in English."
As the Voices from A Changing Middle East is under way once again, Roth is amazed that it has become an annual examination of life in Israel and there is an audience for it. "I'm really grateful that audiences have shown an interest in these dramas from the Middle East, and obviously our mission brings us to an engagement with Israel."
That engagement is not exclusive to the Jewish community, he said. "I am grateful that there is an audience of non-Jews as well as Jews who are interested in the country's well-being – in its relations to the Palestinians, other Arab countries, and its relations internally within a very diverse population of Jews and non-Jews, people from different countries, different classes, different political leanings different religious backgrounds – all trying to work it out in the middle of the desert."
Recommended
Apples from the Desert
Closes January 6, 2013
Theater J
1529 Sixteenth Street, NW
Washington, DC
2 hours with 1 intermission
Tickets: $35 – $60
Wednesdays thru Sundays
Details
Tickets
Roth said the festival will be able to reach beyond Theater J's home near Dupont Circle. The second play in the festival will be presented at Georgetown University in partnership with the university in association with StreetSigns Center for Literature and Performance.  
Boged (Traitor): An Enemy of the People
is based on a true story and is also an adaptation of Henrik Ibsen's
An Enemy of the People
. The English language premiere is written by Boaz Gaon and Nir Erezthe.
For now, the Negev is the setting for Apples from the Desert, where the world of secular Jews and the orthodox find a common ground. Gruenhut said, "When the family goes back to Jerusalem they are able to have a much fuller, happier enriched life together."
"Great plays and great literature are about human behavior," said Tolaydo. "And when we can relate to human behavior, we can be taken on a wonderful journey and recognize within ourselves experiences and maybe things that remind us of stuff that maybe we should pay attention to in our own lives."
————————–
Apples from the Desert continues at the Aaron & Cecile Goldman Theater in the Washington District of Columbia Jewish Community Center through January 6.
Want more?
Hunter Styles reviews Apples from the Desert